U of T welcomes its newest Schulich Leaders: Canada's top STEM students
Seymour Schulich's scholarship program recognizes Canada's brightest students with leadership potential in engineering, science and mathematics.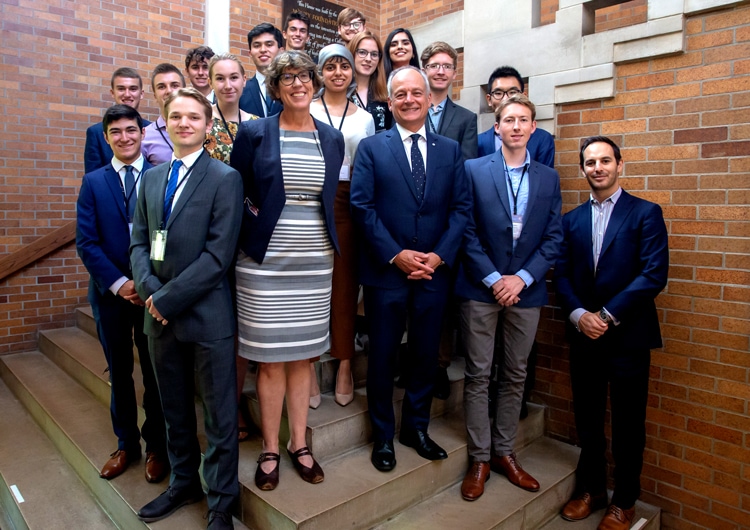 Barely a month into the school year, U of T's newest Schulich Leaders are already hard at work, connecting with peers and faculty members and making the most of their opportunity at U of T—not taking a minute of their academic career and financial help for granted.
Every year, the Seymour Schulich Foundation recognizes 50 Schulich Leaders nationwide for their community, business or entrepreneurial leadership, as well as their academic success and financial need. The Schulich Foundation awards these rising stars with university entrance scholarships valued at $100,000 for undergraduate studies in engineering, and $80,000 for students in science or mathematics. Each award is an opportunity for a student to become a leading technology innovator, part of the generation poised to reimagine our world. Four of the 2019-20 cohort have chosen to attend U of T.
On a recent warm Friday afternoon, the University of Toronto hosted the new scholars at a welcome lunch. "The students who've received the Schulich Leader Scholarship are truly among the most remarkable undergraduates we have," said Meric Gertler, president of U of T. "Mr. Schulich's visionary goal was to create change in our country and in the world by investing in the brightest, most promising young people."
Businessman and philanthropist Seymour Schulich established the Schulich Leader Scholarships in 2012. The $100-million program for top students in STEM (science, technology, engineering and mathematics) enables, elevates and helps focus the ambitions of Canada's best and brightest minds as they enter university. Thanks to Schulich's generosity, Schulich Leaders can focus on their academic studies full-time with their financial needs covered over the entirety of their bachelor's degree.
Meet the four promising young minds
"As Schulich Leaders, these students have been chosen for their entrepreneurial mindset and their leadership potential," Sandy Welsh, U of T's Vice-Provost, Students, said at the welcome lunch. "The Schulich scholarship means they have the time and opportunity to think and explore and to pursue new interests and try out new ideas."
Aidan Britnell, King's Christian Collegiate in Oakville, Ont. Computer science, mathematics and statistics student at U of T Mississauga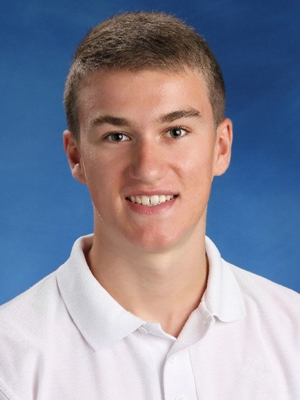 In high school, Aidan Britnell maintained the network infrastructure for his school's IT department. It was this job experience that led him to develop a mobile app that allows students to store their student cards electronically.
"It was really good for gaining practical operations experience," he says. Students at King's Christian Collegiate continue to use the app: "It's better for students because it's always with you—you never lose your phone—and it's better for the school because they don't have to print plastic cards."
Britnell is excited to meet like-minded students at UTM. "There are so many different orientation events. I'm excited to learn and meet new people!"
Adam Glustein, Northern Secondary School in Toronto Engineering science student on the St. George campus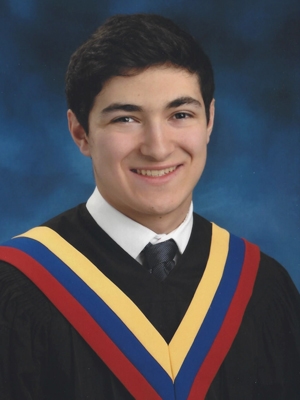 Adam Glustein graduated with the highest academic average in his high school and was named a national biology scholar with distinction. He was president of his school's DECA business association and a vice-president of the Athletic Association, led a children's science program for the City of Toronto and volunteered as a math tutor for newcomers to Canada.
No stranger to hard work and collaboration, Glustein appreciates U of T's challenging curriculum. "It feels different than a regular classroom – they're challenging you to succeed," says Glustein. "It brings all of us together."
His interest in genetics, nanotechnology and software engineering led Adam to choose engineering science at U of T's Faculty of Applied Science & Engineering. "The Schulich Leaders Scholarship is part of my identity now. It's a nice culmination of all the effort I put in."
Caleb Lammers, St. Ignatius High School in Thunder Bay, Ont. Mathematics and physics student on the St. George Campus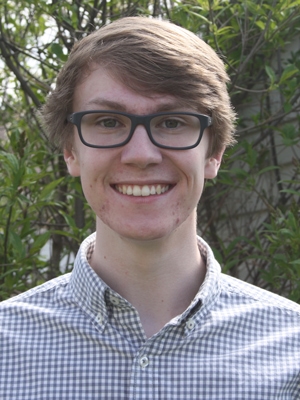 Caleb Lammers is passionate about problem-solving. When he learned his high school didn't have any STEM-related clubs, he created his own. With a teacher's help, Lammers and his friends established FIRST Robotics, a competitive team that built robot fighters.
"I was loving the programming and having fun giving the younger kids a real introduction into it," says Lammers.
Interests in linguistics and data analysis inspired Lammers to compete in the Canada-Wide Science Fair, and also start his own tutoring business. He was also a Shad Fellow in the Shad Canada STEM and entrepreneurship program for students in Grades 10 and 11.
Lammers is thrilled to be embarking on the next chapter of his life as a Schulich Leader at the University of Toronto, and is thinking about exploring his interest in teaching: "It's something that I really value. I love watching students learn."
Tommy Moffat, Assumption Catholic Secondary in Burlington, Ont.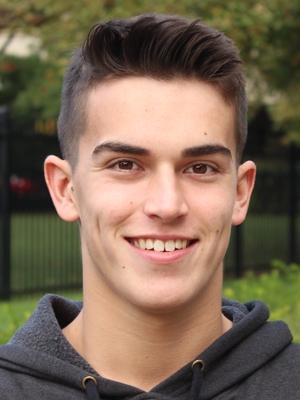 Tommy Moffat has deferred his U of T admission for a year while he works as a junior quantum engineer with Rigetti, a quantum computing firm based in California.
Moffat's passon for computing began at 10 years old when he attended E-Bots, a program that builds robots for competitions. Moffatt led a team and taught himself how to program, build and design. "It was a fortunate culture to be in," says Moffat. "The standards were really high." He developed his interest in quantum computing when he participated in the Knowledge Society, a STEM program that teaches concepts such as genetic engineering, virtual reality and artificial intelligence.
Moffatt has already worked as a consultant with companies such as Airbnb, Microsoft and Walmart, and he's collaborated with U of T's tech startup accelerator, Creative Destruction Lab, in its quantum machine learning stream. He's keen to return to U of T next year to study engineering science and is honoured to have been named a Schulich Leader: "Meeting everyone has made me really excited for the possibilities it opens up."