The Lawsons' landmark $10-million gift to Trinity College supports integrated sustainability initiative
Brian and Joannah Lawson's visionary support for sustainability will shape a greener, healthier future for the entire Trinity community.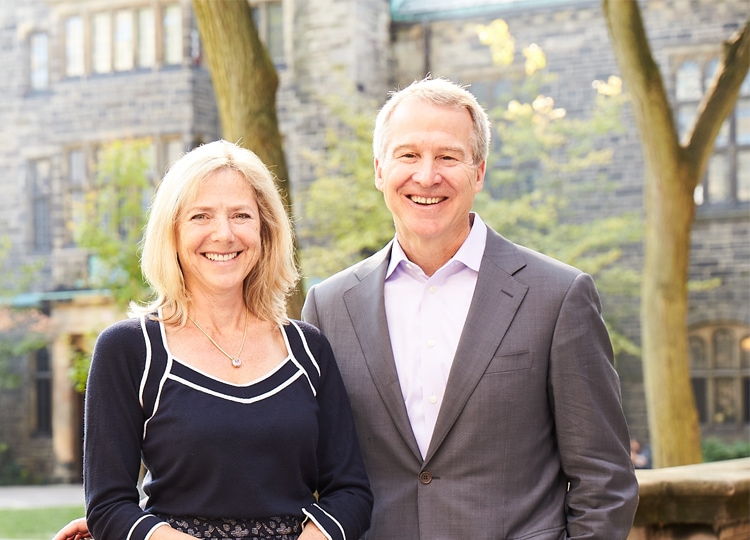 A gift of $10 million to U of T's Trinity College will support an ambitious initiative designed to integrate sustainability across the College, from an innovative new building to research and classroom opportunities to the creation of food. The donation comes from alumni Brian Lawson (BA 1982 TRIN) and Joannah Lawson (MIR 1989). The Lawsons' generous gift is the largest single donation in Trinity College's 168-year history.
Joannah, a nutrition consultant who focuses on prevention of chronic disease through nutritional change at organization and community levels, and Brian, Managing Partner and Chief Financial Officer of Brookfield Asset Management, are committed to supporting food systems that promote physical and mental health and are environmentally sustainable.
"There is growing science showing a strong connection between nutrition and physical as well as mental health," said Joannah Lawson. "Nutrient-empty foods also take a heavy toll on the planet. Supporting Trinity students, who go on to be thought-leaders and decision-makers in their chosen fields, with a healthy living environment and an understanding of sustainability practices will have a positive impact on this and future generations."
"Universities have a crucial role to play in helping meet the global challenge of sustainability," said University of Toronto President Meric Gertler. "Joannah and Brian have been prominent champions of our efforts at U of T, through their generous philanthropy and their wise counsel. This visionary gift builds on their remarkable legacy."
Said Provost Moran, "As the Trinity community develops plans for a new building on campus, we are so fortunate to have visionary alumni like Brian and Joannah Lawson, who share our values and make it possible for us to transform the lives of Trinity students by realizing our desire to make a difference."
Creating a lead-by-example hub for sustainable projects
When Trinity College, with its long history of being a green leader on campus, realized it had to add new space to its historic campus, it saw a once-in-a-generation opportunity. Over the past decade, faculty, students, staff and alumni have come together to support innovative sustainability projects including a rooftop garden at St. Hilda's, urban beehives on Henderson Tower, geothermal heating in the new Archives, solar panels, and a rainwater reclamation system.
"The College wanted to create a space that was sustainable, human-centred and intelligent, that embodied our values and supported the flourishing of the humans within it and the world around it. This inspired us to further examine all that we do through the lens of sustainability, asking ourselves what more we can do to respond to this generation's greatest challenge," said Trinity College Provost Mayo Moran. "By integrating principles of sustainability into daily life at Trinity—from the urban farming initiative to classroom and research opportunities to the broader student experience—the College aims to make a positive difference and show what is possible."
The new space is the centrepiece of the Integrated Sustainability Initiative. The first significant space added to the College in many decades, it aims to be a leader in sustainable, human-centred design. Trinity's new initiative will do more than just promote sustainability in the built environment—it will connect it directly to the student experience through innovations such as the unique "Farm to Table" program. A creative urban farming initiative, this program will offer students the chance to participate directly in the creation of their food as well as to conduct research on those practices right at the College. A community kitchen will serve as a hub for teaching and learning about sustainable food practices and will provide an important community gathering space.
But Trinity's sustainability ambitions go beyond the building. As part of the Initiative, fluency in sustainability will be integrated into academic programs and students will be able to take advantage of new learning opportunities focused on sustainability both inside the classroom and through research and internships. A new Director of Sustainability will support these activities and will oversee the development of academic and co-curricular sustainability programming including internships and community outreach.
Building sustainability into the U of T curriculum
Trinity College is not alone in its commitment to sustainability. It is also a key priority for the University of Toronto as a whole and Trinity is working with the Faculty of Arts & Science and its School of the Environment to develop various elements of the Initiative. "Introducing ways in which students can have personal impact and feel connected to important issues such as climate change and the environment is critically important," said Melanie Woodin, Dean of the Faculty of Arts & Science. "We are delighted to partner with Trinity College on this exciting initiative and are grateful for the generous support of the Lawsons."
Sustainability became part of the College's curriculum in 2018, with the launch of the Butterfield Environment & Sustainability Stream in the Margaret MacMillan Trinity One Program. The new Trinity One stream examines the most challenging issues surrounding human beings, the planet and our future together. It is the only program at U of T that allows first-year students to look at sustainability issues from both arts and sciences perspectives.
"We have witnessed first-hand how committed the leadership team and the students at Trinity are to sustainability," said Brian Lawson. "We knew that Trinity would be innovative in moving forward, and when the opportunity arose we strongly wanted to support this vital initiative."