How the Lawsons' forward-thinking gift centred patients in research
With the appointment of Prof. Jonathon Maguire as a new chair in patient engagement, U of T's Lawson Centre for Child Nutrition strengthens its patient-centred approach.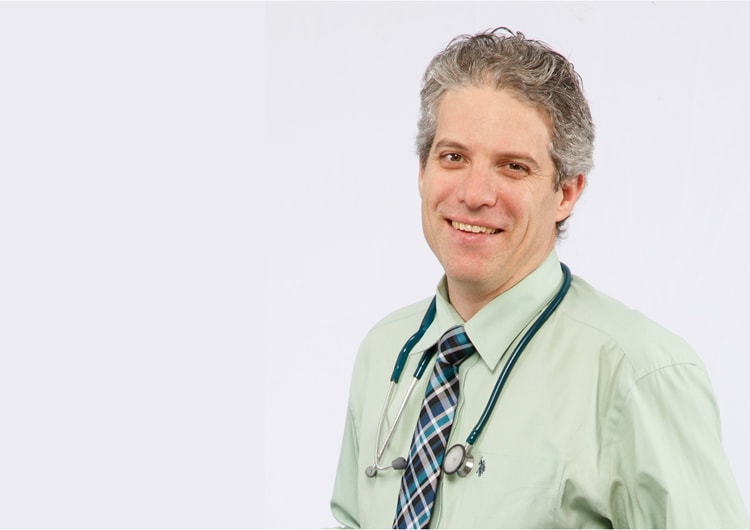 Professor Jonathon Maguire is the new Lawson Chair in Patient Engagement in Child Nutrition at the University of Toronto.
Maguire, an associate professor of paediatrics and nutritional sciences at U of T and a staff paediatrician and scientist with St. Michael's Hospital at Unity Health Toronto, will hold the chair over a five-year term through the Joannah & Brian Lawson Centre for Child Nutrition.
"I'm very grateful to the University and the Lawson Centre for choosing to support patient engagement in the research process," says Maguire. "It's forward-thinking because it will enable children and families to co-design research with us and help us produce results that are most meaningful to them."
Maguire's strong record in patient-oriented research
Patient-oriented research has garnered strong interest from medical researchers recently. The approach shares some of the goals of applied and practice-based research, but differs in that patients provide input throughout the research process — on which questions they want answered, the content and format of findings they are most likely to use, and even on how to share research results broadly with the public.
Maguire has worked to develop that process for more than a decade as a co-principal investigator of TARGet Kids!, the largest children's cohort study in Canada. That group has generated several findings of note for parents, including that 10 per cent of the TARGet Kids! cohort have low iron levels, 30 per cent are low in vitamin D and one-quarter are at risk for future health problems on account of body weight.
"We are delighted to welcome Jonathon to this role. He has a well-connected and established research program in patient-oriented research and will hit the ground running," says Daniel Sellen, director of the Lawson Centre and distinguished professor of anthropology and global health at U of T. "He and his team are asking relevant research questions to help practitioners and families agree on healthy and feasible child-feeding options in a rapidly changing dietary and child-care landscape."
Maguire's milk study shows how patient input can help spark better, more useful research
In the near term, Maguire hopes to involve more patients in research, in the form of a family advisory panel set up through the Lawson Centre. "I would like to see networks of families, which could join research teams to help us do research better so that we all learn from each other," he says. If this approach was easy, you would see it more often, but the reward is well worth the effort
Creating that process is difficult, Maguire stresses. "If this approach was easy, you would see it more often. It takes a lot of listening, thought and effort to understand the priorities of young families and patients, and to familiarize them with the research process. But the reward is well worth the effort."
A recent case in point is parent and physician perspectives on fat content in cow's milk. The current guidelines recommend that children switch to reduced-fat milk after the age of two. But many countries have seen a huge rise in childhood obesity since the introduction of those guidelines in the 1990s, and some recent studies suggest that high-fat milk can help reduce obesity, perhaps by increasing satiety.
"It seems unbelievable that in this age we don't know for sure what types of cows milk are best for kids," says Maguire. "Views vary widely among parents and physicians. By sitting down and talking with them, we learned about some of the reasons why."
Many patients rely on guidance from health care providers, Maguire and his colleagues found. Providers in turn rely on professional guidelines, which in this case were not based on the best evidence. The researchers published their findings in the Public Health Nutrition journal.
"The study confirmed what we had suspected for some time," says Maguire. "Professional recommendations become reinforced over many years, and it's talking with patients and families that can show us why the train may be on the wrong track."
Involving patients is a fresh approach where everybody gains
Maguire is now working with other colleagues on a clinical trial that will test which type of milk works best for weight control. With better evidence in hand, Maguire hopes that tangible recommendations from clinicians will influence parents' choices.
"This is exactly the kind of multidisciplinary, practitioner scholarship needed to strengthen patient engagement in child nutrition," says Sellen. "Everybody gains from involving patient ideas and experience, and we think this is one of several fresh approaches to protecting and improving child nutrition in Canada and globally."
Better patient engagement will help further address multiple issues in child nutrition, Sellen says — from micronutrient deficiencies and obesity to malnutrition, unhealthy food environments and region-specific policy challenges. "I look forward to seeing what we can achieve together through the leadership this new Chair will provide," he says.
The Lawson Centre established the Lawson Chair in Patient Engagement in Child Nutrition in 2014 as part of a $10 million gift from Joannah and Brian Lawson.
by Jim Oldfield