In Memoriam: Katherine Morrison (1925-2019)
Katherine Morrison (PhD 1979, Hon LLD 2004) was one of U of T's most generous benefactors. By championing libraries and the construction of residences, she helped reshape the student experience across the St. George campus.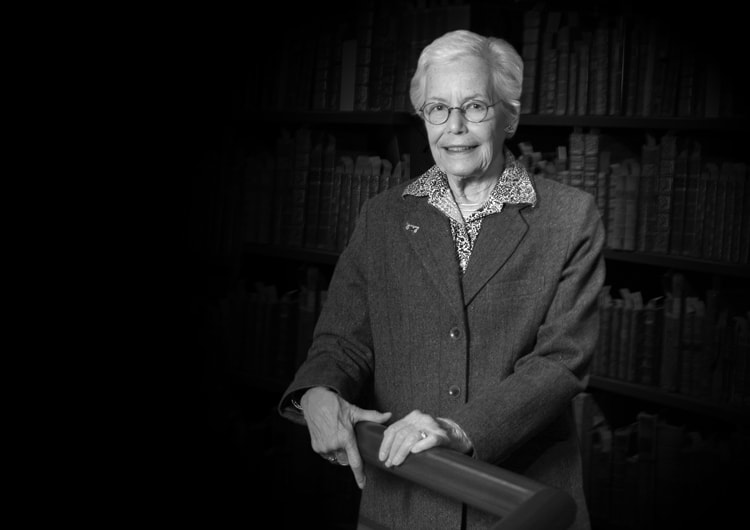 The University of Toronto and its students have lost a loyal friend, a generous and visionary benefactor, and a passionate lover of the library. Katherine Morrison was 94.
"Universities are fundamentally about learning, and no benefactor has done more than Katherine Morrison to create and improve crucial learning spaces for students in Canada," says President Meric Gertler. "Through their support, Katherine and her late husband Russell Morrison helped U of T Libraries to create some of the best educational environments in the country—spaces where generations of students will engage in critical scholarship, learn to think independently, and enjoy the hours of quiet contemplation necessary for deep, original insight."
Born in Detroit, Katherine Morrison studied economics at the University of Michigan in the 1940s before marrying and moving to Canada, where she became a citizen. She earned a PhD in English from U of T in 1979—one of the first generation of students to use Robarts Library, which opened in 1973. She recalled "practically living" at Robarts during her graduate studies. It was the beginning of a lifelong love and appreciation for libraries—and lifelong involvement with the libraries at U of T.
After graduating, Katherine Morrison went on to teach literature courses at the University, where she continued as an active library user during her long career as an instructor, scholar and author. She wrote several books, including Loyalism and the Conquest: Historical Roots (2014) and Canadians are Not Americans: Myths and Literary Traditions (2003), where she drew on her insight as a transplanted American and adopted Canadian to explore 300 years of cultural traditions on either side of the border. "The careful distinctions Morrison has made do much to advance a healthy dialogue between the Canadian and American traditions," wrote one reviewer, praising the book's insight and maturity.
She was also a volunteer with the University, serving in an advisory capacity to University of Toronto Libraries, and founding one of its key donor and community initiatives, the Library Associates. U of T awarded both Morrison and her husband honorary degrees in 2004 in recognition of their tremendous dedication to higher education and improving the student experience.
Morrison's first-hand appreciation for the importance of libraries and student spaces ultimately shaped the couple's philanthropy, leading to them to give close to $40 million to the University through their Morrison Foundation, established in 1979. The Morrison Foundation has supported the University of Toronto, the University of Saskatchewan, Queen's University, Frontier College and Pathways to Education.
Beginning in the early 2000s, the Morrisons made several significant gifts focused on libraries and student experience. The Morrison Pavilion doubled the amount of student space at the Gerstein Science Information Centre, Canada's largest academic science and medicine library. Today the Morrison Pavilion not only facilitates student learning, but also attracts visiting dignitaries from across North America, who view the building as a model for how to upgrade historic facilities. Later, a generous gift from the Morrisons helped University College built its first new student residence in almost 50 years. Morrison Hall on St. George Street is now an indispensable part of UC's commitment to vibrant student life.
But it was in 2008 that the Morrisons made their first gift to a comprehensive revitalization of Robarts Library—the largest private donation ever made for the renewal of a library in Canada. Based on the success of their initial support, they then made a further commitment toward a five-storey addition to the main library. Slated to open in 2020, Robarts Common will create more than a thousand study spaces and help the University's largest library meet the evolving needs of students.
"Katherine Morrison believed that students need the right spaces to learn," says Larry Alford, the University of Toronto's Chief Librarian. "Robarts was created in the 1970s and envisioned as more of a lending library than a study space. Katherine—having studied here herself in the 1970s—saw its greater potential. The demand for quiet, contemplative study spaces will never go away. Robarts Common will help students to excel, and the Morrisons' remarkable investment will influence the academic success of countless students in generations to come."
"She encouraged U of T to consider students' needs for quality space, information technology, state-of-the-art services and collections," says Carole Moore, Chief Librarian Emerita. "Katherine urged us to look at the changes that will affect the library in the coming decades and then made sure that the Morrison Foundation support would help us adapt appropriately."
"Katherine, like Russell, was a true visionary," says David Palmer, Vice-President, Advancement. "They always supported causes with great modesty and their largest gift—to Robarts Library—came without the public recognition of a building in their name. They insisted, instead, to dedicate Robarts Common to its users. Supporting tomorrow's students was always at the heart of their philanthropy."
In 2013, some of the Morrisons' closest friends dedicated a study alcove in Robarts Library in Katherine's honour, close to the Canadian literature holdings. The secluded space is an apt tribute to a scholar who loved getting lost in books and deep contemplation.
Katherine Morrison was predeceased by her husband Russell Morrison, who passed away in 2016 after 66 happy years of marriage. She is survived by two daughters and a son—Leslie Sinclair (BASc 1983, MASc 1985), Donna Morrison-Reed, and Robert Morrison (BA 1980 UC, MA 1991).