Three Atlantic Canadian scholars named C. David Naylor Fellows at the University of Toronto
Thanks to the generosity of Arthur and Sandra Irving, graduate students from Atlantic Canada are realizing their positive visions for better health, mental health and community well-being.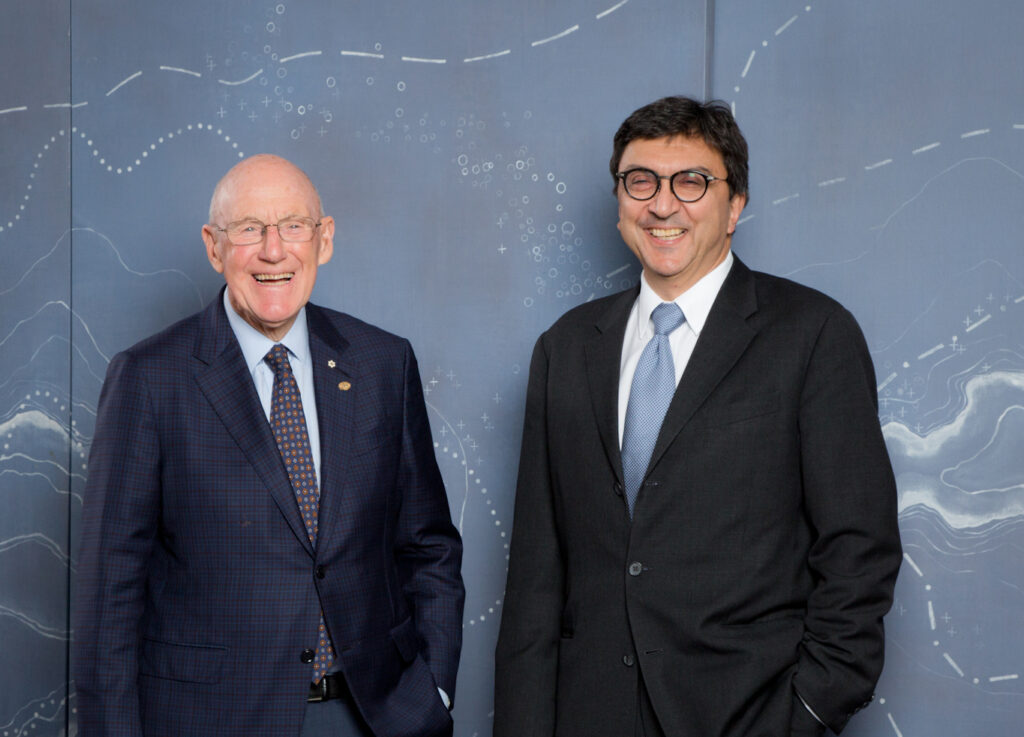 In early November, a virtual call honoured the 2020 C. David Naylor Fellows: Kayla Preston, Jad Sinno and Nick Fernandez. The three U of T grad students were joined by former recipients of the Naylor Fellowships: Billy Johnson, Amanda Loder, Ken Holyoke, Neal Callaghan, Vincent Auffrey, Joel Goodwin, Kate Huang and Seshu Iyengar.
The common theme touched on how this is a strange time, and how the feeling of support and community rooted in common experience is now all the more important. The common experience of Naylor Fellows is their outstanding accomplishments in academia, their Atlantic home, and importantly the community of friendship and support they foster.
These sentiments were shared by Nick Fernandez, a 2020 Fellow, who is working on his master's degree in medical biophysics and is passionate about cancer research. He joins other 2020 C. David Naylor Fellows, sociologist Kayla Preston and public health researcher Jad Sinno. Each will receive a $30,000 graduate scholarship.
Supporting dedicated early-career researchers
The Naylor Fellowships were established in 2013 thanks to a generous gift of $1.5 million from the Arthur L. Irving Family Foundation, and they support outstanding students graduating from a university in Atlantic Canada who are continuing their studies in graduate programs at the University of Toronto. The awards are named in honour of U of T's 15th president, David Naylor, a leading voice for the importance of Canadian research who is presently the co-chair of a federal COVID-19 immunity task force.
"Supporting Canadian researchers is vital if society is to overcome its biggest challenges," says Ted Sargent, U of T Vice-President, Research and Innovation, and Strategic Initiatives. "On behalf of the University, I'm delighted to welcome these brilliant students. We're very grateful to Arthur and Sandra Irving for creating opportunities for researchers of this calibre. Their work will translate into positive societal impact in the areas of health, equity and community engagement—critical topics in today's world."
An Atlantic Canada solution for community and leadership
"I thank Arthur and Sandra Irving for helping to bring the unique perspective of students from Atlantic Canada to a larger stage," says Fernandez. "In our Zoom interview, they were talking about how much they believe in what Atlantic Canadian students can do. They made me consider the ways that we are a strength given our experience growing up in a smaller place where community is really important."
Both Arthur and Sandra Irving are well known for their support of academic institutions and their belief in looking after the world around us. Arthur, the Chairman of Irving Oil, was honoured with the Order of Canada for his leadership in environmental innovation in the petroleum industry. He is furthermore recognized for being a very strong supporter of Atlantic Canadian universities, supporting undergraduate scholarships and research initiatives. Sandra, an alumna with an MA in political science from U of T, also received the Order of Canada for her support of student scholarships, research and leadership initiatives.
"The University of Toronto prioritizes giving opportunities to brilliant students with leadership talent and proven community involvement," says Joshua Barker, dean of the School of Graduate Studies. "Robust community partnerships that help bring our research to those who need it is a vital aspect of our work as a university. Our goal is to help these students develop and have an important influence on wider society. Arthur and Sandra's support for this vision means a great deal."
Meet the 2020 University of Toronto Naylor Fellows
U of T's 2020 Naylor Fellows draw strength from their home communities and are eager to give back. They're working to help deradicalize extremists, to advocate for the health of queer Canadians, and to discover new ways to treat and cure childhood cancer.
Kayla Preston: community is a major part of deradicalization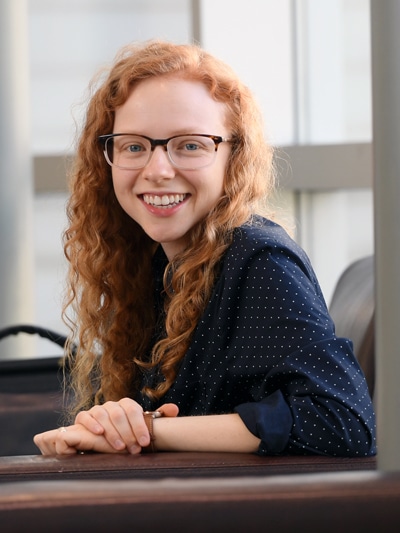 Preston has been a soccer coach, food bank worker and a workplace rights activist, but the volunteer work that's touched her most was the time she spent at a nursing home. "I would go around and talk, sometimes for hours on end, to people who were feeling a little bit lonely," she says. "About their lives, their interests… I learned so much about the importance of older generations, the importance of community, which I take with me to this day."
Fredericton-born Preston comes to U of T from Dalhousie University, where she completed her MA in sociology—reaching the finals of the 2019 SSHRC Storyteller competition. In her doctoral work, she plans to build on her research into how people leave right-wing extremist groups in Canada by investigating effective ways to prevent radicalization and help those who have been involved in extremism.
"Extremism is definitely a problem that doesn't impact just individuals. It impacts all of us when it happens," she says. "I believe deradicalization is definitely bringing people back into the community."
"Winning the scholarship has given me a lot of peace of mind, financially," says Preston. "But also it felt good to be recognized by Arthur and Sandra as a scholar worth investing in, and who will hopefully be able to work with partners in the Atlantic provinces to help my community there. I'm also looking forward to being part of the Naylor community, and I thank Arthur and Sandra for bringing the East Coasters in Toronto together."
Jad Sinno: community-based participatory research to improve queer well-being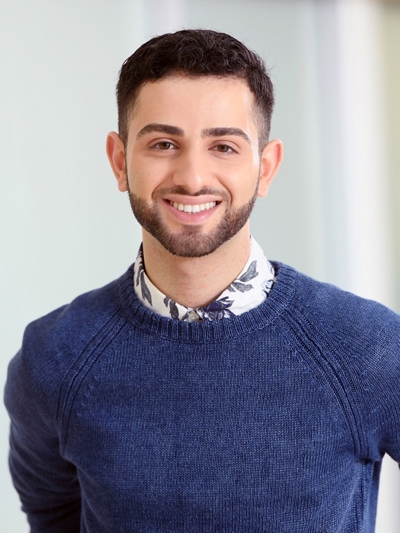 Jad Sinno introduces themself saying, "I grew up in Kjipuktuk, Mi'kma'ki." They hope people will ask, where is that?, because then they can explain: these are the Indigenous names for Halifax, Nova Scotia. "Indigenous activists have called on us to use decolonized language," they say. "I focus on the wellness of sexual and gender diverse individuals and when we do anti-oppressive-related research, we have to stand in solidarity and understand that the liberation of any single one of us can't happen without the liberation of all of us."
Newly arrived in Toronto from Dalhousie to work on their PhD at U of T's Dalla Lana School of Public Health, Sinno chose U of T because of its world-renowned, queer-informed research output and stellar faculty. "I'm interested in understanding how using online dating apps influences mental health for men who have sex with men," they say.
Sinno plans to work with Toronto's large and diverse queer community, in a continuation of their award-winning leadership work at home, from heading the youth Rotary club to sitting on the board of the Nova Scotia Public Research Interest Group. "I identify first and foremost as a community advocate," they say. "You never want to do research on the community; you should always want to do research alongside and with a community."
"I'm incredibly thankful to have been the recipient of this award," says Sinno. "I would not have been able to pursue my education at the University of Toronto without it, and that's positioned me to have resources that I might not otherwise be able to have, and to succeed as a scholar in queer health. Success in academia is an access issue, so thank you to Arthur and Sandra Irving for your ongoing commitment to creating opportunities and capacity."
Nick Fernandez: understanding the fundamentals of pediatric cancer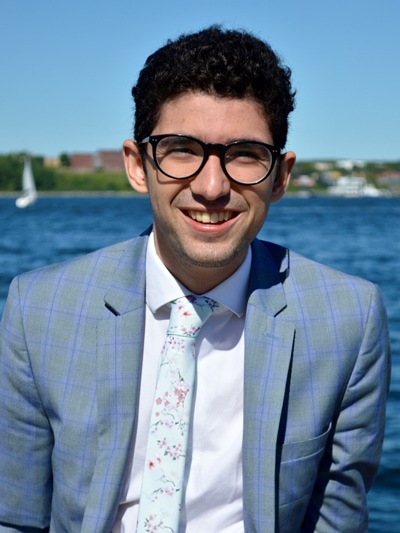 Fernandez, who grew up in Halifax, dived into biochemistry research from his first year at Mount Allison University, where he also made waves in musical theatre and with the university's chamber orchestra. In his graduate program at U of T, he'll focus on fundamental research to advance our understanding of pediatric cancers.
"Childhood cancer is very different," he says. Because kids are still growing, their cancers have different origins and take different courses—which for some cancers, can lead to far better outcomes than in adult patients.
"I'll be working with Uri Tabori in the department of medical biophysics, and I'm excited that we can figure out fundamental ways that the human body works and solve problems that can have tangible impacts on patients. My father is a pediatric oncologist, and I know being able to help kids and families in that way is really special."
"Toronto is an expensive city," says Fernandez. "and as an aspiring clinical researcher, I have another component of professional school after grad school—so having financial support at this stage is really important for the security that it's able to give me. Thank you to Arthur and Sandra Irving for recognizing and empowering students from Atlantic Canada."
Apply this fall for the 2021 Naylor Fellowships
Canadian students who have graduated from a university in Atlantic Canada and who will be starting a master's or doctoral degree at the University of Toronto in the fall of 2021 are encouraged to apply for the Naylor Fellowships through their department in the fall of 2020.