James Hosinec has a dream: to fund 1,000 scholarships for U of T students before his 100th birthday
Ninety-seven-year-old James Hosinec never had the opportunity to get a degree himself, but he's opening doors for University of Toronto students in need.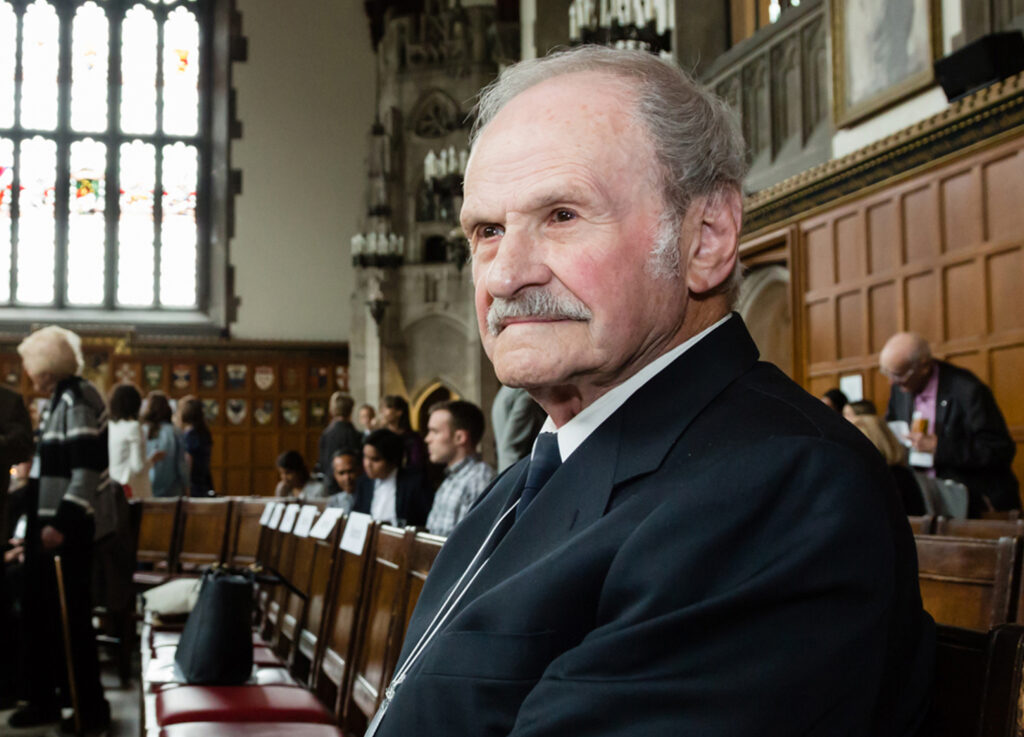 "I would have liked to become a doctor or lawyer, but my parents did not have any money." James Hosinec knows exactly what financial roadblocks mean to students. As Europe careened toward fascism and war during the 1930s, his parents went into debt to flee from Czechoslovakia to Canada—only to confront the Great Depression. "I decided to work," remembers Hosinec, who is 97. "We needed the money to live."
Decades later, migrants seeking a better life still experience the same challenges as the Hosinecs. "Both my parents came to Toronto as refugees from Vietnam," says Robinson Truong, a current U of T student in the Master of Medical Science program. "Due to the difficulty they faced working and adapting to life in Canada, I became the primary provider for our family at a young age. Finding the time and funding for post-secondary education has always been difficult."
Hosinec never became a doctor or lawyer, but he did find success, and he's sharing it with University of Toronto students such as Truong. His four Hosinec Scholarships are ensuring that hundreds get the chance Hosinec didn't have—the opportunity to learn, choose a career, and follow their dreams.
And what dreams they have. "I want to develop novel manufacturing processes to mitigate environmental pollution," says engineering student Opeyemi Ajogbeje, a Hosinec Scholar.
Recent dentistry graduate and Hosinec Scholar Lucia Santos (DDS 2021) wants to develop pain management strategies for children, while Robyn Bacon (BA 2020 INNIS) aims to create more opportunities in media for women and LGBTQ individuals. Hossain Anayet (BSc 2020 UTSC) hopes to design novel therapies to combat antibiotic resistance.
James Hosinec's four scholarships have made education possible for hundreds
Hosinec served with the Canadian Armed Forces during the Second World War, then worked as a photographer before joining Ontario Hydro in the town of Ajax, in 1953. In 1954, the town incorporated and bought the electricity system, naming it Ajax Hydro. Hosinec worked in its meter department and retired as meter supervisor after 33 years of service.
In 2005, he began supporting University of Toronto students, confident that they would go on to "make something of themselves, and that will benefit society as a whole." His first gift established the Hosinec Family Scholarships, awards for students in any year who demonstrate academic merit and are in financial need. Thank you for helping me follow my path.
In 2012 he added the James and Irene M. Hosinec Scholarship for MD students, named for his late wife. In 2016, he established the James Hosinec and Carol M. Isaac Scholarship for first-year students, named for his long-term life partner, and also the James Hosinec Scholarship for Clinician-Scientists. He has also set up a bequest to add to the scholarship endowments in the future.
The students Hosinec has helped have become architects, nurses, scientists, accountants, writers, entrepreneurs—and yes, doctors and lawyers. The ripple effect of their success is incalculable. Their gratitude is profound.
"I don't know how else to say it: thank you! Each morning I woke up and was overwhelmed by how fortunate I was to be doing something I genuinely love," says law graduate Kelsey Chisamore-Johnston (JD 2021). "For me," says U of T Mississauga communications grad Kevin Deveraux Cohen (BA 2020 UTM), "receiving this scholarship meant the difference between suspending my studies in my final year, and finishing them. Thank you so much for this remarkably generous donation."
"With this help, I have been able to pour nearly all my free time back into research," says fourth-year microbiology student Wenyuan He, who has since published two academic papers on obesity. "It is so difficult to properly express the gratitude I feel." Says Ghazaleh Ahmadzadeh (BSc 2021 NEW), an aspiring doctor: "Thank you for helping me follow my path. It has meant the world to me."
Hosinec's dream: to help 1,000 students by his 100th birthday
Since he began giving in 2005, Hosinec has already supported more than 890 University of Toronto students. He has an even bigger dream: to have helped 1,000 students by the time he reaches his 100th birthday. It's ambitious, but he's well on track, and has never lost sight of the goal. "I am pleased to be able to help all the students in need," he says simply.
Like Hosinec's own story, Truong's trajectory is on course for success, fulfilment, and altruism. "This award has enabled me to continue my master's program," says Truong, "where my work centres on increasing health-care access for marginalized populations, such as those at risk of HIV, LGBTQ+ individuals, and communities of recent immigrants. Thank you. Your generosity provides individuals like me the opportunity, support and motivation to continue making a difference in the lives of others."