In Memoriam: Nicolas Kordellas (1935-2021)
The University of Toronto—and many of its engineering graduates—are remembering Nicolas Kordellas in gratitude for his generosity to students in need.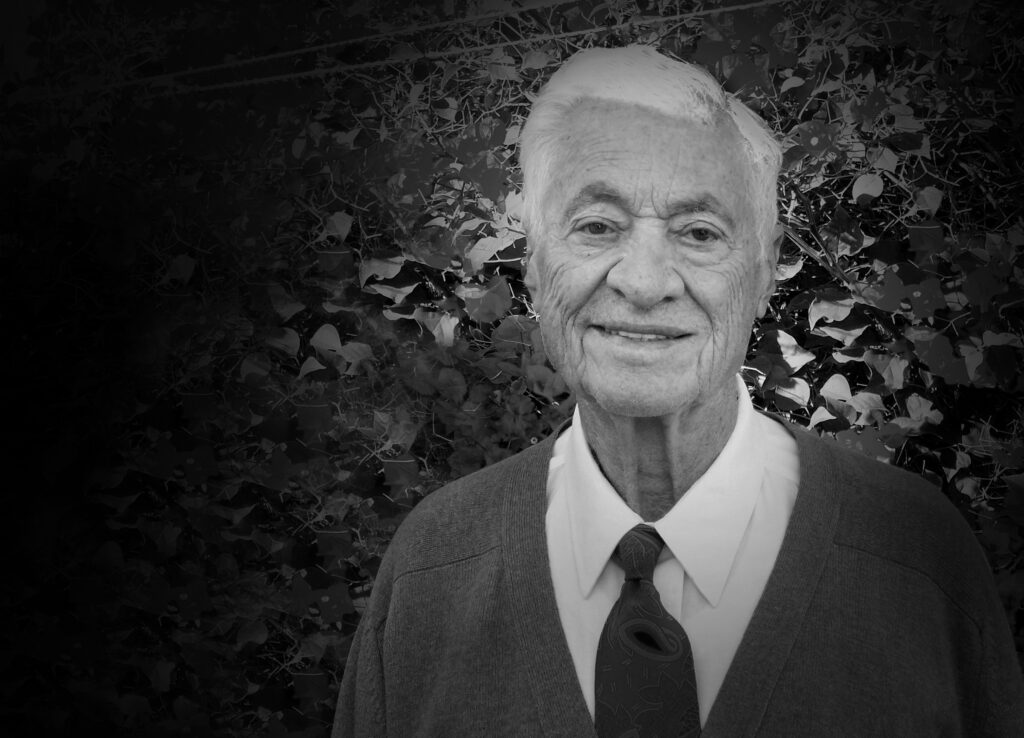 Nicolas Kordellas, an alumnus of U of T's Faculty of Applied Science & Engineering who endowed important scholarships at the University, has passed away. He was 85.
"Nicolas Kordellas launched his engineering career at the University of Toronto, and generously supported the University as both volunteer and benefactor," said Meric Gertler, President of U of T. "He left us an impressive legacy through the scholarships he founded with his wife Shirley V. Tripp—helping students in financial need to finish their studies, and catalyzing their future careers as engineers and nurses. Nick was a true friend to U of T, and he will be remembered with great gratitude, respect and warmth at his alma mater. On behalf of our students, alumni, faculty and staff, I would like to offer heartfelt condolences to Shirley and son Philip at this difficult time."
A life of impact and meaning, well-lived
Nicolas Kordellas (BASc 1959) was born in Athens, Greece, where he enjoyed literature and music as a high school student. Inspired to study engineering by his great-grandfather, who had worked in Greek silver mines, Kordellas applied to the University of Toronto's Faculty of Applied Science & Engineering. At U of T, he was active in the chess club, Hart House and Delta Sigma Phi, while working part-time as a taxi driver to cover his tuition. Kind donors also assisted him with bursaries, and he graduated with a degree in mechanical engineering in 1959.
After graduation, Kordellas worked across Canada on mechanical engineering projects from Welland, Ontario to Fort McMurray, Alberta. He married Albertan obstetric nurse Shirley V. Tripp, and the couple settled in the province. In 1990, Kordellas began volunteering with the Hart House Farm Committee and shared his time and expertise in that capacity for many years.
An inspiring legacy: supporting students with the potential to become humanitarians
After they retired, Kordellas and Tripp endowed a scholarship fund at the University of Toronto to support students earning degrees in their two fields: engineering for Kordellas and nursing for Tripp. The scholarships go to students in their third or fourth years who have financial need and who honour humanist values in their outlook on life. When the couple later augmented their original gift with an additional planned bequest, U of T inducted both Kordellas and Tripp into the Chancellors' Circle of Benefactors, a honour that recognizes the University's most generous and visionary community members, in gratitude for their philanthropy.
"Their goal was to help young people with a humanitarian outlook to develop their thinking and ability to help others," said Linda Johnston, Dean of the Lawrence S. Bloomberg Faculty of Nursing. "For nursing students, The Kordellas-Tripp Foundation Nursing Award has helped to ensure many more will graduate as leaders in health care, ready to make a positive impact on our society."
"The Kordellas-Tripp Foundation Engineering Award has rewarded many upper-year undergraduates with scholarships since 2015, and has inspired them through its support for engineers who view their discipline as a way to change our world for the better," added Christopher Yip, Dean of Engineering. "All of us are incredibly grateful to Nick and Shirley for their generous vision that secured help in perpetuity for so many inspiring young people."
"Mr. Kordellas recognized the life-changing impacts of scholarship giving. He was extraordinarily generous, paying forward the assistance he himself had received at a pivotal moment in life and learning," said David Palmer, Vice-President, Advancement. "His vision of a more humanitarian society, one where helping others is the cornerstone for successful careers and a happier world, resonates deeply. His open-heartedness will ripple outwards through all the young people whose lives he touched and will touch in future."