In Memoriam: Mark Tanz (1931-2021)
Mark Tanz had a vision for combating neurodegenerative diseases and made significant investments in research at the University of Toronto in pursuit of this vision.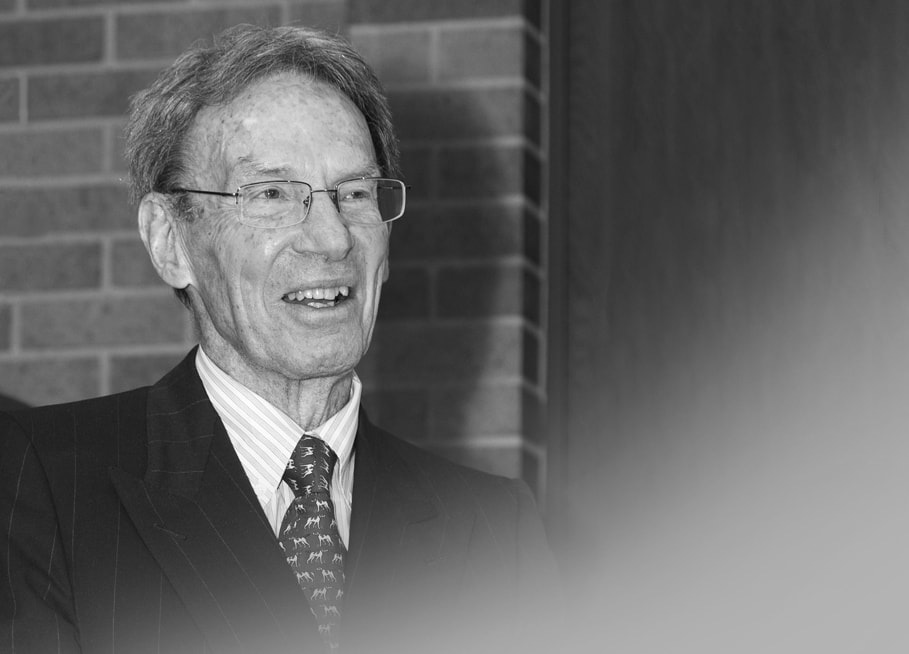 Through an unwavering commitment and generous giving, real estate developer Mark Tanz (BA 1952 UC, Hon LLD 1990) helped to accelerate Canadian research into neurodegenerative diseases. Tanz passed away on February 11 at the age of 89, leaving a legacy of robust scientific investigation at the Tanz Centre for Research in Neurodegenerative Diseases.
"At a time when there was very little investment in research in Canada on diseases such as Alzheimer's and Parkinson's disease, Mark Tanz was determined to transform the status quo," says U of T President Meric Gertler. "In response to his own mother's illness, and out of concern for the many others affected by neurodegenerative diseases, he did just that.
"Through his landmark philanthropy and tireless volunteer leadership, he enabled major progress on crucial fronts, giving hope to individuals and families across Canada and around the world—a brilliant legacy that continues in the world-leading centre that bears his name. On behalf of the University of Toronto, I extend condolences to Jacqueline Tanz and the entire Tanz family as they mourn his passing."
Mark Tanz hoped to save others from Alzheimer's disease
Tanz was inspired to speed up research into Alzheimer's disease after he witnessed his mother, Gertrude Tanz, suffer from the condition. When he discovered that very little research was underway in Canada, he made a donation to help establish the Tanz Centre for Research in Neurodegenerative Diseases, and later contributed an additional generous sum to support the centre's research.
"The Tanz Centre has achieved outstanding success with pioneering discoveries into complex diseases," says Trevor Young, dean of the Temerty Faculty of Medicine. "Tanz researchers have discovered five critical genes associated with Alzheimer's disease, developed the first antibody against proteins that cause amyotrophic lateral sclerosis (ALS), unravelled the function of key proteins implicated in Parkinson's disease, and showed that vaccination of mice with Alzheimer's disease can prevent or reverse cognitive impairments. Thanks to Mark Tanz's vision, U of T is at the forefront of research into neurodegenerative conditions, providing international leadership in both discovery and education."
In addition to making a difference at the University through financial contributions, Tanz generously volunteered his time. He served on numerous committees and other advisory groups, supporting strategic decision-making at an institutional level. He also co-chaired the volunteer steering committee for the Tanz Centre's fundraising campaign. The University awarded Tanz a Doctor of Laws in 1990 to recognize his contributions to his alma mater.
"In becoming one of the world's leading institutes for basic research on neurodegenerative diseases, the Tanz Centre has realized the first steps in Mark Tanz's hope and vision," says Graham Collingridge, Krembil Family Chair in Alzheimer's Disease and director of the Tanz Centre. "His generosity and steadfast support were absolutely key in this, and will ensure that our work to develop better treatments—and hopefully cures—continues from a wonderful foundation."
An impressive career; a steadfast hope and vision for families
Tanz had planned on attending law school, but after obtaining his undergraduate degree from the University of Toronto, he instead began a career as a real estate developer. He launched a home-building company in Toronto in 1954, later expanding into shopping centres and office buildings as well. Tanz's real-estate ventures included properties in California and the Bahamas, where he settled in 1981.
In the early 1960s, he acquired three financial firms: Commonwealth Savings & Loan, Canada Health & Accident Assurance Co. and Commonwealth Insurance Co. He later diversified even further, buying a Vancouver-based mining company and forming a film production company. He also had a long tenure at Revenue Properties LTD and Pan Pacific Retail Properties.
Tanz's remarkable philanthropic initiatives not only played a critical role in accelerating research into a range of debilitating diseases but also inspired others to follow his example, strengthening the Tanz Centre's ability to continue its essential work. He is survived, and dearly loved and missed, by his wife Jacqueline; children Bernie, Stuart, Russell, Jonathan, Melanie, and Caroline; brother Mitch; daughters-in-law Karen, Maureen and Robyn; son-in-law Eric; and his grandchildren and great-grandchildren.
"Mark was extremely generous to U of T with his time, his volunteer leadership, and his financial support. With his support for the Tanz Centre, he has made an enormous difference to those with neurodegenerative disease and their families, offering the hope of a better life," says David Palmer, Vice-President, Advancement. "We feel privileged to have worked with him, and we will always remain grateful to him and his family for their steadfast support."
In lieu of flowers, the Tanz family has asked that friends and well-wishers consider a donation to the Tanz Centre.