In Memoriam: Marvelle Koffler (1929-2020)
The University of Toronto is deeply saddened by the loss of Marvelle Koffler. Together with her husband Murray, Marvelle was one of the University's greatest proponents, generously supporting research and education in the areas of conservation, pharmacy and breast cancer care.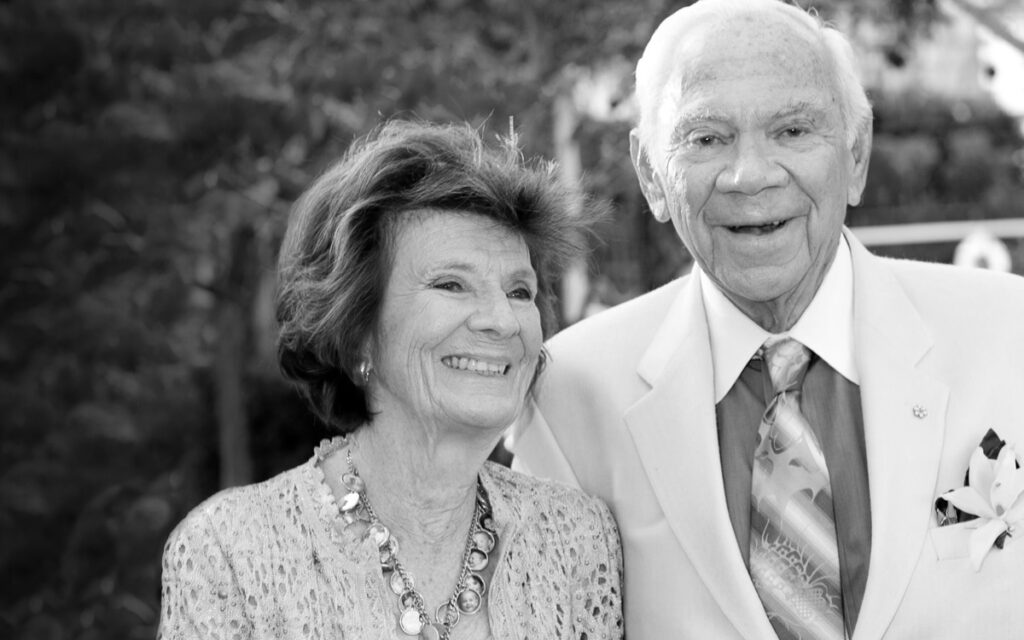 The University of Toronto joins with the Koffler family, and friends across Canada, in mourning Marvelle Koffler (Hon LLD 1996), a visionary philanthropist who passed away peacefully at her home on January 14, 2020. She was 90.
"Marvelle Koffler lived her life with infectious optimism and a sense of adventure," says U of T President Meric Gertler. "By supporting research across multiple fields, she sought practical solutions to real problems. Her generous spirit and tireless dedication to the University of Toronto have touched countless lives. Her impact will be felt for generations to come."
Together with her late husband Murray Koffler (BPhm 1946, Hon LLD 1985), Marvelle Koffler generously supported numerous divisions across the University of Toronto.
Most notably, the couple helped create the Koffler Student Services Centre on College Street, and, in 1995, made the largest-ever land gift to a Canadian university with the donation of Jokers Hill,
their 350-hectare equestrian estate, to the University of Toronto. Now home to the Koffler Scientific Reserve, Jokers Hill is internationally recognized for cutting-edge research and education in biodiversity, ecology and conservation biology.
"The gift of Jokers Hill was transformational to undergraduate and graduate education and research at U of T," says Melanie Woodin, dean of the Faculty of Arts & Science. "It has enabled the University of Toronto to provide students unparalleled hands-on experiences in a unique natural environment and afforded some of the world's leading scholars with the resources to study and solve Canada's most pressing ecological issues."
Over the years, the Kofflers also had a significant impact on the Faculty of Pharmacy. In 1990, the Koffler Institute of Pharmacy Management opened at U of T's Faculty of Pharmacy. Initially providing continuing education in the area of management to practising pharmacists, the Institute has evolved into a comprehensive program in social and administrative pharmacy. In 2006, the newly-named Leslie Dan Faculty of Pharmacy recognized the Kofflers' contributions by establishing the Murray B. Koffler Chair in Pharmacy Management and naming the fifth floor of the building the Murray B. Koffler Administrative Centre.
"The Koffler name is synonymous with the profession of pharmacy in Canada," says Lisa Dolovich, interim dean of the Leslie Dan Faculty of Pharmacy. "Marvelle and Murray's support for pharmacy education at the University of Toronto has not only changed how generations of pharmacists approach primary care and community pharmacy practice, but has also had an immeasurable effect on the health and wellness of all Canadians."
Born Marvelle Seligman, Koffler grew up in Toronto. At 15, she met future husband Murray while on holiday at Lake Simcoe. Before the couple married in 1950, Koffler undertook a life-changing six-month trip to Europe in 1948. "It was a tremendous, tremendous shock," Koffler said of witnessing the war's devastating aftermath, which offered "another viewpoint on life that has never left me."
A survivor of breast cancer and a passionate champion of women's health, Koffler also became the driving force behind the first dedicated breast centre in Canada to integrate detection, diagnosis, treatment, counselling and prevention. Established in 1995, the Marvelle Koffler Breast Centre at Mt. Sinai Hospital treats over 34,000 women each year, and helps countless more as a pioneering centre of breast cancer research and care.
In 1996, U of T awarded Marvelle Koffler an honorary Doctor of Laws for her impact in the public sphere. She was also honoured with the State of Israel Bonds' 2002 Golda Meir Leadership Award and the Israel Cancer Research Fund's Humanitarian Award, and was inducted into the Order of Ontario in 1998. Her long life of service also included stints on the boards of the Mount Sinai Hospital, the Canadian Breast Cancer Foundation and the Tel Aviv Museum, as well as volunteer work for the Toronto Symphony Orchestra and the Canadian Opera Company. She also founded the International Committee of Women for Science of the Weizmann Institute, with a mandate for public outreach.
"The enormous breadth of Marvelle Koffler's involvement in the University and the wider community touched innumerable lives here in Canada and around the world," says David Palmer, U of T's Vice-President, Advancement. "She will be long remembered for her generosity, grace and unyielding passion for nature, health and art. Our country has lost an irreplaceable friend and champion."
Koffler is survived by her five children, themselves community leaders and volunteers, 27 grandchildren and one great-grandchild.