Seymour Schulich doubles scholarship endowment to train young leaders
The well-known philanthropist invests a further $100 million in the Schulich Leader Scholarships, which benefit many U of T students pursuing science and engineering degrees.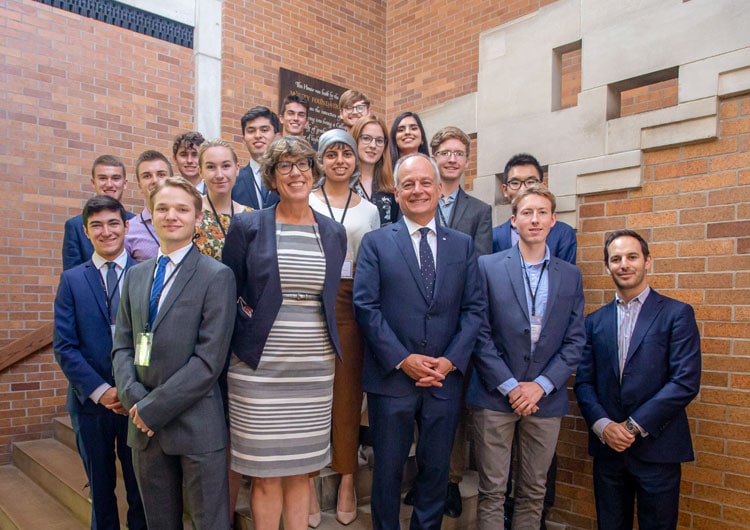 Since he founded the Schulich Leader Scholarship program in 2012, businessman Seymour Schulich has helped almost 400 bright young Canadians on their ways to influential careers in the STEM fields—science, technology, engineering and mathematics.
Now, the visionary philanthropist has announced a further investment of $100 million, doubling his scholarship endowment and the number of awards available.
Worth $100,000 for engineering students and $80,000 for those studying science, math or technology, the Schulich Leader Scholarships reward academic achievement and entrepreneurial leadership, and assist those in financial need. They encourage students to step up and lead as the scientists, entrepreneurs and inventors of the next generation. The best and brightest Canada has to offer, these future leaders will make great contributions to society
"Mr. Schulich's generosity is a tremendous gift to post-secondary education in Canada," said David Palmer, U of T's Vice-President, Advancement. "Through the Schulich Leader Scholarships, the University of Toronto has been able to nurture the talent of dozens of extraordinary young people. These are the innovators of our future—the leaders who will ensure a prosperous Canada at the forefront of technology."
"Schulich Leader Scholarships are the premiere STEM scholarship program in Canada and the world. With 100 outstanding students selected in Canada each year it is all but guaranteed that this group will represent the best and brightest Canada has to offer. These future leaders will make great contributions to society, both on a national and global scale," said Schulich in a press release.
Seymour Schulich pays it forward—and so do the Schulich leaders
Seymour Schulich says just $2,000 changed his life. In 1963, a scholarship in that amount allowed him to get his MBA and launch a spectacular career as an investor, fund manager and venture capitalist. His greatest legacy may be how he has paid forward that early gift.
The nearly 30 students who have come to U of T on Schulich Leader Scholarships study everything from quantum computing and nanofabrication to mathematics and immunotherapy. They are on the cutting edge of science even before they graduate. For example, Christopher Choquette-Choo, a current U of T Schulich Leader, interned with Intel Corporation in San Francisco while still in school, working on deep neural net systems—a technology pioneered at U of T.
"I've always wanted to be an inventor," Choquette-Choo said when he arrived at the University. "I'm really passionate about innovation in the robotics and aerospace fields." Choquette-Choo will graduate this spring and is already working at U of T's Vector Institute, researching machine learning issues as varied as thwarting cyberattacks and using computers to untangle molecular chemistry.
As well as pushing the boundaries of knowledge, the Schulich Leader Scholars also make tangible contributions to society. Danny McInnis, who is also graduating this spring, has already designed several products with patents pending, such as a scanner to customize prosthetic limbs, robotic film camera parts and a new type of wheelchair.
"No matter what field I work in, I want to be able to create products that make people's lives better," he said. "I was really interested when I found out about the Schulich network. All the people have done really cool things, and want to give back, and I think that's the coolest part."
Beginning in 2020, outstanding STEM students at 20 partner universities across Canada, including U of T, can apply through their high school for one of 50 engineering and 50 science/math/tech Schulich Leader Scholarships. Up to 10 U of T first-year students could be eligible. The deadline is January 29, 2020.