U of T launches Iranian Student Memorial Scholarship Fund to honour Flight PS752 victims
The fund, memorializing eight U of T community members, will provide scholarships to international students from Iran as well as students pursuing Iranian studies.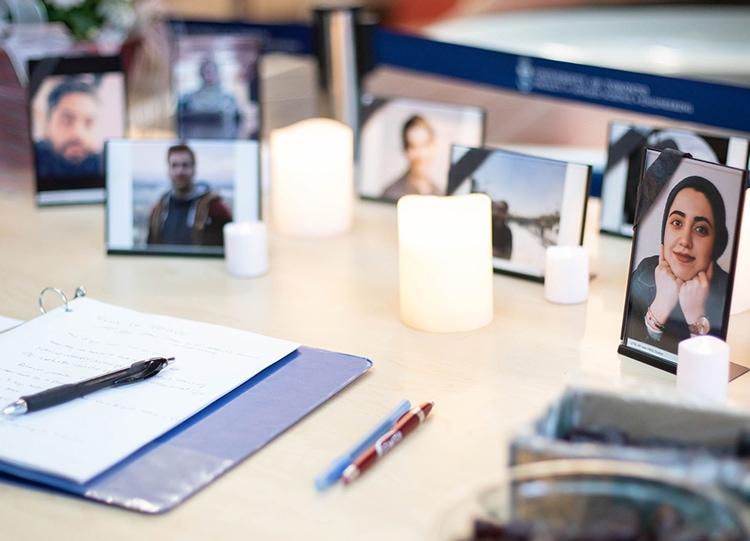 The University of Toronto has launched a new endowed fund, the Iranian Student Memorial Scholarship Fund, to honour the memory of those who died in the tragic downing of Ukraine International Airlines flight PS752 in Tehran, Iran.
All 176 passengers and crew, including 57 Canadians, were killed. Eight members of the U of T community, including six students, were among those whose names were on the plane's passenger manifest.
The loss of lives, and a determination to memorialize the U of T community members' contributions, drove the creation of the fund, which will provide needs-based scholarships to international students from Iran as well as students from any background pursuing Iranian studies at U of T.
All donations to the fund will be matched by the University: The first $250,000 will be matched at an effective rate of 3:1, with all funds beyond that threshold to be matched dollar-for-dollar.
"The University of Toronto continues to mourn the heartbreaking loss of so many members of our community, and to offer our sympathy and support to their families, friends, classmates and professors," President Meric Gertler said.
"With the creation of this scholarship we hope to honour the memory of those we have lost by helping students from Iran pursue their studies at U of T and by supporting students of all backgrounds who are interested in exploring Iranian studies."
The scholarship fund is the brainchild of David Palmer, U of T's vice-president, advancement, and alumni Rahim Rezaie, associate director of the International Virtual Engineering Student Teams Initiative at the Institute for Studies in Transdisciplinary Engineering Education & Practice at the Faculty of Applied Science & Engineering, and Mehrdad Hariri, CEO and president of the Canadian Science Policy Centre.
The University took the unusual step of matching donations at such a high rate in recognition of the enormity of the community's loss, Palmer said.
"We wanted to create a legacy of hope, support and compassion out of the grief and sorrow that has gripped us all in the past week – and we wanted to ensure that the names of those we lost will not be forgotten," Palmer said. "These students and scholars were among the very brightest of their generation. We hope that this scholarship will allow their memory to serve as an inspiration for generations to come."
Disbursement of the scholarship will be managed by U of T's Enrolment Services Office and the scholarship will be available to undergraduate and graduate students. Applications and deadlines have not yet been determined.
Rezaie said he came up with the idea for a scholarship fund as he sought to come to terms with his grief the day after the plane was downed.
"I was overcome with sadness as well as a desire to find a way, however small, to create something positive out of this horrific tragedy. I felt that the broader community, particularly Iranians and Iranian-Canadians, could use some way to channel our grief into a more hopeful outlet," he said.
"Given the economic conditions in Iran, this scholarship fund will be really impactful as it will support some brilliant students who might otherwise not have the opportunity to come to Canada and study at U of T.
"Additionally, by supporting students who pursue Iranian studies, this fund can hopefully strengthen cultural understanding and ties."
Hariri said that multiple Canadian universities have expressed interest in setting up scholarship funds, but that U of T was the first to get the ball rolling.
"I received a swift personal response from President Gertler; he offered assistance and connected me with the directors, who set up the fund immediately. It came together very quickly and I'm very thankful for that," Hariri said.
"The students and academics who lost their lives were all working toward producing something positive through their research and studies – this scholarship fund pays tribute to that, and will support future students from Iran in achieving the same."
Hariri said it's essential that the tragedy not discourage Iranian students from coming to Canada.
"Rather, the opposite," he said. "We encourage students from Iran to engage with the academic institutions of Canada and contribute to Canada, and this scholarship will support and encourage that."
By Rahul Kalvapalle
The Iranian Student Memorial Scholarship Fund: