In Memoriam: Eberhard Zeidler (1926-2022)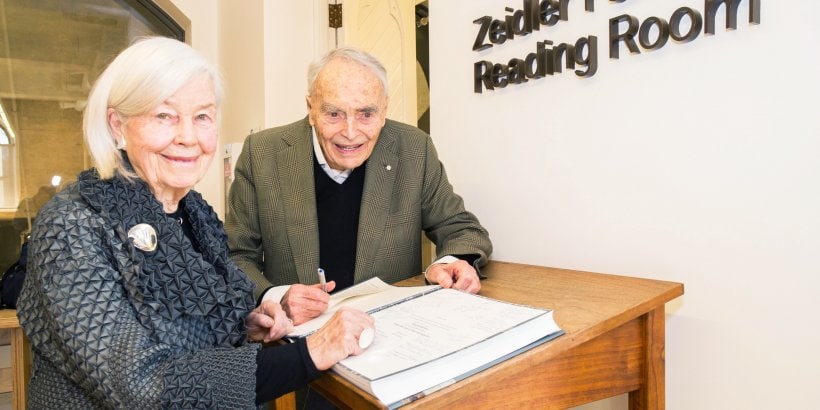 "Eb Zeidler was a humanist, seeing design in terms of service to the community. His work was innovative and in many cases iconic, but ultimately he wanted to create places for people, not monuments." So notes urban designer Ken Greenberg of celebrated architect Eberhard Zeidler (Hon DArch 1989), who passed away on January 7 at the age of 95.
In addition to creating some of Canada's most recognizable structures, from Ontario Place and the Eaton Centre in Toronto to Canada Place for Expo 86 in Vancouver, the German-born architect had a sustained relationship with the Daniels Faculty, culminating in the establishment of the Eberhard Zeidler Library in the revitalized Daniels Building, to which he and his wife Jane (BA 1952 UC, MA 1989) generously contributed.
"Eberhard Zeidler leaves important architectural and civic legacies to the city and to the Daniels Faculty at the University of Toronto," said Dean Juan Du upon learning of his death. "We at the school are deeply saddened by the loss."
Eb Zeidler was a humanist, seeing design in terms of service to the community
"The name Eberhard Zeidler," former dean Richard Sommer noted during the 2019 dedication of the Eberhard Zeidler Library and Zeidler Family Reading Room, "is firmly ensconced in the school's history as one that continues to inspire and shape the architecture education of many faculty, alumni and current students."
The 37,000-volume library, which also contains a trove of maps, drawings and manuscripts as well as copious digital resources, is only the most prominent of Eberhard and Jane's contributions to the University. Having established his own practice, now known as Zeidler, in the 1960s, Eberhard was a visiting lecturer and critic at the Faculty before serving as an adjunct professor from 1983 to 1995.
He and Jane were also pleased to invest in and recognize the next generation of architectural talent by establishing the Eberhard Zeidler Scholarship in 1999. Last bestowed this fall, it's awarded on the basis of academic achievement to a student concluding his or her first year of the Master of Architecture program.
"He was very passionate about the teaching of architecture," Dr. Zeidler's son Robert tweeted this weekend. Both Eb and Jane passed on their civic-mindedness to their four children: Margie, Robert, Kate and Christina.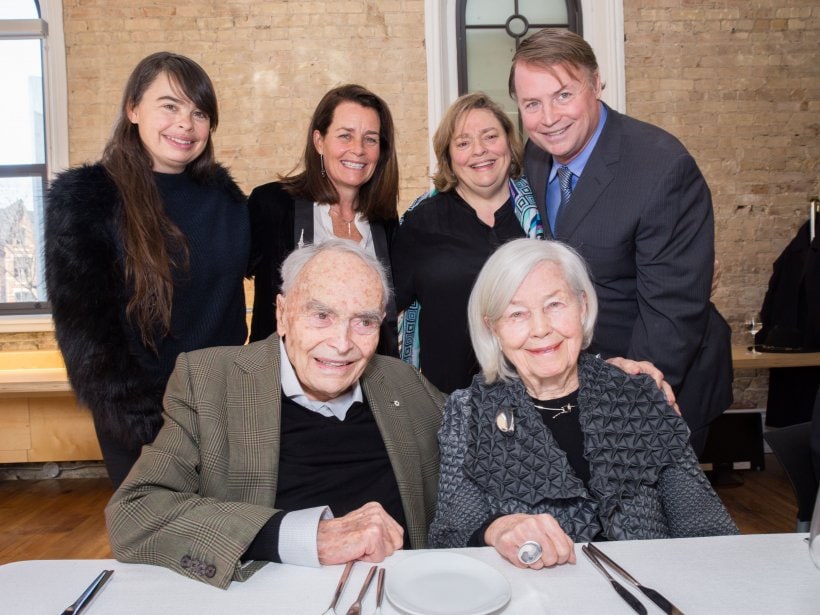 Filmmaker and artist Christina has become a well-known preservationist, transforming neglected historic gems such as Gladstone Hotel, while alumna Margie (BA 1981 VIC, BArch, 1987) is 401 Richmond's president and creator; these two projects are now thriving cultural hubs in Toronto. Robert, meanwhile, developed the Cotton Factory project in Hamilton, while Kate is a leading interior designer, with more than 25 years in the business.
Such creative acumen owes a debt to Dr. Zeidler's example. "Eb Zeidler began the transformation of a rather conservative Toronto in the late '70s by reinterpreting classical architecture spaces in surprising new ways," says Marianne McKenna, a founding partner at KPMB Architects.
"He cleverly jump-started today's contemporary Toronto with modern materials and fresh architectural forms. His genius was in creating new public spaces that people actually love to be in. He was an architect who put our spatial experience first."
He cleverly jump-started today's contemporary Toronto. His genius was in creating new public spaces that people actually love to be in
Over the years, Dr. Zeidler had been acknowledged with gratitude by the country, city and institutions to which he devoted his talents. In 1989, he was awarded an Honorary Doctorate in Architecture by the University of Toronto. He was also made an Officer of the Order of Canada and received a gold medal from the Royal Architectural Institute of Canada.
According to those who knew him best, however, his real rewards were in the creation and improvement of spaces we collectively use and enjoy.
"He was an exemplary Torontonian [who] involved himself throughout his career in the issues of the day, taking positions when others in the profession did not," recalls Greenberg.
"At the time of the Central Area Plan [in the 1970s], Toronto's reform Council wanted to bring people to live in the city's core, which was rapidly becoming an office monoculture. Eb and a few others stepped up to challenge the development industry of the time by showing how mixed-use could be done."
For Greenberg, Dr. Zeidler's work with Michael Hough on Ontario Place is "one of the great demonstrations of a powerful fusion of architecture and landscape." It is also reflective of his overall approach to architecture and life.
"He was," says the urban designer, "a great collaborator."
To learn more about architect Eberhard Zeidler's life and legacies, visit the Zeidler family website.