Hana Tariq stays in touch with U of T to 'learn, remain engaged, and have some fun'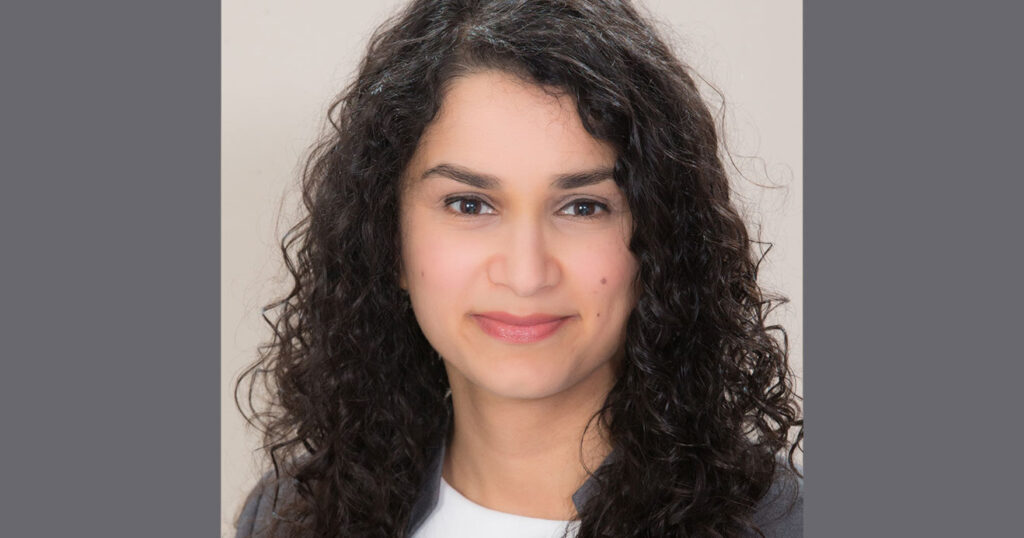 A litigation lawyer, Hana Tariq (BSc 2004 UTM) graduated from U of T Mississauga with a degree in psychology and was her class valedictorian. Called to the bar in 2009, she focuses on commercial litigation and construction law—and also generously volunteers her time and expertise to give back. Mentoring students and serving as a long-term member of the UTM Alumni Association, she stays connected in many ways. In 2021, the University recognized her continuous outstanding service with an Arbor Award.
Congratulations on being named one of the 2021 Arbor Awards recipients! Incredibly well-deserved! What does this award mean to you?
To be named a recipient is such a surprise and honour! The recognition is not only motivating – a reminder that whatever time I am able to give back to the UTM community matters – but also humbling. I wouldn't be able to do any of this if not for the support of my incredible mentors, family, and friends.
What motivated you originally to start volunteering with your alma mater and what does your volunteer work with UTM mean to you today?
To be honest, I missed my alma mater, I missed being on campus. I wanted to remain engaged with the UTM community – especially with students. Students have so much to offer, so many fresh ideas, and I was longing for that connection. I, myself, benefited greatly from mentorship during my time at UTM, and I wanted to give back to students.
I thoroughly enjoy volunteering with UTM – whether it is speaking at events, or mentoring students. Not only is it fun, but I learn so much. I continue to be amazed with how accomplished and talented our alumni and students are!
You have been a board member of the UTM Alumni Association for many years. Can you tell us more about that?
I joined the UTMAA in 2015, and was a board member for six years. As a board member and as an alumna, I considered myself an ambassador for the university – to students, alumni and the broader community. UTM hosts great events for alumni to keep them connected with UTM. From family-friendly movie nights and zoo trips, to lectures on hot topics such as cryptocurrency, UTMAA has thought of it all. I strongly encourage alumni to attend the programs – to learn, remain engaged, and have some fun!
Can you tell us more about your personal background?
At heart, I am a Mississaugan – if that's even a term! I grew up in Mississauga and most of my family still resides there. I am one of four siblings, and it is remarkable that each one of us completed our undergraduate education at UTM. At this point, we should have a wing named after the Tariqs!
Tell us about your student days at UTM! Any fond memories you could share?
I graduated from UTM in 2004, with a B.Sc. in psychology. I often get asked why I decided to major in psychology and what relationship, if any, does the study of psychology have to do with the practice of law. The best advice I received as a student – when I was interested in pursuing law as a career – was that in order to excel, I should choose an undergraduate subject matter that I found interesting, that piqued my curiosity. That I shouldn't stick to traditional pre-law majors such as political science or criminology – law school would teach me what I needed to know. I am certainly grateful for that advice. I found psychology fascinating, and, thus, did well.
One of my fondest memories at UTM is assisting in the research of the psychology of happiness, as part of the Research Opportunity Program. Back then, psychology labs were run in the basement of what was known as the South Building, which definitely had a bit of a Frankensteinian feel to it!
What is something you learned as a UTM student that has made an impact in navigating your career?
I had one of my first jobs ever at UTM, working part-time as an alumni assistant throughout my years at UTM. It taught me how to balance and prioritize life's competing interests – skills that I am continuing to utilize decades later as a lawyer and mother of three.
As a UTM student, I also learned the importance of mentorship, which I now hope to give back to students. Twenty years later, I am still in touch with my mentor, a fellow UTM alumna.
---
Defy Gravity: The Campaign for the University of Toronto has a goal of achieving one million volunteer engagements by our graduates. These engagements range from mentoring, event attendance, and countless opportunities to give the gift of time to help U of T, our students, and our alumni community.