In Memoriam: Arthur Scace (1938-2020)
Arthur Scace (BA 1960, Hon DSL 2003, Hon LLD 2003) was a champion of education, health care and the arts, who spent his life working to build a better community.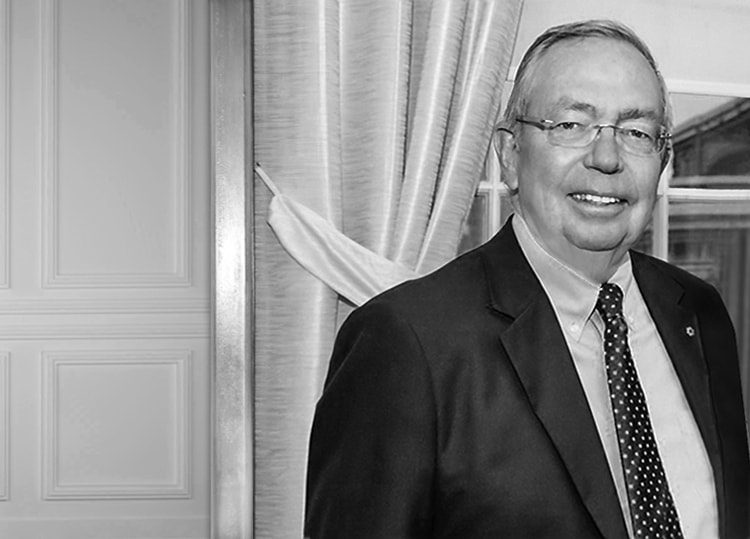 The University of Toronto community is deeply saddened by the passing of Arthur Scace, a lifelong supporter of his alma mater and a greatly valued University citizen. He passed away peacefully this week with his wife, alumna Susan Scace, by his side. Over decades, Arthur built a powerful legacy as a passionate and dedicated community leader, supporting a range of cultural, educational and social causes.
"Arthur Scace was a great friend of the University of Toronto and a trusted advisor to many leaders in the University, past and present," says President Meric Gertler. "He was a towering figure in Canadian law, but is equally well known for his leadership, kindness and generous support of dozens of organizations in Toronto and beyond.
"Arthur's support for students figures prominently in the lasting legacy that he and his wife Susan have established at the University. His impact as a champion of excellence will be felt for generations to come. On behalf of the entire community, I would like to offer our heartfelt condolences to Susan and the entire family."
A life of outstanding contributions to the legal community, a dedicated philanthropist, an exceptional volunteer
Arthur Scace's prolific career with McCarthy Tétrault LLP began in 1967. He became a partner of the law firm in 1972, and served as the Managing Partner of the Toronto office from 1989 to 1996. He served as the firm's National Chairman from 1997 to 1999. In 1997, he was also appointed a director of the board of the Bank of Nova Scotia, and in 2004 became Chairman, a position he held until his retirement in 2009. For his outstanding contributions to the legal community in Canada, the University of Toronto recognized Arthur Scace with an honorary doctor of laws in 2003.
Following retirement, he continued to serve as a devoted community leader for a wide range of organizations and causes.
A member of the Order of Canada—to which he was inducted for his exceptional volunteerism—Arthur Scace gave generously of his time to many educational and cultural organizations, most notably serving on the boards of the Canadian Opera House Corporation and University of Toronto Schools. He also served as Canadian Secretary of the Rhodes Scholarship Trust, Director of the AWB Charitable Foundation, and Director of the Harold Fox Education Fund for more than two decades. In addition to U of T, he has also volunteered with York University and Centennial College.
"Arthur was generous with sharing his time, talent and expertise," says Professor Mayo Moran, who grew close with the Scaces through her role as Provost and Vice-Chancellor of Trinity College, and her previous role as Dean of the Faculty of Law. "Arthur and Susie have always been such bright lights among U of T alumni, willing to share their experiences with faculty and students alike. With Arthur's passing, Trinity has lost one of its most accomplished graduates and greatest friends."
Both proud U of T graduates, Arthur and Susan Scace met at Trinity College. Over the past decades, Susan has also been a long-time, active volunteer at the University, notably serving on Governing Council for 12 years. She has also been highly involved as a volunteer in the Boundless campaign, serving on the Campaign Executive Closing Committee, the Stewardship Taskforce Committee and the Pre-Campaign Steering Committee.
Together, the Scaces' dedicated philanthropy has supported a wide range of organizations, including the MaRS Discovery District, the University Health Network, United Way of Toronto-York Region, and Sunnybrook Hospital.
A widely loved and admired man and a steadfast supporter of the University of Toronto
After their years as students, Arthur and Susan maintained close ties to U of T, and have generously supported the University, through both their personal support and the Henry White Kinnear Foundation. In recognition of their generosity, which exceeds $8 million, they are members of the Chancellors' Circle of Benefactors. They have supported a broad range of causes and projects across the University, including Trinity College and the faculties of Medicine, Music and Law. In 2012, their lead gift of $2.25 million launched the C. David Naylor University Scholarships, which recognize students with high academic achievement and demonstrated leadership excellence.
The Scaces have also funded a row of trees to be planted along Tower Road—across the street from Trinity College—as part of the University's Landmark Project. The bank of trees will be named in honour of the Scace family and serve as a permanent, public and living memorial of Arthur Scace's contributions to our community.
Most recently, the Scaces were among the first supporters of the University's COVID-19 Action Fund, which is currently helping U of T researchers take action against this pandemic.
"The Scaces' support of this crucial, high-impact research is emblematic of their life and values," says David Palmer, Vice-President Advancement. "When they heard of the need for support, so our researchers could combat the spread of the virus, they immediately stepped forward with significant assistance.
"Everyone who knew Arthur is going to miss him deeply," says Palmer. "He had a wonderful sense of humour, was unfailingly generous, and had a great capacity for kindness and friendship. He was widely loved and admired, and lived by values we would all do well to emulate."