Donors step up to create Black and Indigenous student awards at the University of Toronto
Generous donors from across the University of Toronto are helping Indigenous and Black students overcome financial barriers and complete their education.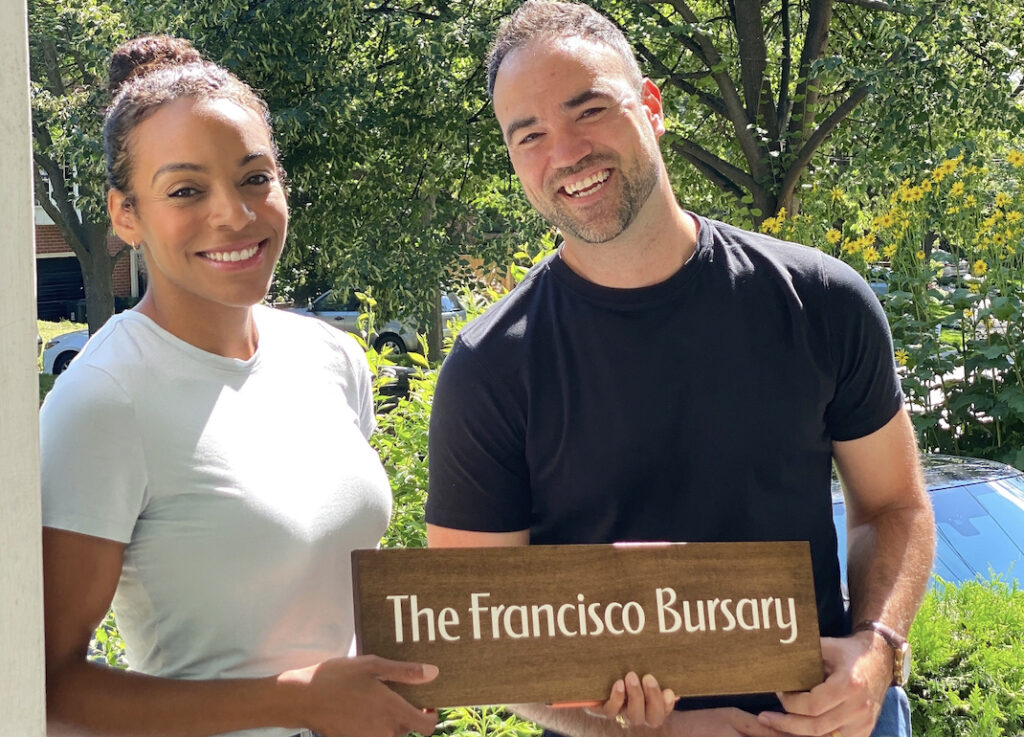 One of the most powerful ways to support inclusion and diverse communities is to open a pathway to education. Wilma Winkelman did just that when she made the decision to leave her estate to support scholarships at the University of Toronto. Winkelman passed away in 2015 at the age of 97.
The University was able to use the generous gift to establish two academic merit scholarships: a four-year award for international students, and a general admission scholarship for first-year students who identify as Black.
The prestigious Wilma Winkelman Pearson Scholarship is awarded annually to a talented and promising international student from any country in Africa, and it covers tuition, books, incidental fees, and full residence support for four years of study.
"I truly believe that the best version of me is the one that will graduate from the University of Toronto, and I will forever be grateful for this opportunity," said David Tobechukwu Halim (BA 2021 VIC) who came to Canada from Lagos, Nigeria and won the first Winkelman Pearson Scholarship. With the scholarship's support, he balanced his studies in economics and cinema studies with an internship at PricewaterhouseCoopers Nigeria, writing for The Strand and The Varsity, and managing intramural games—and was hired by an advertising agency right after graduating with honours in 2021.
"I was extremely worried about how I was going to pay for my first year of university," said Jaida Justin, who won a Winkelman Admission Scholarship in 2021. "However, this award helped cover my tuition, supplies and also allowed me to invest in a reliable computer!"
In 2021, several friends of the University have established awards for Indigenous and Black students
Many recent donors have also created scholarships for both Indigenous and Black students. For example, Erica Neeganagwedgin (BA 2000 UTSC, MA 2003, PhD 2009), who belongs to the Indigenous Taino community in the Caribbean, created an award in honour of her mom. The Olive Moxam Indigenous Bursary supports Indigenous, Black and Taino students in OISE's master of teaching program. I aspire to be like donors like you, and help people achieve their dreams
Lesra Martin (BA 1988 INNIS) saw his life utterly transformed after some kind strangers from Toronto met him on the streets of New York and offered to pay for his education. Now he's a lawyer and a motivational speaker, and his Lesra Martin Student Changemaker Award honours students who contribute to Black excellence and inclusion through scholarly achievement or extra-curricular initiatives.
Marketing professionals Mike and Quinn Samardzic reached out to the University to ask about creating student support. They've founded the Francisco Bursary for Black and Indigenous students to reward academic merit in the Rotman Commerce program, and hope others will join them in growing the award's endowment.
Awards like these directly fight systemic marginalization and support U of T's commitment to equity, diversity, and inclusion. Winkelman Scholar Leen Abdalla says she is empowered by the scholarship and the values it reflects. "My family and I moved to Canada in August 2020 from Sudan," said Abdalla. "We moved during COVID and had to leave many things behind. Therefore, knowing that I can cover my first-year fees without burdening my parents meant the world to me! I promise to keep working hard and never give up. I will work as hard as I can to get into medical school and become a great doctor that helps people feel less intimidated by doctors. Moreover, I aspire to be like donors like you, and help people achieve their dreams."