World-leading Michael and Amira Dan Brain Tumour Bank Network marks its fifth anniversary
U of T's biobank has become the biggest of its kind in the world, elevating brain tumour research through unprecedented collaborations.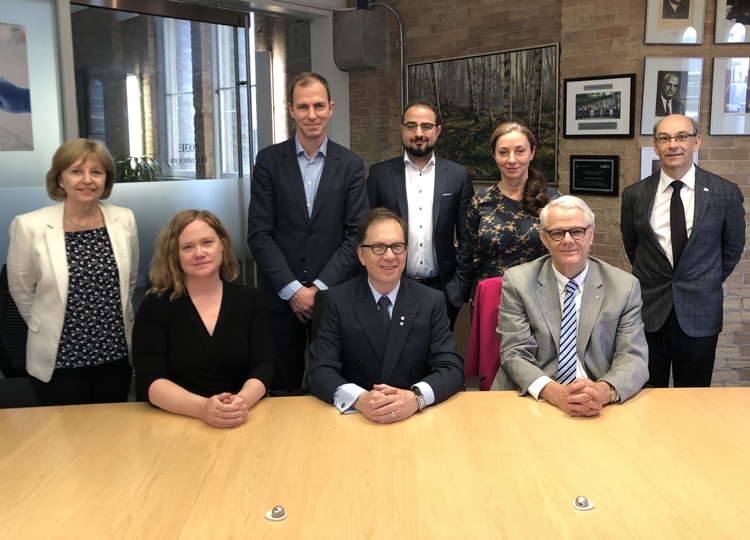 As a young neurosurgeon, Michael Dan (MD 1984, LLD 2018) spent countless hours operating on patients with potentially deadly brain tumours. In those days, the practice was to excise the diseased section of the brain and place it in a jar of formalin where its cells would eventually die. "I often thought there had to be a way to keep those tumours alive so we could examine and learn from them," says Dan. "For 30 years, it was a dream of mine to be able to preserve specimens and study the biology of living brain tumours."
In 2013, Dan and his wife Amira Dan (MA 2004) fulfilled this dream with a $2-million gift that brought together U of T researchers and academic leaders across the Toronto health-sciences network to establish the Michael and Amira Dan Brain Tumour Bank Network at the Faculty of Medicine.
The initiative is the largest of its kind in the world and enables researchers across four University hospitals (SickKids, St. Michael's Hospital, Sunnybrook Health Sciences Centre and Toronto Western Hospital) to more effectively diagnose and treat individuals with brain tumours, prolonging and saving tens of thousands of lives in Canada and around the world.
A world-leading initiative expediting the study of brain tumours
The biobank network is both a physical and virtual tissue bank where samples and critical information are stored. While the physical bank stores the samples at individual sites, it is the virtual bank that stores and links pertinent sample information for use in research across the city. Tumours are frozen for storage or used immediately following the surgery for cancer stem cell research.
"There are more brain tumour patients treated and followed at U of T-affiliated hospitals than any other single institution in the world," says Prof. James Rutka, Chair of the Department of Surgery at U of T and staff neurosurgeon at SickKids. "Having access to this unique population, we're able to work together and pool samples from patients across the whole network and store this information in one place."
Rutka says that the size and scope of U of T's biobank creates an exceptional environment for collaboration and advances in research. "Having access to these samples in one place has been really exciting. It means that we can expedite the research that many of us are doing because we now have the materials to conduct sophisticated molecular genetic analysis, develop bioinformatics, and tie in artificial intelligence to develop strategies to prevent disease and save lives. For example, because of the research pioneered at U of T and through the use of tissues available through the biobank network, children with medulloblastoma, the most common malignant brain tumour in the pediatric population, can be offered medulloblastoma subtype-specific therapy that has improved prognosis, de-escalated therapy, and extended overall survival."
"The biobank embodies the U of T spirit of collaboration"
Everyone involved in developing the bank — surgeons, pathologists, staff, and patients, among many others — has been 100 per cent behind the idea, says Dan: "It embodies the U of T spirit of collaboration. There was never any doubt in my mind that once we got it up and running, it would be a fantastic resource — a goldmine of genetic information that everyone in the network can study. You just don't see this anywhere else."
"By unifying our resources, we will advance research and accelerate the development of effective treatment of patients with brain and spinal cord tumours," adds Trevor Young, Dean of the Faculty of Medicine. "It's a testament to the vision of Michael Dan that we have this remarkable resource. It really is a dream come true."