Ted Rogers Centre for Heart Research celebrates its fifth anniversary
Thanks to an unprecedented $130-million gift from the Rogers family, researchers have dramatically improved patient outcomes, discovered key genetic causes of heart failure and uncovered new ways to repair injured hearts.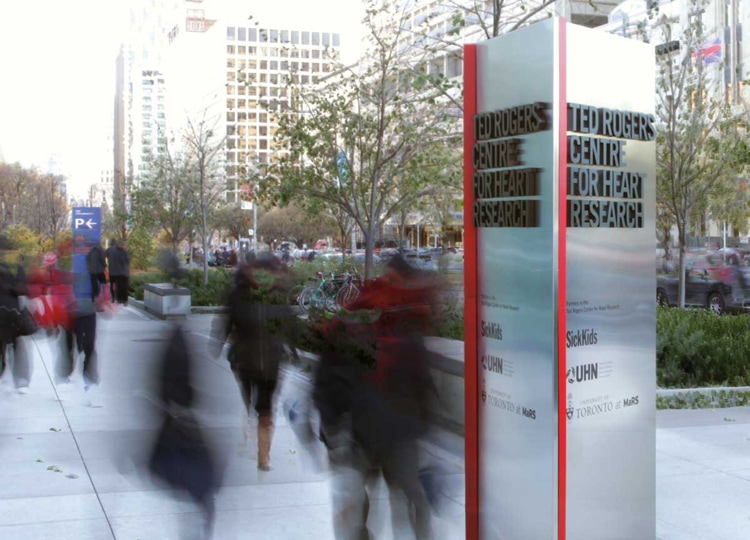 Five years ago today, the largest private gift in Canadian health-care history came to life. The Ted Rogers Centre for Heart Research was spurred by the vision of Ted Rogers Sr., who believed it would take a unique blend of expertise, tools and persistence to solve the disease that took his life in 2008.
Heart failure is one of the world's greatest health challenges. In Canada, it affects at least one million Canadians – a figure that will grow by 25 per cent in the next 20 years. And each year, Canadian hospitals spend over $3 billion managing the intricate needs of those it affects.
The Rogers family asked: what if an array of multidisciplinary cardiovascular experts worked together, rather than separately? They decided to make a serious impact on these numbers with one of their own: an unprecedented $130-million donation to unite three world-class institutions – SickKids, University Health Network and University of Toronto – in a common pursuit to improve the future of heart health for adults and children.
Clinicians and scientists from the three partners have now spent five years peeling back the layers of a complex disease. Targeting specific inroads into solving heart failure, they've worked to help give patients a better quality of life today, while exploring advanced treatment and prevention strategies. They've built a foundation on three overlapping areas of focus:
Dramatically improve patient outcomes through data science, predictive analytics and new clinical strategies
Analyze the human genome to find the genetic roots of heart failure
Develop new ways to repair and regenerate injured heart tissue
After five years, there is much to celebrate.
How the Medly app is keeping patients safe at home
Now, at Peter Munk Cardiac Centre (UHN), one nurse manages nearly 400 patients with heart failure – who are at home. A Canadian-first, the Medly remote patient monitoring system empowers patients to manage their health while clinicians can quickly assess their condition from afar, eliminating the need to visit the ER.
On the Medly app, patients record their daily weight, blood pressure, heart rate and any changing symptoms. In real-time, an algorithm analyzes the data and, should a patient's status be deteriorating, Medly sends alerts to the care team and an actionable message to the patient.
Emerging research shows that Medly improves a patient's quality of life and ability to practise self-care, while reducing hospital admissions related to heart failure. The system keeps people safe by catching them before they are in trouble – including patients in remote areas across Ontario, who can't easily access specialist care.
Medly is now being explored in many large Ontario hospitals, and international partnerships are underway. The goal of reducing heart failure re-hospitalizations by 50 per cent in the next decade is well within sight.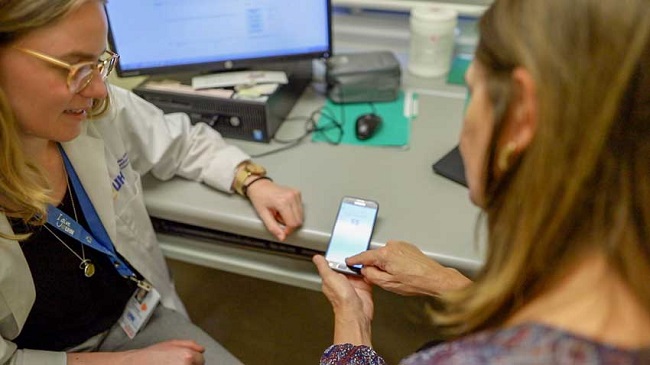 Searching the genome leads to remarkable discoveries
Building on a legacy of expertise in genetics, teams at SickKids have been empowered by the Rogers family gift to perform intensive whole genome sequencing (WGS) in children and families with cardiovascular diseases.
In 2018, the Centre was at the heart of a remarkable discovery.
By analyzing and interpreting a patient's vast genome, Ted Rogers Centre investigators are finding clues about the genetic roots of heart failure and returning important results to families that influence their care moving forward. The Centre is leading the way in WGS of families with early onset cardiomyopathy, identifying defects residing in hidden regions of the genome. Genetic knowledge empowers families to make decisions about future screening of family members for heart disease so that they can receive timely medical care. Through an international study called PRIMaCY led by the Ted Rogers Centre, such precision knowledge is also being used to predict and reduce the risk of sudden death – a devastating consequence in adolescents and teenagers living with this disease.
In 2018, the Centre was at the heart of a remarkable discovery for tetralogy of Fallot (TOF) – a congenital heart condition where four related heart defects typically occur together. How TOF develops has largely been unclear. Akin to searching for a needle in a haystack, our team sequenced genomic data on a large number of individuals looking for underlying genetic contributions for TOF. They discovered a new link between a genetic pathway and TOF, which is potentially responsible for 10 per cent of all cases.
Such a finding means TOF is more hereditary in nature than was previously believed – pointing to new avenues for prevention and possible treatments.
This is the road to personalized medicine, where medications and care strategies are informed by each patient, rather than thousands of different people with the same disease. The multidisciplinary team at SickKids is examining how to integrate WGS into a clinical cardiac setting in a way that is both effective and safe for patients and families.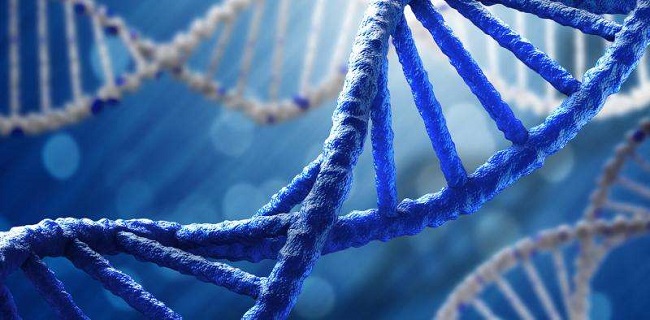 The Ted Rogers Centre is an incubator for new innovations
Meanwhile, the Ted Rogers Centre's research zone at the University of Toronto has become a model of collaborative work. At the Translational Biology and Engineering Program, nine principal investigators and their teams collectively target heart failure.
Here, bioengineers and medical researchers join in using biomaterials and stem cells to rebuild an injured heart before it begins to fail. Sophisticated MRI methods are tested in a bid to diagnose heart failure as early as possible in patients. The study of proteomics is fused with artificial intelligence to find new biomarkers that can predict heart failure.
It is also here where a unique new program called ECHO trains new entrepreneurs who have invented cardiovascular technologies. This 12-month program is an incubator that gives innovators the knowledge to move ideas from bench to bedside. In October 2019, a pitch competition culminated in a $250,000 award to a team who invented a new method to clear dangerous protein deposits that cause a type of heart failure for which there are no existing therapies.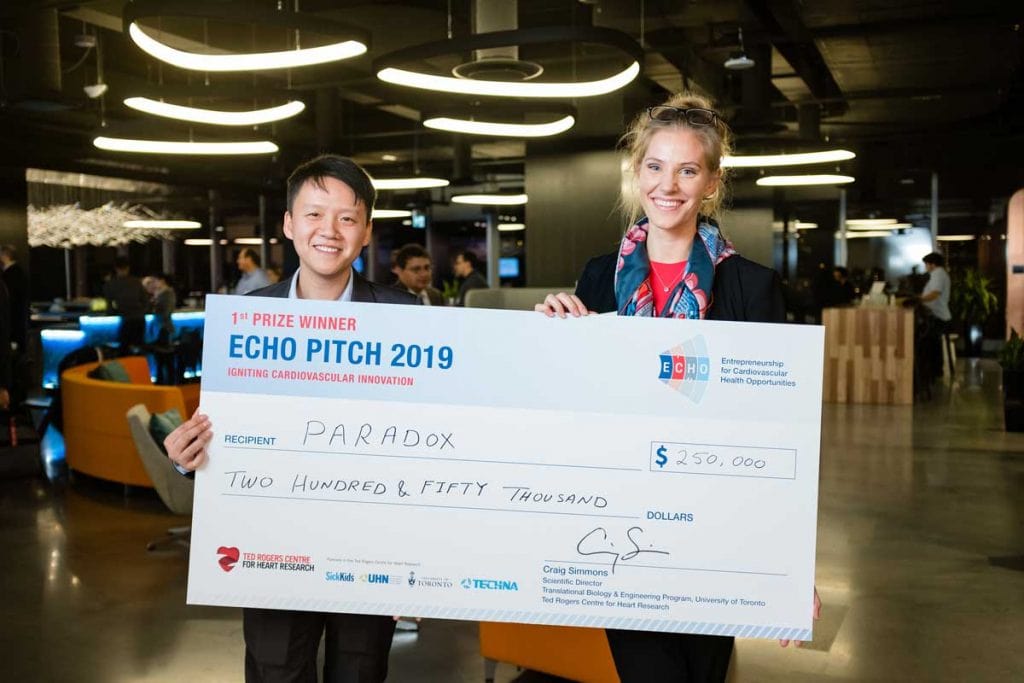 A rush of discovery to come
In the next five years, this ecosystem that the Ted Rogers Centre has built and funded in Toronto will produce a rush of discovery and advances in patient care.
Canada's largest cardiotoxicity clinic will serve thousands of cancer survivors each year, helping protect their hearts from the side effects of chemotherapy. Meanwhile, its world-leading cardio-oncology researchers will continue to publish original studies on how hearts suffer toxic damage from systemic therapies meant for other diseases – and how to prevent it.The potential inside the Rogers family's transformative gift is coming alive with each passing month
More incredible findings will emerge from funded investigators in that ecosystem. In 2018, one SickKids lab uncovered an antibody that can identify 98 per cent of all cases of the leading cause of sudden cardiac death. The best part: we can detect the antibody easily in a simple blood test.
The Centre will continue to be at the forefront of discovery in the interplay of Type 2 diabetes and heart failure – and how medications meant for the former can actually treat the latter.
In hospitals, an algorithm will enable emergency physicians to confidently discharge patients home whose lives are not at risk. A vast digital platform linking clinical and research activities at Peter Munk Cardiac Centre will merge predictive analytics and real world evidence to give doctors the ability to spot warning signs for heart failure in ways no human could.
The potential inside the Rogers family's transformative gift is coming alive with each passing month. Here's to the first five years, the five after that – and a future where heart failure is no longer a threat to the lives of so many.
Reposted from the original story by the Ted Rogers Centre for Heart Research