While you were away… U of T was busy building for the future
The University of Toronto has been working hard on transformational projects, aiming to complete as much construction work as possible before students return.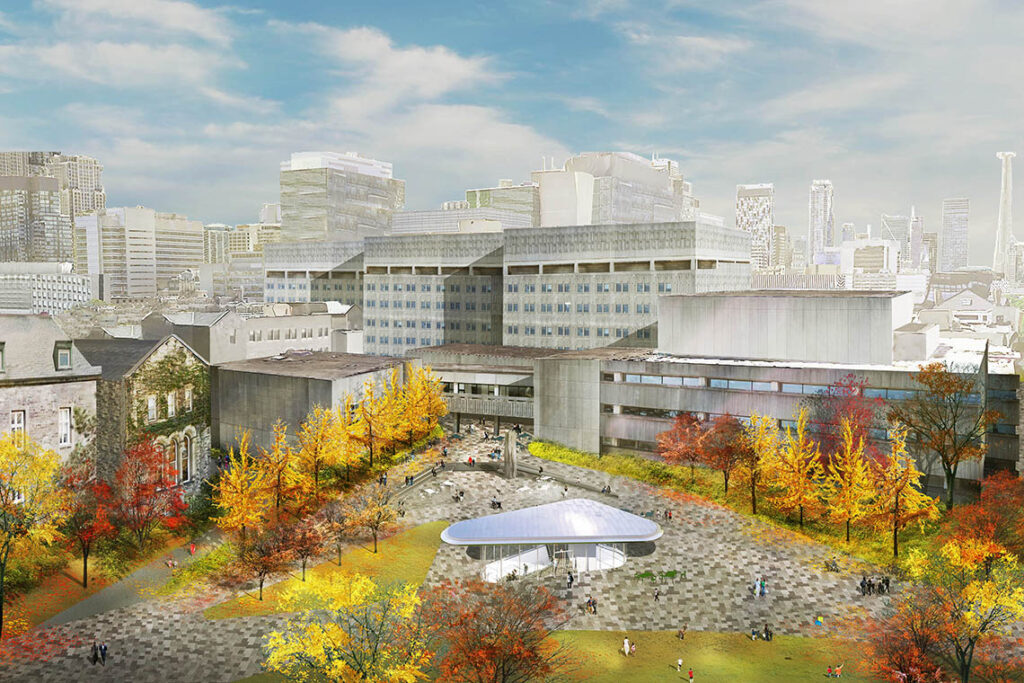 While many University of Toronto students, staff, faculty and librarians studied, taught and worked from home over the past year, U of T's three campuses remained a hub of activity as construction forged ahead on several transformational projects.
At St. George, that includes the beginnings of a revitalized campus core that will be greener, more pedestrian-friendly and more accessible thanks to Landmark – the most ambitious open-space project in U of T's history.
Scott Mabury, U of T's vice-president, operations and real estate partnerships, said project managers, contractors and construction crews worked hard to complete as much work as possible during the pandemic in order to reduce the inconvenience to community members.
"We spent the past year accelerating as much of the noisy, disruptive and impactful work as we could," said Mabury, adding that U of T strictly adhered to safety guidelines set out by public health authorities on all work sites, including measures such as rapid testing for COVID-19.
"We took advantage of the situation by accelerating work and really unleashing our contractors to dig faster, haul faster and finish a few projects early."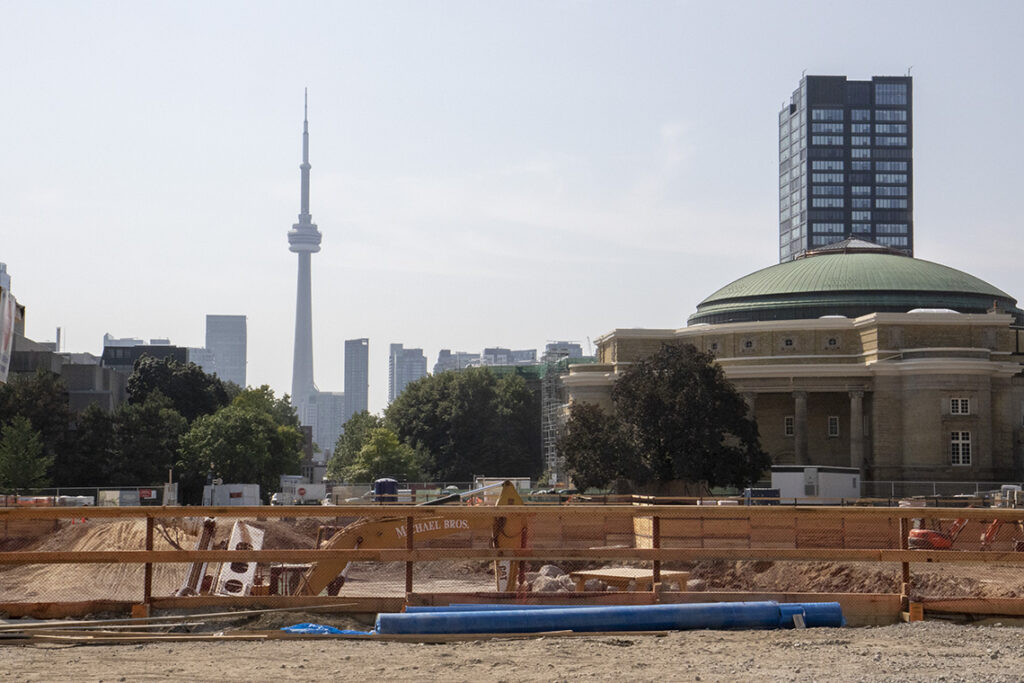 A key element connected to the Landmark project – the drilling of 374 geothermal boreholes – was completed in July. Drilled some 240 metres below the planned underground parking garage at Front Campus, the shafts will be used to store surplus heat generated by mechanical systems in the summer for use in the winter.
Once completed, the underground geoexchange field will help reduce U of T's greenhouse gas emissions by an estimated 15,000 metric tons per year – a key component of the University's Low Carbon Action Plan.
The Landmark project also involves the creation of an Indigenous space that is being developed following extensive consultations with Indigenous U of T community members, Elders and nations.
Landscaping, excavation and related work around King's College Circle is underway as crews make good progress on the underground parking garage. Shoring rigs have finished installing over 150 cylinder piles of the 203 that will be required.
"We will look to minimize impacts and disruption to students, faculty and staff on the heritage core of campus as work continues," Mabury said. "All buildings will remain accessible to everyone, and all regular servicing of buildings will be maintained, as will connections to emergency vehicles."
To the north of King's College Circle, Mabury said students can get "a little appetizer" of the project's vision for that section of campus in the form of newly laid granite walkways from the Sir Daniel Wilson Residence up to Hoskin Avenue and down Tower Road.
"They'll be able to get a good sense of what it's going to be like when it's finished," he said.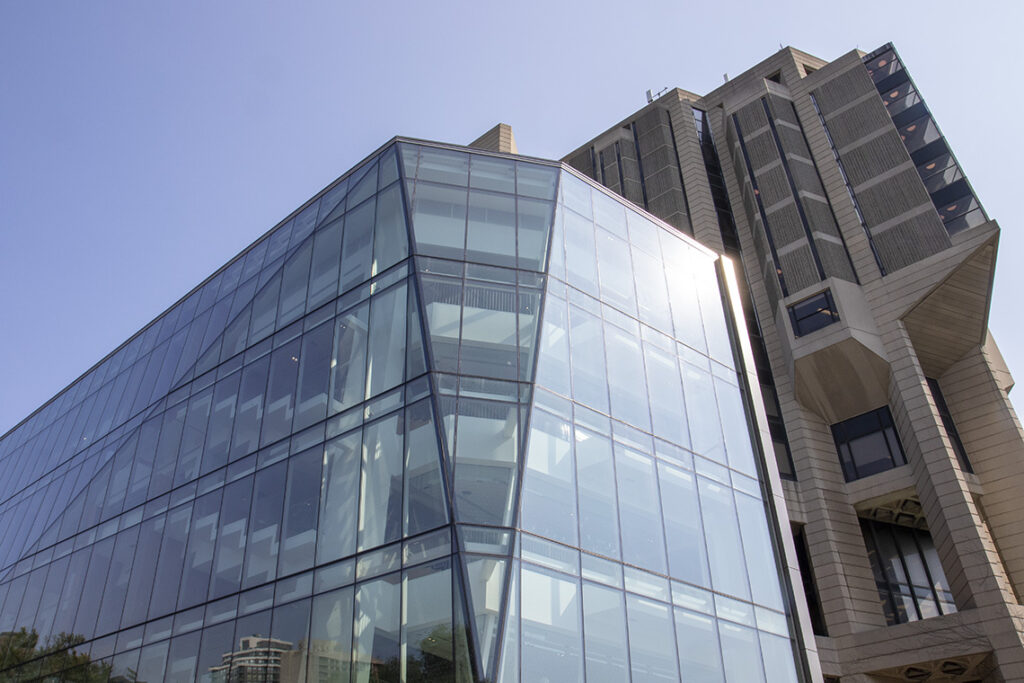 Mabury added that the renovation of University College – including a refurbished quad and repatriation of the library and student service functions to the front of the college building – is expected to be completed later this fall. By mid-October, students visiting Robarts Library should also be able to access the airy, new addition, Robarts Common, which will offer an expanded number of student study spaces – many of them with great views.
It's a similar story at U of T Mississauga, where significant progress has been made on the construction of the Centre for Medicinal Chemistry. The 170,000-square-foot facility will support inter-disciplinary research and innovation on drug discovery, particularly pertaining to cancer.
"It didn't see a single day of work lost due to COVID-19," Mabury said.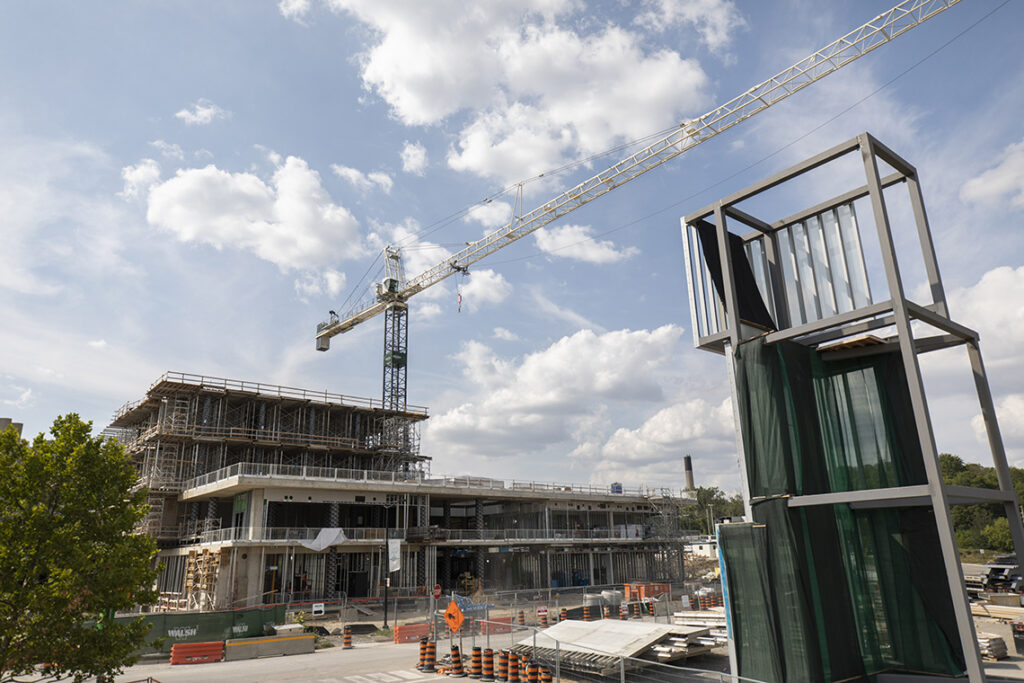 At U of T Scarborough, meanwhile, construction is out of the ground on a new nine-storey student residence building on Ellesmere Road. Set to be completed in the fall of 2023, the residence will include 750 beds, a dining facility, mixed-use spaces for learning and socializing and an outdoor roof garden and terrace.
"This building will bring much-needed housing to U of T Scarborough," Mabury said, noting that it will double the campus's current residence capacity.
Construction work has also begun on Instruction Centre 2, which will house 24 classrooms – varying in capacity from 24 seats to 500 – and act as a student hub at U of T Scarborough that incorporates several student service departments. This building is scheduled to be completed in 2024.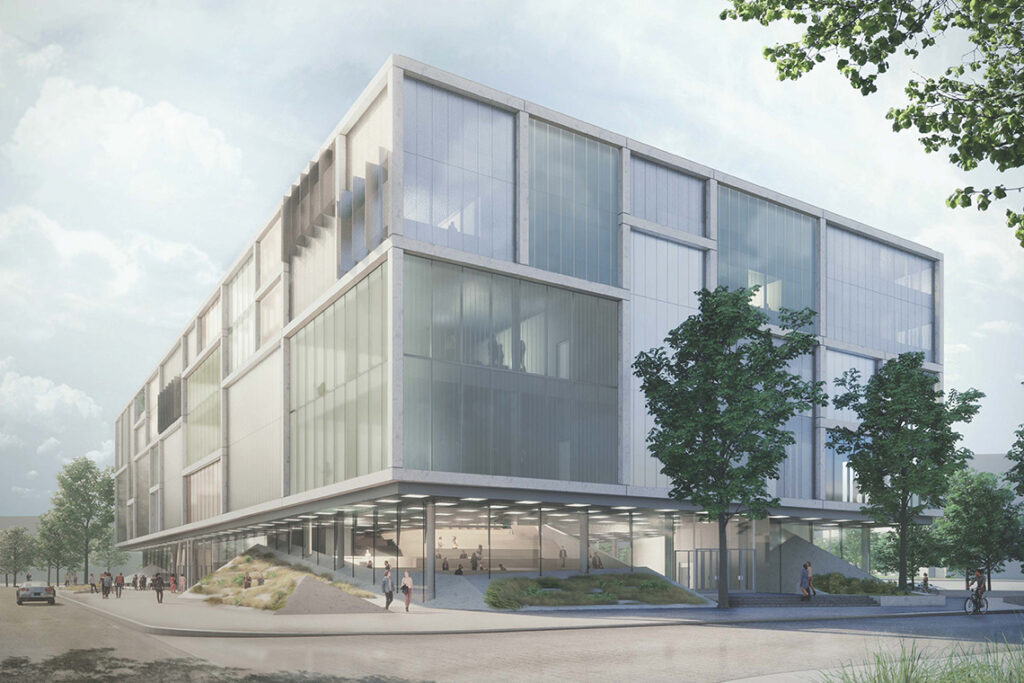 As work on the various projects proceed, Mabury said the University will continue to take measures to mitigate inconveniences to the community.
"We've all missed the atmosphere and energy of campus, so I'm excited to welcome everyone back," Mabury said.
"As we work to build a better future for our campuses, we are taking steps to make this important work as minimally disruptive as possible."