U of T to support 31 high-impact research projects through its Toronto COVID-19 Action Fund
In less than a month, the University of Toronto and its community mobilized to raise $8.4 million and fast-track 31 critical research projects to tackle COVID-19.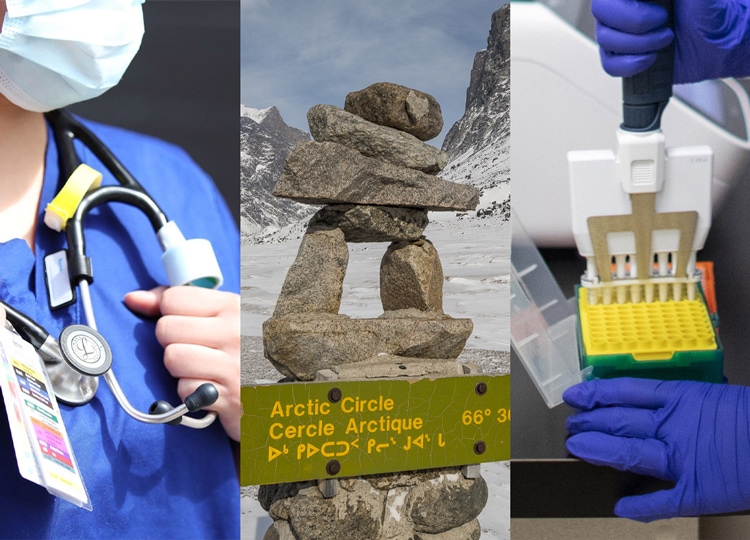 The University of Toronto will support 31 research projects through the $8.4-million Toronto COVID-19 Action Fund – set up less than a month ago to support high-impact research by U of T and its hospital partners that contributes to the global fight against the novel coronavirus.
The projects, which range from medical interventions to measures aimed at supporting the economy and vulnerable populations, were chosen on the basis of their potential to have a positive impact on individuals, communities and public health systems within a timeframe of a year or less.
They were selected from among 338 applicants via a fast-tracked, peer-reviewed competition. Less than 30 days elapsed between the creation of the fund and the winning projects being announced.
"The Toronto COVID-19 Action Fund is a testament to the University of Toronto's unique ability to quickly mobilize its resources, engage the creativity and ingenuity of its researchers and draw on the strength of its partnerships with partner hospitals to respond to the most urgent public health, economic and societal challenge of our time," said Vivek Goel, U of T's vice-president, research and innovation, and strategic initiatives.
"COVID-19 presents an array of unprecedented global problems that require urgent attention and expertise from experts in a wide variety of disciplines – from medical specialists and public health researchers to economists, social scientists and mathematicians.
"We are confident these projects will each, in their own way, make important contributions to the global fight against this pandemic."
The projects will help marginalized people, conduct drug trials, research treatments, investigate the virus's genetics
The 31 projects include an initiative to research the effects of the COVID-19 pandemic response on marginalized people, led by Ahmed Bayoumi, a professor in the department of medicine in the Faculty of Medicine and a scientist at the Li Ka Shing Knowledge Institute of St. Michael's Hospital, part of Unity Health Toronto.
In the realm of medical interventions, Jordan Feld, associate professor in U of T's department of medicine in the Faculty of Medicine and a senior scientist at the Toronto General Hospital Research Institute at the University Health Network, plans to carry out a phase two drug trial for the treatment of COVID-19.
Also funded were research projects by Sunnybrook Health Sciences Centre's Samira Mubareka and Robert Kozak, both of the department of laboratory medicine and pathobiology at U of T's Faculty of Medicine, that could pave the way to better understanding and treatment of the novel coronavirus, also known as SARS-CoV-2.
The role of genetics in the pandemic response will be explored by Aled Edwards, professor at the Donnelly Centre for Molecular and Biomolecular Research and director of the Structural Genomics Consortium. He will lead work on the Toronto Open Access COVID-19 Protein Manufacturing Centre.
Other researchers will work on rapid response for Indigenous populations, mitigating risk for teens, and the economic impacts
Other research projects will address social, economic and public policy issues.
Janet Smylie is a professor at the Dalla Lana School of Public Health, director of Well Living House at St. Michael's Hospital and an expert in public health in the context of Indigenous populations. She will use an action fund grant to support the rapid implementation of a shared COVID-19 tracking and response platform for First Nations, Inuit and Métis populations.
U of T Mississauga anthropologist and lecturer Madeleine Mant will receive support for her project titled, "Going viral: COVID-19 and risk in young adult health behaviour models."
The impact of COVID-19 on the economy is another area of significant concern, with Professor Scott Schieman, chair of the department of sociology in the Faculty of Arts & Science, leading a project to explore the impacts of COVID-19 on the quality of work and economic life in Canada.
Scholars, reviewers and staff worked around the clock to fast-track the approvals process
The funding for these and other projects was drawn from U of T and other University sources, including the McLaughlin Centre, Medicine by Design, partner hospitals and philanthropic donors. Successful applicants are also eligible for additional support for a trainee through a generous agreement with MITACS.
"We would like to extend our thanks to all the scholars who submitted proposals to the Toronto COVID-19 Action Fund, and we will continue to work hard to find ways to support our researchers in their efforts to devise solutions to this crisis," said Goel. "I would also like to thank the reviewers that provided assessment in a short period of time and our staff that worked diligently and around the clock to complete this record-setting peer review process."
"U of T takes very seriously its public responsibility to make key contributions to the response to COVID-19, and I would like to congratulate everybody involved in the rapid creation and execution of the action fund for their tireless efforts."
As the fund continues to grow, additional projects can be supported
Goel noted that additional projects may be funded through the action fund as funds continue to be raised and additional partners contribute. All those that were not selected are being directed to other funding sources, including those listed on the Centre for Research and Innovation Support's COVID-19 research website.
By Rahul Kalvapalle. Reposted with permission from U of T News.
---
Read the full list of researchers supported by the Toronto COVID-19 Action Fund