A seat at the table: David R. Smith supports Rotman's OnBoard Fellowship
Experiential learning opportunities at the Rotman School of Management empower the next generation to make an immediate impact.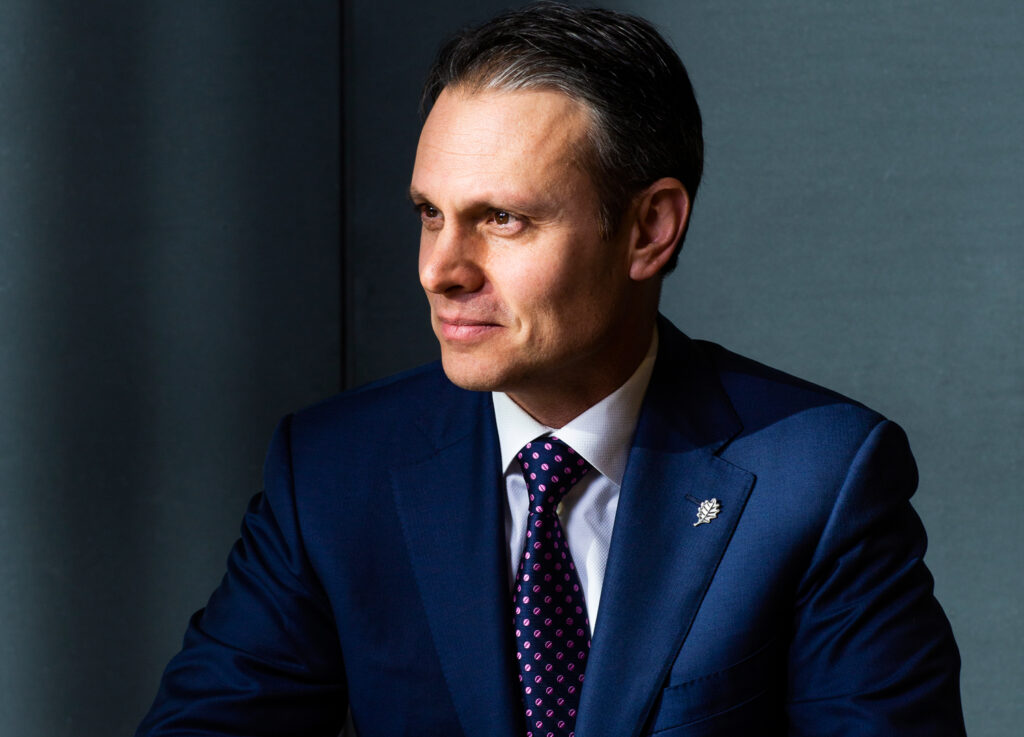 David R. Smith was surprised when a client told him a Rotman student had just joined his organization's board.
"I said, 'What? Tell me more,'" recalls Smith (MBA 2006), a strategic advisor to CEOs specializing in family enterprises and a longtime supporter of U of T's Rotman School of Management. He was intrigued by how the student could contribute to this significant national cultural organization, with its board of seasoned leaders.
His curiosity piqued, Smith reached out to the school. what he learned about the Rotman OnBoard Fellowship program resonated with his deep-seated personal convictions on the importance of contributing to the public good. it also inspired him to allocate his generous (which he calls "modest") annual contribution as a Dean's Society Member to OnBoard.
Rotman's OnBoard Fellowship lets students make a real-world strategic impact
With support from committed donors like Smith, the program places talented upper-year MBA students on high-impact non-profit boards for six months. there they work on real-world projects of strategic importance, shoulder to shoulder with experienced leaders. the end result: students who learn, connect and contribute to society as they develop top-notch governance and leadership skills. It's a combination dear to Smith's heart.
The OnBoard Fellowship is but one of many experiential learning opportunities offered at Rotman. They include the massively popular Global Practicums; the Rotman CityLab Fellowship, which matches teams of MBA students with local Toronto businesses for an eight-month consulting engagement; and COMPASS, a four-day immersive consulting experience designed in partnership with McKinsey & Company and the City of Toronto.
"Experiential learning opportunities not only helped sharpen my communications and problem-solving skills, they also served to shape my career direction as I discovered my interest in client service and advisory," says Phil Gazaleh (MGA/MBA 2017), an engagement manager at McKinsey & Company. Indeed, Gazaleh was so impressed with the real-world experience afforded through Rotman that he went on to help expand Rotman's COMPASS program.
"We thought that we could harness the brainpower of the incoming MBA class and the McKinsey problem-solving approach to make real impact with local organizations, while giving students the chance to try out consulting in a non-evaluative, no-risk environment," says Gazaleh.
Major organizations and generous donors are making experiential learning a reality at Rotman
In addition to Smith and Gazaleh, many donors and supporters generously make experiential opportunities possible, as committed Dean's Society members, industry partners and corporate sponsors.
Take Scotiabank. On top of supporting student scholarships, including the Latin American Scholarships, the bank has put its weight behind Rotman's South America Global Practicum, providing travel bursaries to more than 20 full-time MBA students who flew to Santiago, Chile; and Sao Paulo and Rio de Janeiro, Brazil, this past January. Students learned about market entry, partnerships, joint ventures, outsourcing and the legal complexities of doing business in South America, all while participating in cultural activities and networking with local government organizations, businesses, and international and Canadian companies (including, of course, Scotiabank).
"Once you apply a tool you learned from a faculty member to a real-life setting, you get a feel for how things really work. There's only so much you can do in a classroom," says Neel Joshi, Director, Office of Student Engagement.
Another advantage: The upper echelons of major organizations get to see, first-hand, the insights and skills current Rotman MBA students have to offer. For example, OnBoard Fellow Tariq Nanji (MBA 2015) built a diversity skills matrix for CAMH — which was later expanded on by another OnBoard Fellow, Alison Hyodo (MBA 2017).
More recently, Mohammad Chaudhry, an MBA candidate, travelled to Michigan for a Global Consulting Project with Export Development Canada and provided input on the Canadian automotive industry's potential next steps in the context of the United States–Mexico–Canada Agreement. The resulting recommendations not only earned Chaudhry honours on the course — but also resulted in calls with C-suite executives, senior analysts and directors, all of whom were pleased and impressed with his work.
"It's a fabulous model," says Smith — specifically of the OnBoard program, but his words resonate across Rotman's extensive experiential learning opportunities: "With the support of seasoned mentors, it takes the best and brightest and cultivates the next generation of community leaders, while empowering them to make an impact right away."