U of T ranks first among public universities in North America for graduate employability
The University of Toronto rose seven spots to eighth in the world in the latest Times Higher Education Global University Employability Ranking.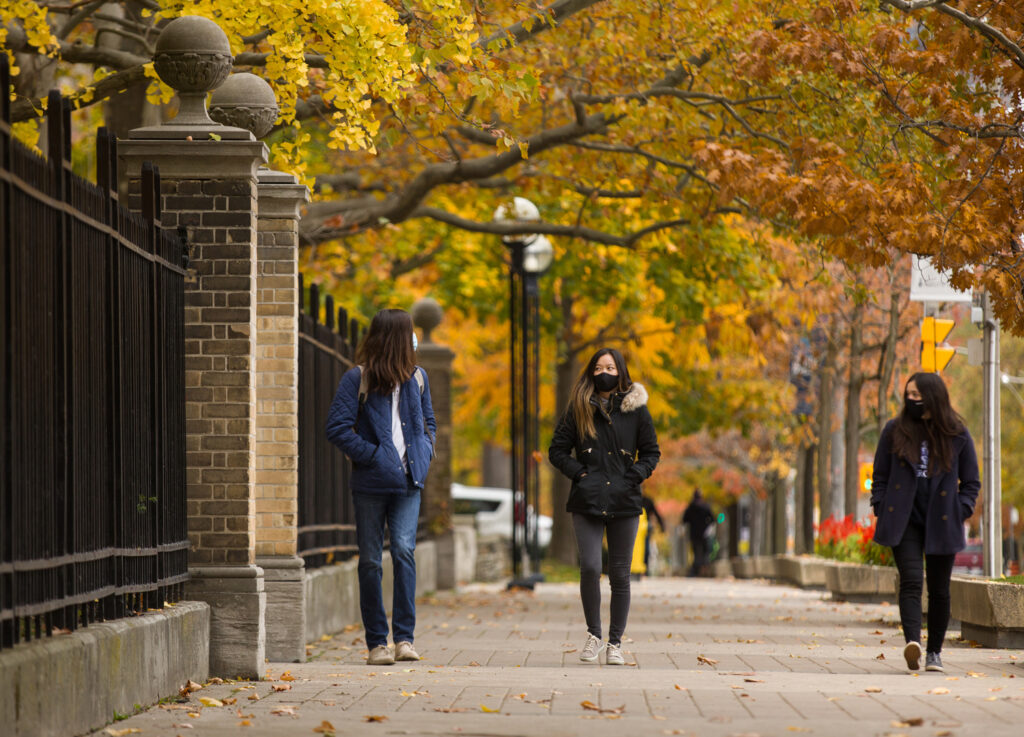 The University of Toronto ranked eighth in the world for the employability of its graduates in the latest Times Higher Education Global University Employability Ranking.
That's up seven spots from last year.
Among public universities, U of T's performance was even more impressive. It ranked first in North America and fourth globally in the eyes of international recruiters, who were surveyed for their views on which universities are best at preparing students for the workplace.
U of T continues to be the top-ranked school in Canada for employability, according to the 2020 survey – a position it has held for the past eight years.
"This is terrific news for our recent graduates and current students, who have demonstrated remarkable resilience in the face of a global pandemic and a rapidly changing job market," said U of T President Meric Gertler.
"We strive to foster a global outlook in our students, with an emphasis on excellence in scholarship, innovation, equity and sustainability – all areas in high demand by employers in Canada and around the world."
Recruiters and managers in 22 countries ranked U of T graduates highly
The Global University Employability Ranking 2020 is based on the responses of 8,820 recruiters and managers at international companies in 22 countries who hire university graduates. Most recruiters were based in the Asia-Pacific region (37.1 per cent), followed by Europe and Central Asia (33.6 per cent), the Americas (20.8 per cent) and the Middle East and Africa (8.5 per cent).
Each participant was asked to rank universities in response to the following question: "As a person dealing with international graduates, which universities are in your opinion the best in the world when it comes to graduate employability?"
The ranking is designed by the Paris-based HR consultancy Emerging while the polling is done by independent research agency Trendence.
U of T has placed among the world's top 15 schools in the Times Higher Education employability rankings since 2013.
The three highest-ranked universities in this year's list are based in the United States: the California Institute of Technology, the Massachusetts Institute of Technology and Harvard University.
Canadian universities were well represented in the ranking with four others in the top 100: McGill University (23rd), the University of British Columbia (28th), Université de Montréal/HEC (41st) and McMaster University (77th).
Universities in France, Germany, China and Japan also fared well in the ranking.
A track record of solution-building, innovation and entrepreneurship positions U of T graduates well
Ted Sargent, U of T's vice-president, research and innovation, and strategic initiatives, said the university's research strength across the academic spectrum – from arts and humanities to science, technology, engineering and medicine – and its booming startup scene are among the factors that set U of T apart when it comes to the employability of its graduates.
"U of T scholars have a long and impressive track record of developing solutions to the world's most pressing problems," he said. "This year, for example, they have risen to the challenge of COVID-19, making significant contributions to advancements in testing, treatments and vaccine development."
What's more, Sargent added, U of T students and researchers are taking advantage of the university's expansive innovation and entrepreneurship network to move their work out of the lab into the real world, where it can have maximum impact.
In the past decade, U of T has launched more than 500 research-based startups, more than any other Canadian university, generating more than $1.5 billion in investment. The university boasts more than 250 entrepreneurship-oriented courses and is home to 11 startup accelerators that help U of T students and faculty turn their ideas into businesses.
"Employers are increasingly seeking grads who bring innovative thinking and an entrepreneurial spirit to their organizations – so it's no surprise that U of T is top of mind for many recruiters," said Derek Newton, assistant vice-president, innovation, partnerships and entrepreneurship.
Similarly, Sargent says U of T's culture of innovation, combined with world-class teaching and research, and its network of international partnerships, gives graduates a clear edge in a competitive global job market.
"U of T strives to foster a problem-solving mindset in its students," he said. "That's an essential skill that will serve them well in any career, anywhere in the world."
U of T continues to be the highest-ranked Canadian university and ranked among the top 25 universities globally in the five most closely watched international rankings: Times Higher Education World University Rankings, QS World University Rankings, Shanghai Ranking Consultancy's Academic Ranking of World Universities, U.S. News & World Report's Best Global Universities and National Taiwan University World University Rankings.