U of T provides $8.9 million in financial relief to students impacted by COVID-19
Through relief funds including the donor-supported COVID-19 Emergency Student Bursary Fund, the University helps students coping with pandemic-related financial shortfalls.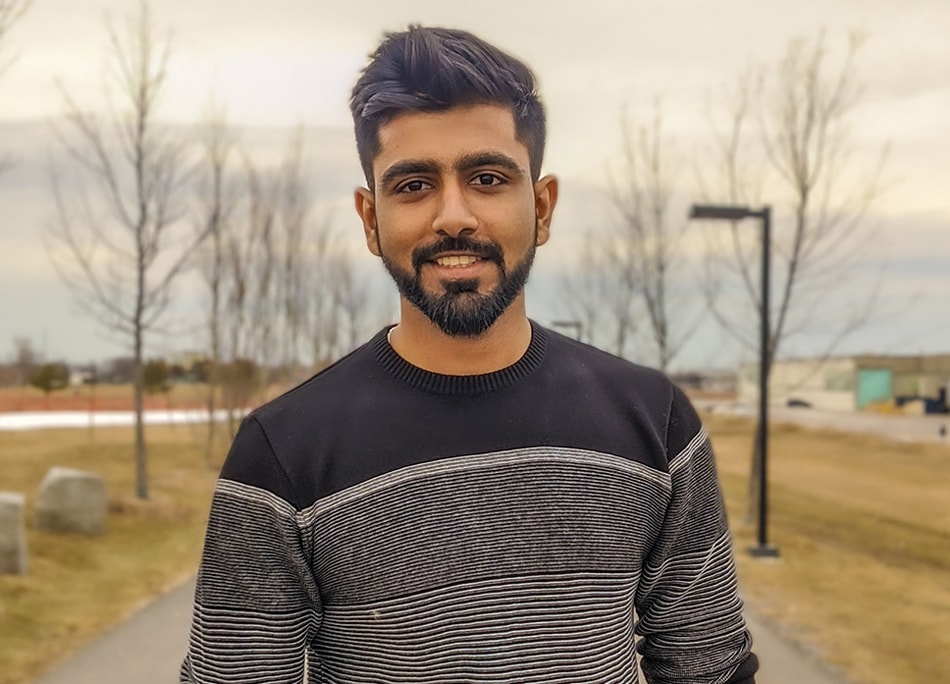 When Ontario implemented its first COVID-19 lockdown last spring, Rajasekar Dhanasekar found himself in a tight financial spot.
A master's student in the University of Toronto's Faculty of Applied Science & Engineering, Dhanasekar had been working about 20 hours a week at a Rexall store to cover his tuition and rent.
But once the pandemic hit, the pharmacy slashed its hours and Dhanasekar's shifts – and paycheques – dwindled.
"I drained all of my savings," Dhanasekar recalls. "My parents were also struggling themselves, so I didn't want to ask them for help. I had nowhere to go."
That's when one of his friends introduced him to the School of Graduate Studies (SGS) Emergency Grant, which provides immediate, short-term financial relief to full-time graduate students who are experiencing a financial crisis or have incurred unexpected expenses due to COVID-19.
The program is part of a suite of financial aid offerings that U of T has in place to help students navigate financial challenges. They include the COVID-19 Emergency Undergraduate Grant, which is supported by the the donor-supported COVID-19 Emergency Student Bursary Fund that was launched last March and is designed to help students cover basic expenses, including internet, but not educational costs such as tuition. It can be accessed by submitting an online application to the registrar in their college or faculty.
Approximately $8.9 million in emergency grants have been disbursed to more than 6,800 U of T undergraduate and graduate students since last March. That generally translates into anywhere from $500 to $2,000 in emergency aid per student, although disbursements can exceed that amount.
"Individual students' circumstances have been affected in many unique ways as a result of the pandemic," says Micah Stickel, U of T's acting vice-provost, students. "Students in some cases were really in desperate need of that short-term relief."
Financial stresses include loss of income, the need to upgrade technology, or child-care costs
Expenses that are eligible for the emergency grant include living, travel and moving costs, as well as technology costs that have been incurred as a result of COVID-19. One student at U of T Scarborough, for example, received financial aid because he couldn't afford to upgrade his computer and had been trying to access virtual classes through his smartphone.
It took Dhanasekar just one hour to complete the application for the SGS Emergency Grant and one week for it to be approved. Soon after, he received a direct deposit of $1,200, which covered his rent and other living expenses for the month of May. Since then, his hours at Rexall have returned to normal.
"The grant was very critical and very helpful to me – without any doubt," Dhanasekar says. "If it wasn't for the grant, I don't know what I would have done."
Thousands of other students who received emergency financial support during the pandemic shared similar stories of hardship with university registrars. For example, one mature first-year student at St. Michael's College described herself as a single parent who wasn't able to secure affordable child care for her infant, causing her to lose her part-time income. Another student – an international student with a learning disability – says she stopped receiving support from her family after their business had to close as a result of COVID-19.
The COVID-19 fund operates alongside U of T's regular Emergency Student Bursary Fund, which, for many years, has helped students who run out of money near the end of term – regardless of the reason.
Affording equipment to make working online an option
Kousha Kavianitabar, a second-year student in the Faculty of Music, says he remembers clearly the stress of not knowing where his next paycheque would come from when the pandemic hit.
"I had lots of things to do and I couldn't focus on any of them because this financial struggle was always at the back of my mind," Kavianitabar says.
Prior to COVID-19, Kavianitabar had been working part-time as a piano instructor and as a line cook and bartender for a catering company. Kavianitabar began to offer his piano classes online – the catering company was completely shuttered by COVID-19 – but teaching piano remotely required expensive equipment such as a keyboard and a microphone, not to mention a stable Internet connection.
Like other students, Kavianitabar was initially at a loss for where to turn. His home country of Iran had been battered by COVID-19 and his father had to shut down his tool factory after workers contracted the virus. Kavianitabar had hoped to pay his own tuition that semester with his part-time income, but the pandemic made it difficult to even cover his day-to-day expenses.
Then he received an email from the Faculty of Music's registrar's office about the emergency grant.
"When I heard about this, it was like a light turned on," Kavianitabar says.
With the financial support, he was able to free up money to purchase the necessary equipment to teach his online music classes. He has more students now, and he took on a part-time job at Wendy's. With many moving out of the city as a result of the pandemic, Kavianitabar also managed to find a new apartment with cheaper rent.FROM THE OUTSET, THE FOCUS HAS BEEN TO REALLY SUPPORT OUR STUDENTS THE BEST WE CAN
"I was extremely relieved," he says. "Now I can finally be less stressed and more focused on my studies."
Stickel says the University is committed to supporting students during a difficult time.
"The pandemic is continuing on much longer than we all would hope," he says. "From the outset, the focus of the University has been to really support our students the best we can so that they can achieve their academic goals and pursuits."