The world comes to U of T: Meet the 2019 Pearson Scholars
Now in its third year, the Lester B. Pearson International Student Scholarship program is welcoming 36 more future leaders from around the world to study at U of T.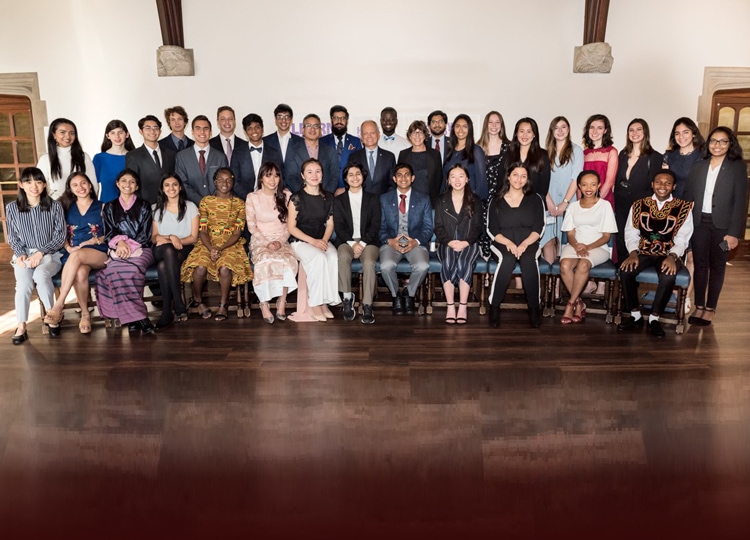 They are 36 future leaders, newly arrived international students who represent 27 countries from around the world. And in historic Hart House, the latest cohort of Pearson Scholars was officially welcomed to the University of Toronto by President Meric Gertler.
"On behalf of the entire academic community, welcome to the University of Toronto, welcome to the Toronto region, and – because most of you are new to Canada – welcome to Canada," President Gertler told the students.
He urged the Pearson Scholars to embrace all that U of T has to offer, but also to explore the city-region widely. "I encourage you to immerse yourself in this very special environment in which you find yourselves and make the most of these opportunities – in the classroom, on our campuses, but also in the communities around us," he said.
The gathering marked the third year of the Lester B. Pearson International Student Scholarship program, named after Lester B. Pearson (BA 1919 VIC, Hon DSacLitt 1959 VIC), a U of T alumnus, former prime minister and Nobel laureate. The program recognizes students who demonstrate exceptional academic achievement, creativity and leadership – and a commitment to making an impact in their communities.
The scholarship covers four years of study at U of T, including tuition, books, incidental fees and residence support. This year's students were selected from over 1,200 nominations submitted by high schools worldwide.
Joseph Wong, vice-provost and associate vice-president, international student experience, acknowledged the expectations that Pearson Scholars face. "You will have an impact, go on to do great things, to be great people, but you also can't do it alone," he said.
"You're going have to rely on your friends, family, classmates, the Pearson community, and indeed the community that is the rest of the University."
---
Four of the 2019 Pearson Scholars tell us about their lives and their expectations: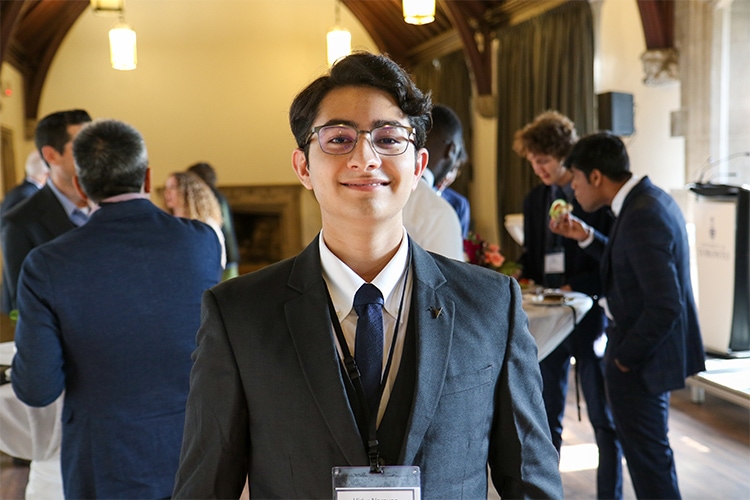 Vidur Narayan Channa
Pathways World School in India
Faculty of Arts & Science, New College social sciences student
Vidur Narayan Channa moved around a lot as a child, living in India, Indonesia and Malaysia, and often came face-to-face with poverty and slums.
Joining U of T, he said, will give him the opportunity to look at ways to make a difference in those slums.
"Being exposed to all these different multicultural environments has shown me the ability of economics, of different fields, to make a change," said Channa, who plans to major in economics and perhaps public policy, computer science or philosophy.
Making a difference is something he takes seriously. "We should recognize every day that you're in a position of privilege and you have to do something to make people's lives better," he said. "That's what drives me."
Channa said the Pearson scholarship is allowing him to live and study in a city he has admired from afar.
So far, it has been going well and he has met a lot of people. "Collaborating with them, working together, all the different clubs and activities available here at U of T – I found that it would be a great environment for me to really build a base for myself in the professional world."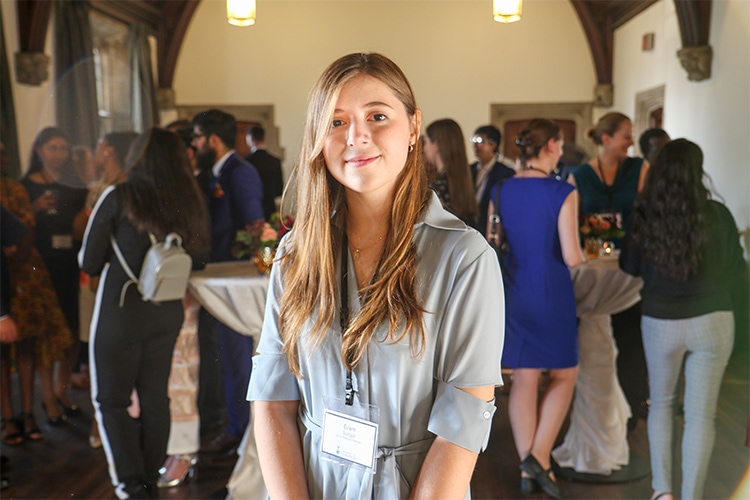 Ecem Sungur
The Koç School in Turkey
John H. Daniels Faculty of Architecture, Landscape, and Design architectural studies student
Ecem Sungur grew up in Istanbul, a bustling city that features a variety of architectural styles in its buildings. It was there that she developed a passion for architecture, writing a guide to design while in high school.
Sungur arrives at U of T intent on taking that passion further. She will be taking a deeper look into the history of architecture and design, and materials, in order to address questions of sustainability.
"We are currently living in a world full of pollution and, even though we are trying to be sustainable, how is it going to be in the future?" she asked.
So far, Sungur is immersed in architecture – in the classroom, but also in club activities on campus. But she has also become close with her Pearson colleagues, who she describes as "engaging and inclusive."
"We became like an actual family, and we know so much about each other," said Sungur. "It's been nice knowing that coming to a new place like Toronto – I've never been to Canada before – you have people you know that you can [rely on]."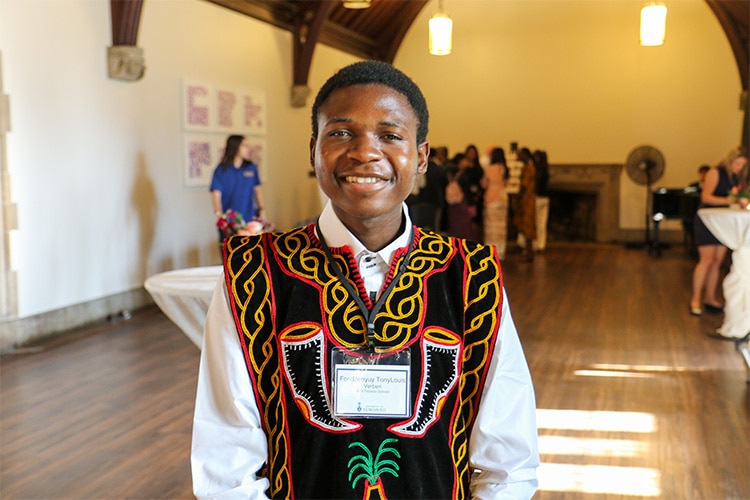 Fondzenyuy TonyLouis Verberi
St. Augustine's College, Nso, in Cameroon
U of T Scarborough physical and environmental sciences student
This is Fondzenyuy TonyLouis Verberi's first time in Canada. The 16-year-old from Cameroon comes to U of T Scarborough looking to deepen his love for astrophysics and astronomy, his intended area of study.
Verberi wants to use his Pearson Scholar experience at U of T to become a leader in astrophysics in his home country.
"It's a golden opportunity," said Verberi, who also participated in the STEM Aerospace challenge organized by the New York Academy of Sciences in September 2018.
"Back in Africa, especially in Cameroon, astrophysics is a field which has not been developed in the educational system," added Verberi, who said he wants to pass on what he learns about satellite development, for example, to the next generation.
"I have to be the first one who sets the target for this to be possible in my country. It is an opportunity for me [and] my dreams of adding astrophysics and aerospace engineering into the educational curricula in my country."
In the meantime, Verberi's having an easy transition to Canada and U of T. "It's new and challenging, the educational setup is different from what we have in Cameroon – the digital nature of the assignments and lectures – but I'm picking it up."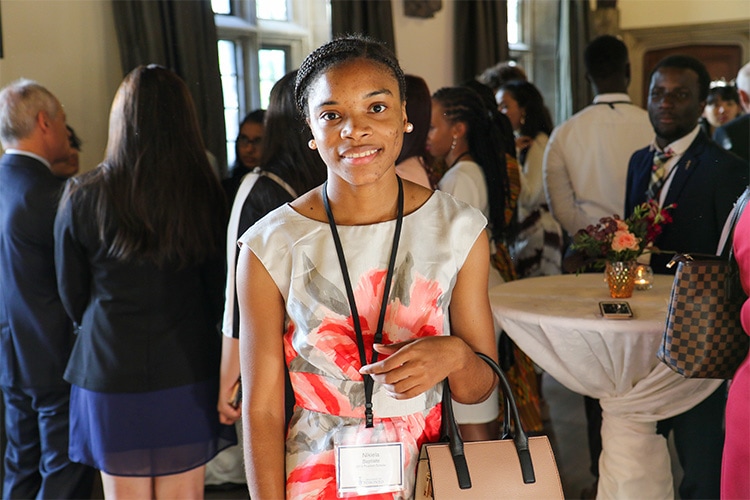 Nikiela Baptiste
Shiva Boys' Hindu College, Trinidad and Tobago
U of T Mississauga forensic science student
Nikiela Baptiste, who hails from Trinidad and Tobago, has been adjusting to the U of T Mississauga campus, a place she says is peaceful and conducive for studying.
"I'm still in the 'can't-believe-it's-true' phase, but I'm enjoying my time," she said.
"I love UTM," she added. "It's so cozy and nature-y. I love the fact that it has so many animals like deer – we don't have deer in Trinidad."
Baptiste has an interest in human anatomy – how the body works and the effects of chemicals on the body – and is planning on studying forensic science.
"My main expectation is to maintain a good academic standing and continue to be a part of the community as I participate in extracurriculars," said Baptiste, who will look at joining U of T Mississauga's research opportunity program in second year.
"My main goal is to get a closer relationship with the professors and understand their research – and how I can be of value."