The Landmark Project: a greener, more accessible St. George campus core
The Landmark Project expects to begin construction in 2020. The initiative will pedestrianize much of the historic core of U of T's St. George campus.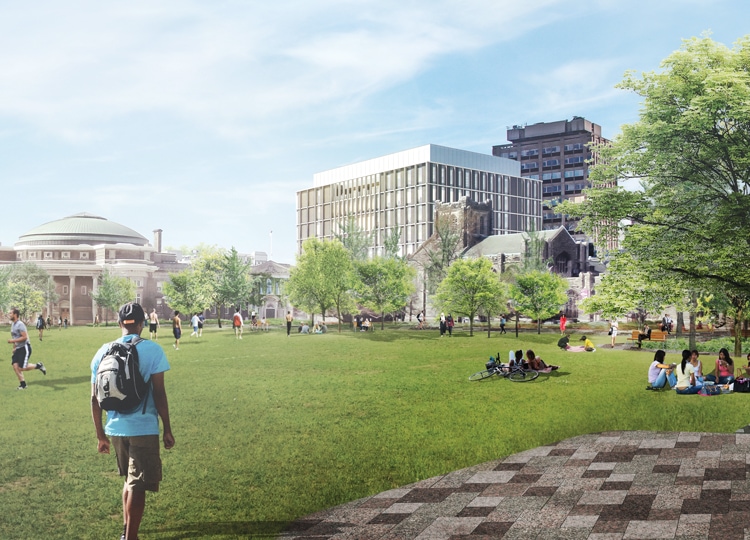 Big changes are being proposed for the heart of the University of Toronto's St. George campus.
The campus's historic core, set in the middle of downtown Toronto, is set to undergo a transformation that would see it become greener, more accessible, sustainable and walkable.
Called the Landmark Project, the major revitalization initiative is expected to begin construction in spring 2020 and will be centred on Front Campus, Back Campus, King's College Circle, Hart House Circle and Sir Daniel Wilson Quad.
"This will be a wonderful legacy for generations to come, for students, faculty, staff, alumni and visitors," says Meric Gertler, president of U of T.
"It will also dramatically enhance the precinct as one of Toronto's great public spaces."
The Landmark Project features pedestrian-friendly and environmentally-friendly spaces
At the same time, U of T plans to make Front Campus the future home of Canada's largest urban geothermal field.
"The Landmark Project will alter our relationship with the landscape and our historical buildings," says Scott Mabury, vice-president, operations and real estate partnerships and vice-provost, academic operations.
The Landmark Project plan will be taken to the Academic Board on Oct. 3 and Governing Council for final approval on Oct. 24.
The cornerstone of the project is the creation and expansion of pedestrian-friendly areas, particularly around King's College Circle, Hart House Circle and Tower Road, which would eventually be closed to all traffic with the exception of service and accessibility vehicles.
Street parking will be replaced by granite paths and green spaces under the plan, and an underground parking garage will be built to accommodate cars.
The garage will have parking spaces for 263 vehicles and 88 bicycles, with an access ramp off Wellesley Street and elevator and stair access via a pavilion to be built near the Medical Sciences Building.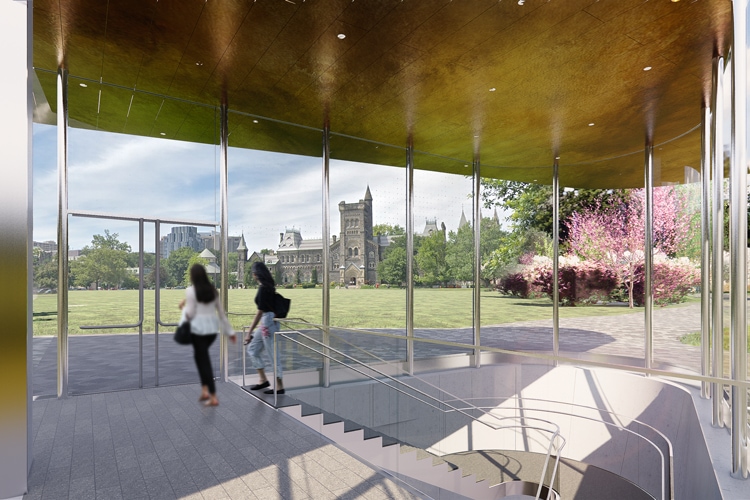 "Putting students at the centre of what we do on campus really lives up to what U of T believes in when it comes to education," says Donald Ainslie, principal of University College and co-chair of the Landmark Project along with Mabury.
"The Landmark Project will make our campus reflect that core value."
The areas surrounding several of U of T's oldest buildings are set to become greener, with the addition of over 200 new trees, expanded gardens and seating areas.
An Indigenous landscape project will be constructed near Hart House as part of the University's response to the Truth and Reconciliation Commission of Canada's calls to action. The project involves extensive consultation with Indigenous students, faculty, staff and elders, as well as representatives from First Nations communities that traditionally lived on the land.
"We really are working hard to engage Indigenous stakeholders," says Ainslie.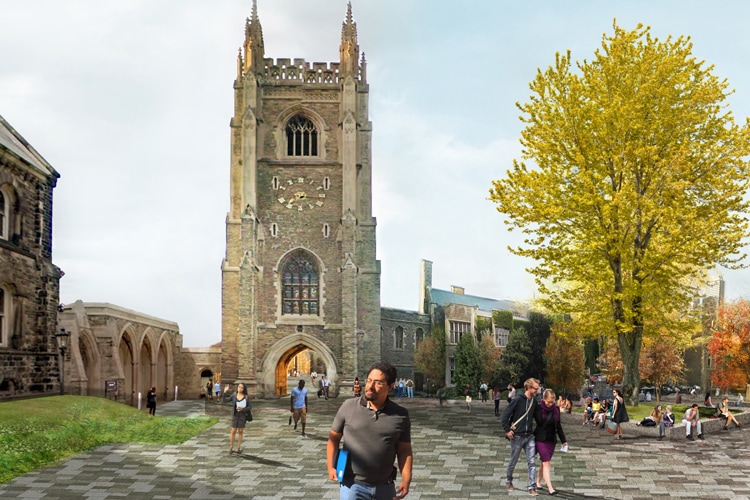 Thinking long-term, with a planned geothermal field and increased accessibility
U of T plans to use Landmark as an opportunity to install a massive urban geothermal field below Front Campus that's expected to save 15,000 tonnes of greenhouse gas emissions a year – the equivalent to taking 3,000 cars off the road.
"It's a real testament to long-term thinking and connecting with our landscape – not only in an aesthetically appealing and experiential kind of way, but also to reduce the amount of carbon we release into the atmosphere every year," says Mabury.
The geothermal field will generate renewable energy by using the natural ground temperature to help heat and cool surrounding buildings in winter and summer, respectively.
Accessibility is also a top priority of the project. The University is working – in compliance with provincial design standards – on features that will create more accessible public spaces. That includes the replacement of a number of stairs and ramps with gradual slopes, above-ground accessible parking spaces and visual impairment markers where pedestrian paths intersect with vehicle-permitted areas.
Since 2017, over 2,400 donors have made contributions to the Landmark campaign, including a $250,000 gift from the U of T Students' Union to support accessibility elements, $1 million from the U of T Alumni Association and a grant from the Toronto Parks and Trees Foundation.
"In our history we've never had as many donations for a focus project, so I think that's emblematic and evidence that there's broad and deep support for the project," says Mabury.
"There's a yearning for a more effective connection to the landscape and to our historical buildings."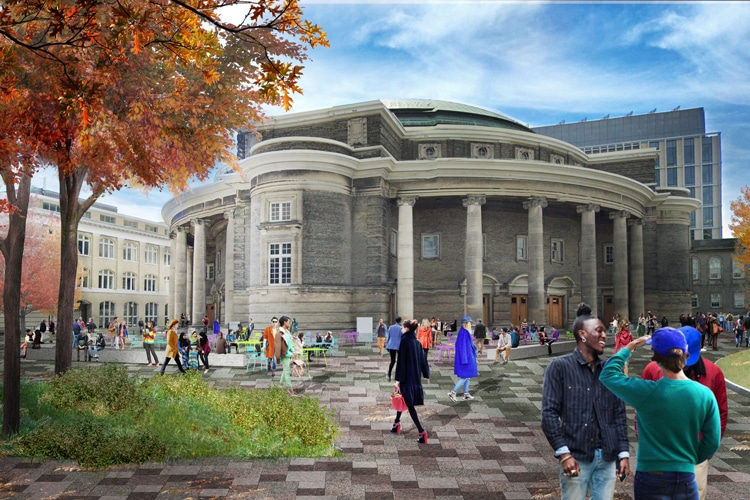 During the project's three-year construction period, the University says it will do its best to minimize disruptions, but Mabury is the first to acknowledge it will cause some inconvenience.
"Good things take time, and really good things are often hard – and those are both true in this case," he says.
"This will be a high-impact project. We will do everything possible to mitigate the impacts, but it will influence how we move around – there will be noise, there will be disruption to activities."
While convocation ceremonies will continue to take place in Convocation Hall, activities and services related to convocation will be relocated temporarily.
The Landmark Project will transform one of U of T's key gathering places
For over a century, U of T's historic centre has served as an important gathering place for everything from convocation processions to recreational sports, weddings and community events – even epic, student snowball fights. The Landmark Project will help to carry this longstanding tradition into the future, according to Ainslie. This space is going to be a green oasis in the middle of a very dense urban agglomeration
"It has become more and more apparent that this space, for the next generation and those that follow, is going to be a green oasis in the middle of a very dense urban agglomeration," he says.
"Transforming this space from being one that prioritizes cars to prioritizing human users is an essential step in making our University ready for its third century as we move toward the bicentennial in 2027."