Supporting student parents: alumna Joyce Connolly pays it forward
Dr. Joyce Connolly made it through med school as a single parent, with key support from U of T's Faculty of Medicine. Now, her generous gifts help other students in need fulfil their goals.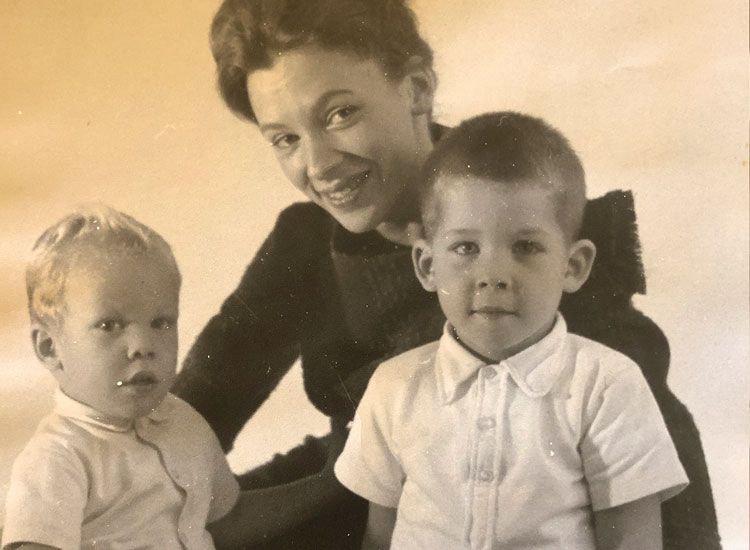 As a medical student in the 1960s, Joyce Connolly (MD 1968) was a young single mother with two toddler-aged boys.
After the dean of medicine at the time helped her find enough funding to complete her degree and study full time, she set out to pay that kindness forward by helping other medical students in financial need.
After a lifetime of giving back, Connolly has committed more $130,000 to the University of Toronto, establishing an annual bursary for medical students in financial need and supporting parent learners at Woodsworth College.
U of T's Dean of Medicine helped Connolly find and apply for scholarships
While Connolly excelled in her studies, the pressures and expenses of being a parent, student and breadwinner made her consider taking a year off. She and her children lived in a sparsely furnished apartment in a Flemingdon Park townhouse while Connolly balanced schoolwork, caring for James and David, and working part time for a market research company — at a time in our society when the odds were against her and other single mothers.
But she discovered an ally and friend in John Drennan Hamilton, then the dean of medicine. Recognizing Connolly's potential, Hamilton, together with the university bursar, helped her track down and access scholarships, loans and bursaries, which provided her with enough funding to complete seven years as a full-time medical student.
"She was an excellent student, but was clearly struggling financially while raising two young kids," says her youngest son, James Dunnison, who, due to his mother's poor health, shares her story on her behalf. "John took her under his wing."
Hamilton's help provided Connolly with a significant boost, both in terms of access to financial resources and in morale. It gave her the momentum to finish her degree and, ultimately, pursue a long and rewarding medical career. She practiced as a family doctor for several years in Vancouver, later completed a psychiatry residency at the University of British Columbia and enjoyed an accomplished career as a prominent paediatric neuro-psychiatrist.
Connolly now helps other single parents complete their education, and has made a generous gift to U of T
Connolly has long been grateful for Hamilton's support, and felt compelled to follow his lead. In 2002, she established the Stepping-stone Foundation to provide scholarships to other single parents in post-secondary school. Her financial support has helped more than 100 such students in Vancouver.
"This was my lifelong dream: to be a significant help to another generation of single parents who were choosing higher education, and to power them to complete programs that would lead to careers," said Connolly in a 2014 speech.
In 2016, Connolly's determination to give back and honour the man who catalyzed her professional life led her back to U of T. Over the past two years, her foundation, for which Dunnison serves on the board of directors, committed over $130,000 to establish two new education funds.
The $20,000 Dean Hamilton Bursary is given out annually to an MD student with financial need, with preference given to a student with a child or children, and if possible, to a single parent. The $6,000 Dr. Joyce Connolly Award is granted each year to three members of Woodsworth College's Student Parent Group, which helps parent learners build a supportive community.
"She has always felt indebted to Dean Hamilton, so I think it it's deeply satisfying to her to be able to do this," Dunnison says.
How Connolly's bursary made a difference to a young physician
Among the U of T Medicine alumni who have benefitted from Connolly's generosity is Brad Weston (MD 2018). The Alberta native was originally aiming for a career in engineering while working in construction during summer, when he decided he could apply his analytical mind to the human body as a physician. Yet he faced the daunting prospect of paying for tuition fees, living costs and the needs of his three young sons on only his construction income and his wife's part-time clothing business earnings.
The Dean Hamilton Bursary allowed Weston to pursue that goal. With financial support, Weston was able to give his studies proper attention. He is now building on his U of T education by taking part in a two-year family medicine residency at the University of Calgary. He is considering completing a third year of training in emergency medicine, and then practising in a rural area in southern Alberta.
"The bursary not only made it feasible for me to go to medical school, it allowed me to focus, stay motived and really dedicate myself to school," says Weston, who himself was raised by a single father.
"That Dr. Connolly was also a parent in medical school and knows the struggle, it makes the support from her that much more memorable."