Passing on the life lessons that count: Katrina Florendo supports a bursary
Donor-supported awards helped Katrina Florendo succeed in university—and now she's finding creative ways to pay it forward "exponentially!"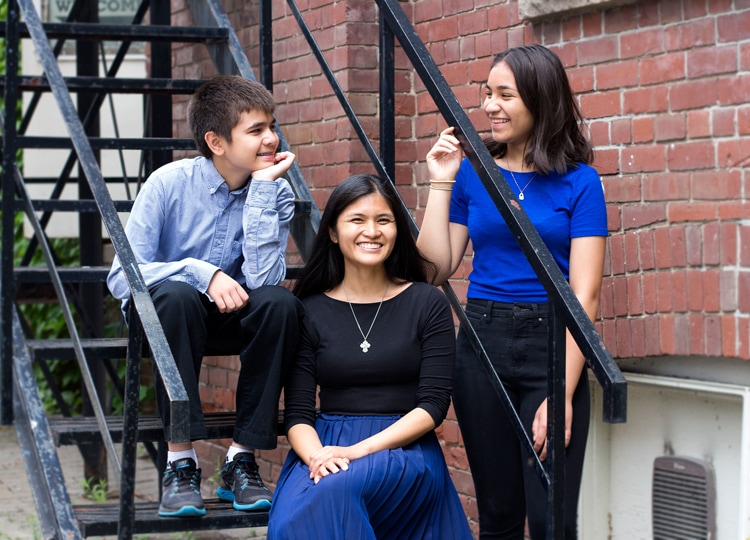 Katrina Florendo is a recent grad, a hardworking mom and a grateful award recipient who is giving back in the best way she can.
Florendo (BSc 2012 SMC) enrolled at the University determined to give her life a positive momentum. "For me, it was U of T or bust," she remembers. "I knew I wanted to study psychology because I've always liked people and am interested in the stories they want to tell."
As her studies progressed, her own story grew more complicated. She married and had two children while an undergraduate, at which point naysayers claimed her academic life was over. It wasn't, of course, but completing her degree did become a struggle for other reasons. "I had a lot of tough things happen in my life," says Florendo. A loved one attempted suicide. (He survived, and now he's "doing awesome," she says.) Studies and stress meant she missed family events, couldn't squeeze in exercise, and one term had to take a four-month break to regroup.
Bursaries established by kind donors help students persevere, succeed and thrive
While her husband and her godmother had Florendo's back with concerns such as child care, bursaries established by kind donors were also key to relieving other pressures, letting her direct mental energy to studying and her kids rather than to financial worries. She benefited from several awards, including the Aiming for the Top Tuition Scholarship, the Charles Tilly Award in Sociology, the Association of Part-Time Undergraduate Students Scholastic Award, the C.L. Burton In-Course Scholarship and several Noah Meltz Grants.
She graduated with high distinction in 2012—with her name on the Dean's List, with published research in the undergraduate sociology journal, and as the top student out of 1,000 taking Social Research Methods. What's more, she was able to structure her work and OSAP loans so she graduated debt free.
"I'm totally thanking all those donors," she says. "It actually does change people's lives. I could not have focused on school, and doing well would have been honestly impossible. I paid my last student loan payment a few days before Convocation. It was an amazing feeling which I would not have been able to do without funding."
Florendo's own changed life is clear: she's got a budding career in administration with experience in a range of companies: hospitals, the City of Toronto, and financial services. "My current job is the first job that is going to put my kids and me above the low-income cut off," she says proudly.
What's more, she forged a healthy philosophy out of her struggle. "You need to have a balanced life," she says, "not just as a student but at any stage of your life." Though she is now a single parent, Florendo also manages to be a dedicated volunteer, giving time to her condo association, her kids' schools, martial arts organizations in Mississauga and the phone hotline Distress Centres of Greater Toronto.
Endowing a bursary for other students is deeply meaningful
And she's giving back to other struggling students too. "To me, it wasn't theoretical," she says. "I lived that feeling: people who don't even know me have invested money in my future. I wanted to be a part of that." As soon as she began earning an income, she began giving to U of T scholarship funds. "I calculate that about 85 per cent of my degree was paid for by funding, and I wouldn't be where I am today without that help."
Florendo is now augmenting her gift by designating the University as one of the beneficiaries of a life insurance policy. The funds will endow a bursary in perpetuity for students in the Faculty of Arts & Science—creating a legacy, honouring those who helped Florendo, and supporting young people in a way that is deeply and personally meaningful.
"It's all about helping the next generation of students reach their full potential," she says. "The data is very clear: there's an inverse relationship between poverty and mental health." With life lessons learned, it's time to pass them on. "This is just the beginning," she smiles. "I want to make sure that every dollar invested in me will be paid forward exponentially!"
With files from Sarah MacFarlane