James and Louise Temerty named Philanthropists of the Year
After making the largest philanthropic gift in Canadian history, James and Louise Temerty have been recognized for their historic and groundbreaking philanthropy.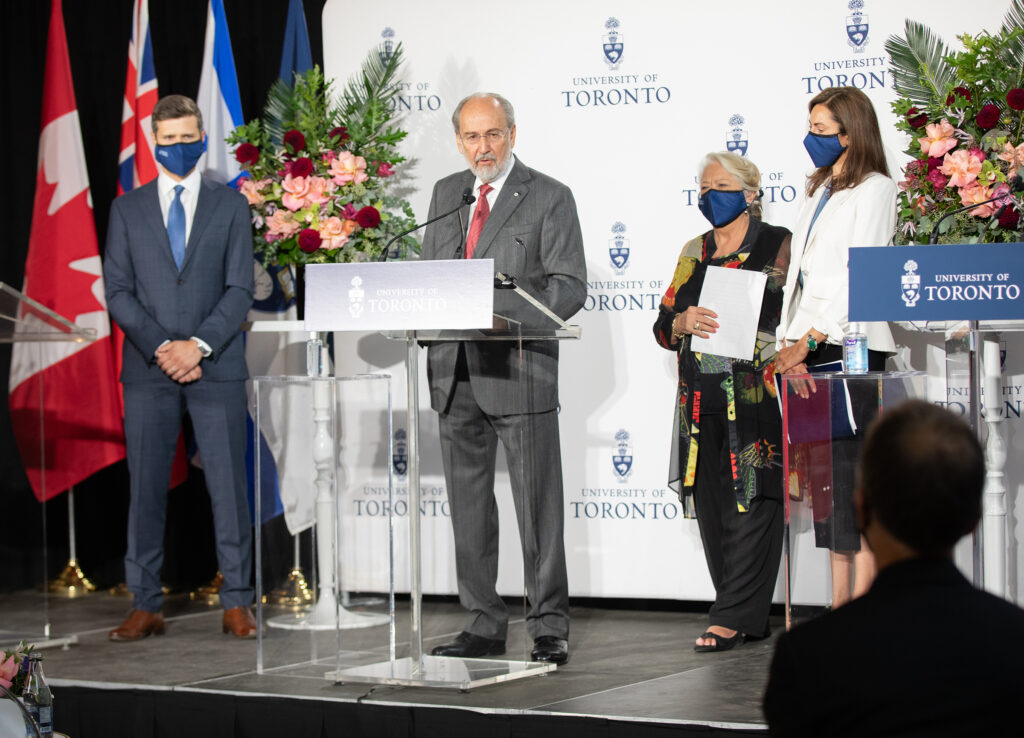 The Association of Fundraising Professionals (AFP) Greater Toronto Chapter has named James and Louise Temerty as Outstanding Philanthropists of the Year for 2020. The award honours individuals and families with a proven record of exceptional generosity who, through direct financial support, demonstrate outstanding civic and charitable responsibility, and whose generosity encourages others to take philanthropic leadership roles on a community, national or international level.
"On behalf of the entire University of Toronto community, our deepest congratulations to James and Louise Temerty on this remarkable recognition of their philanthropy," said U of T President Meric Gertler. "As just the most recent example of the Temertys' long record of generosity, their landmark gift to U of T lifts Canadian philanthropy to an unprecedented level. James and Louise have long been making a true difference in improving the lives of Canadians. This award pays tribute to their deep concern for their communities."
Among their many other philanthropic initiatives, James and Louise Temerty recently made a $250 million gift to the University of Toronto's Faculty of Medicine. Their donation—the single largest in Canadian history—will support collaboration, innovation, entrepreneurship, equity and student well-being across the newly named Temerty Faculty of Medicine and its affiliated hospital network, advancing its leadership as a global centre of excellence in research and care.
At the announcement of the gift to U of T in September, James Temerty described his approach to philanthropy. "As far as leadership goes," he said, "we mean it in the way of being first. Leading the way. Setting a new standard and to never be satisfied with the status quo."
The Temerty family's generosity is helping in fields from health to education to culture
Founded in 1997 by James and Louise Temerty, the Temerty Foundation has provided significant philanthropic support to health care, education and culture in Toronto and beyond. In the health-care space, their contributions have established the Temerty Centre for Therapeutic Brain Intervention at the Centre for Addiction and Mental Health, the Louise Temerty Breast Cancer Centre at Sunnybrook Health Sciences Centre, and the world's first international tele-simulation centre in medical education at University Health Network. The Temertys are also donors to the Royal Ontario Museum, the Royal Conservatory of Music, the Canadian Museum for Human Rights, and Help Us Help. In 2008, James, with Louise's encouragement, founded the Ukrainian Jewish Encounter (UJE), a multinational project that aims to build a sound foundation for future interaction among Ukrainians and Jews.
Both James and Louise are recipients of the Queen Elizabeth II Diamond Jubilee Medal for service to their community. Between them, James and Louise have five honorary doctorates, and through the Temerty Foundation, they have supported a number of endowments and scholarships in Canada and abroad.
"The Temerty family, through their generosity, is eminently worthy of this award," said Temerty Faculty of Medicine Dean, Trevor Young. "Among so many other causes, their support for medical science in Canada is helping us push the boundaries of what is possible. They are providing the means to change the world—through collaboration, nurturing new ideas, and by embracing our city's diversity. Their vision and dedication to bettering the lives of all Canadians make them greatly deserving of this award."
The AFP award honours a longstanding commitment to philanthopy
This current accolade recognizes James and Louise Temerty's longstanding commitment to philanthropy in Canada. Other institutions and organizations joined the University of Toronto in nominating the Temertys for this award, including the Centre for Addiction and Mental Health (CAMH) Foundation, the Sunnybrook Foundation, the Royal Ontario Museum Governors, the Royal Conservatory of Music and the Shevchenko Foundation. Previous winners of AFP's Outstanding Philanthropist Award with close ties to U of T include the Rogers Foundation, Marcel Desautels, Joseph and Sandra Rotman, and Margaret McCain.
"Congratulations to Jim and Louise Temerty on receiving this award," said David Palmer, Vice-President Advancement, who was honoured with AFP's Outstanding Fundraising Professional Award in 2011. "They have built a lifetime legacy of giving, including the philanthropic milestone they've set at the University of Toronto—truly a landmark moment in the history of Canadian philanthropy. Their peerless generosity across a range of priorities will have an impact for generations to come. Canada is fortunate indeed to have such remarkable individuals as Jim and Louise Temerty, who are so selflessly dedicated to improving the lives of others."