In Memoriam: William Waters (1932-2021)
William Waters' commitment to removing barriers to higher education opened doors for generations of U of T students and left a tremendous legacy of opportunity.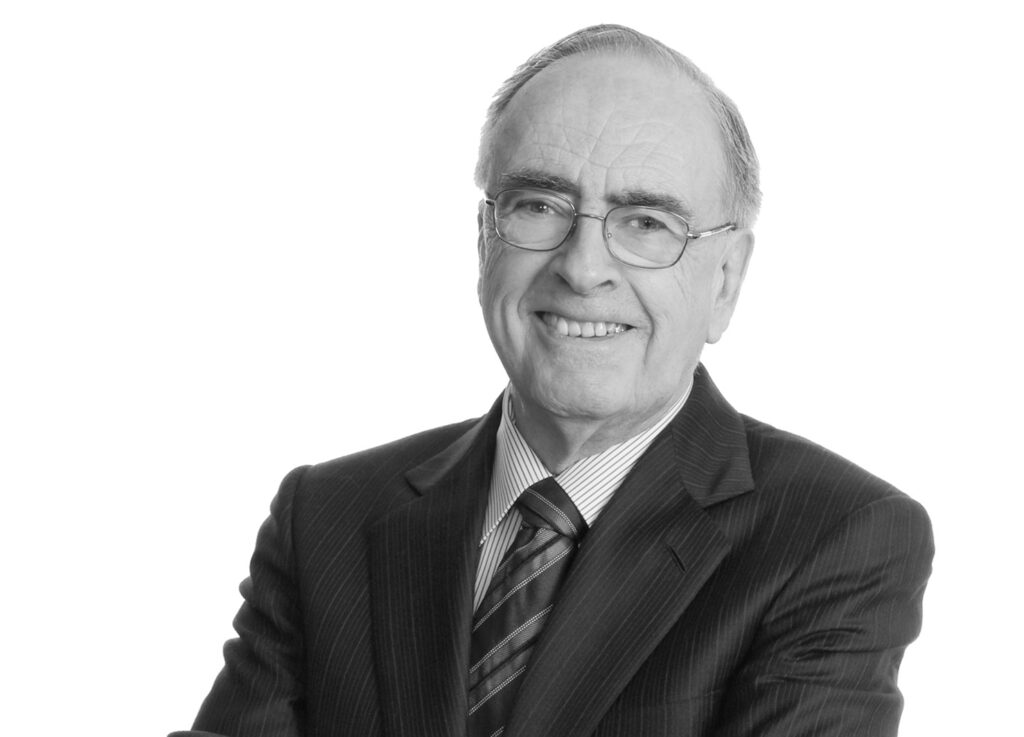 William Waters (BA 1960 WDW, MBA 1962, Hon LLD 2004), one of the University of Toronto's most ardent champions of ensuring all qualified students could pursue a U of T degree, regardless of their means, passed away on July 28 at the age of 88. A successful entrepreneur and respected academic, Waters directed much of his philanthropy to help students in financial need.
"Bill Waters was one of U of T's most distinguished and beloved graduates and faculty members, and his philanthropy was a testament to the power of education to change lives," says U of T President Meric Gertler. "He often reflected on how his mother encouraged and believed in him, and his desire to make a difference in the lives of others who were not as fortunate. And he put this goal into action, across multiple faculties and colleges throughout the University: Music, OISE, Woodsworth College and the Rotman School of Management. The U of T community is deeply saddened by his loss, and I extend heartfelt condolences to Bill's wife Phyllis and all the Waters family."
Waters was extraordinarily compassionate. The story of a chance meeting in a restaurant demonstrates his character and capacity for positive impact: after falling into conversation with a server studying opera about her challenges and aspirations, Waters was inspired to donate $2.5 million toward student financial aid at U of T's Faculty of Music. That student, Ariana Chris (MusP 1999, DOp 2002), went on to sing in leading operas around the world and at the closing ceremonies for the 2010 Winter Olympics in Vancouver.
A management innovator, a champion of students
Waters knew first-hand what it was to struggle financially as a student. He earned his first U of T degree, in economics and political science, in his late 20s as a part-time mature student because economic circumstances did not allow him to pursue full-time studies. He went on to earn an MBA from U of T and a PhD in economics and finance from the University of Chicago, and then to combine an illustrious academic career with business ventures that included co-founding two successful software companies.
In 1964, Waters joined U of T's faculty to teach economics and finance. He was an associate dean in the early 1970s and in 1982, became the first academic director of the Faculty of Management Studies' Executive MBA program. After he retired, U of T honoured him with the title of Professor Emeritus of Economics and Finance at the Rotman School of Management. As well as being a deeply involved professor, Waters was a leader among his peers in charitable giving to the University. In 2004, Waters received an honorary doctorate from U of T and in 2013, he was named to the Order of Canada.
Waters and his wife Phyllis donated more than $8 million to the University in support of a broad number of programs and projects including the Transitional Year Programme for helping adults without formal qualifications access university, his alma mater Woodsworth College, the faculties of Music and Arts & Science, and the Rotman School. In 2011, he and Phyllis launched the William Waters Scholarships at OISE, which help several urban classroom teachers each year to study for a master's degree.
"Bill Waters was a remarkable alumnus and faculty member whose invaluable support empowered a great many students who might not otherwise have been able to pursue an education at U of T," said David Palmer, Vice-President, Advancement. "His support for Woodsworth College and the Transitional Year Programme enabled students to surmount significant barriers to higher education. He transformed the lives and careers of University of Toronto Music students. He was an incredible mentor to Rotman Management students. And he supported students at OISE to become the best possible teachers in Canada's urban classrooms.
"Bill once said he liked organizations that were 'genuinely supportive of the soul'; his innate kindness and generosity certainly touched the hearts of all of us at U of T. His legacy will live on through many students' stories of perseverance and success."