In Memoriam: Edward Jackman (1940-2021)
U of T remembers Father Edward Jackman, OP, a Roman Catholic priest and historian who was an extraordinary supporter of historical research at St. Michael's College.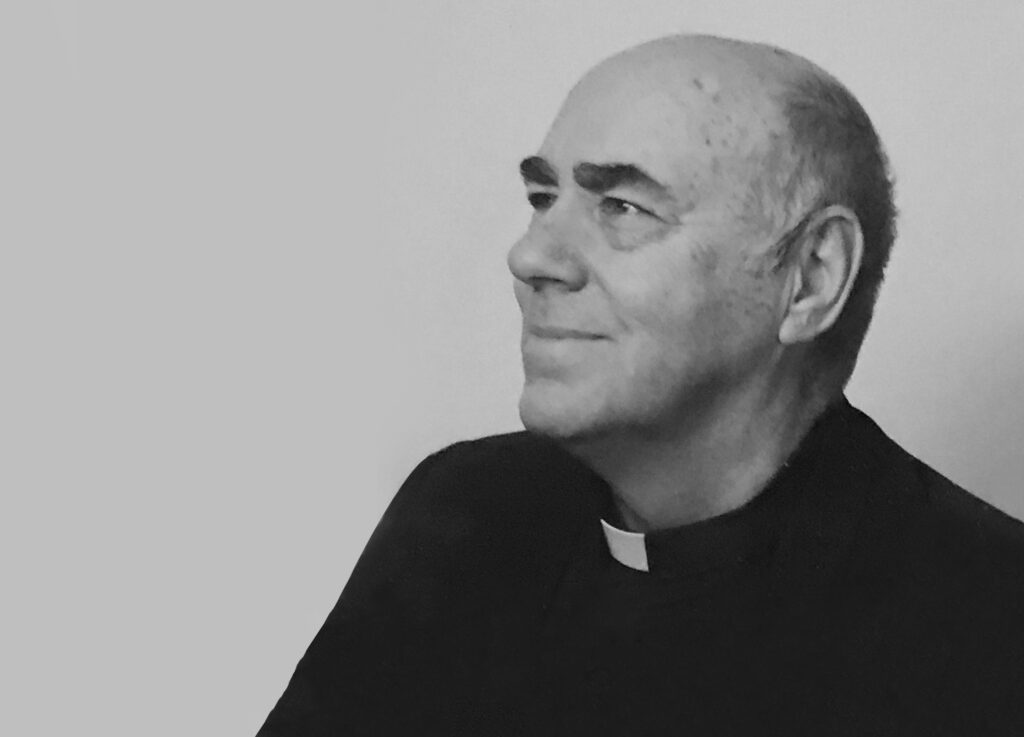 Father Edward J. R. Jackman, OP, a historian and priest who was a long-time supporter of the University of Toronto, has passed away, aged 81. The University of Toronto, Victoria College and the University of St. Michael's College communities join in honouring his life and mourning his loss.
"Rev. Jackman was a well-known figure on our campuses and a steadfast and generous supporter," said Meric Gertler, president of U of T. "He not only loved the field of history but readily shared that passion, making it possible for other historians to tell the stories of our past. The University is grateful for his vision and outstanding generosity. I extend sincere condolences to his partner Martha Jackson, to his siblings Hal Jackman, Eric Jackman and Nancy Ruth, and to the entire Jackman family."
Edward Jackman found and pursued a lifelong passion for religious history
Jackman (BA 1962 VIC, Hon DSacLt 2000 VIC) was born in Toronto and attended first Upper Canada College, then U of T's Victoria College, where he earned a bachelor's degree in philosophy in 1962, played football for the Mulock Cup-winning Vic team and joined the Hart House Library Committee. After he graduated, he taught high school, then converted to the Roman Catholic faith and volunteered as a librarian at a mission in Nigeria and later Ghana. He was ordained as a priest in the Dominican Order in 1971.
After health struggles with malaria, he returned to Canada, where he worked for the Canadian Catholic Historical Association, rising to the position of Secretary General and putting the organization on sound structural and financial footing. He also held the position of historian for the Roman Catholic Archdiocese of Toronto. Here he could delve deeply into the subject he loved best, with a threefold focus on medieval history, Celtic history, and the religious history of Canada.
Many scholarly works saw the light of day thanks to his advocacy and generosity, including publications through the Canadian Methodist Historical Society and Celtic Arts of Canada. And thanks to Jackman, the Jackman Foundation has helped publish more than 50 works in the McGill-Queen's University Press Studies in the History of Religion series. In 2000, the Canadian Catholic Historical Association awarded him its George Edward Clerk Medallion for excellence in writing the history of the Catholic Church, and U of T recognized him with an honorary Doctor of Sacred Letters.
Jackman was an engaged member of the U of T community for many years, a trait he shared with his family. His mother, Mary Jackman (BA 1925 VIC, Hon DSacLt 1980, Hon LLD 1992) was an alumna and supporter of Victoria College. His eldest brother, former Lieutenant Governor the Honourable Henry N.R. "Hal" Jackman (BA 1953 VIC, JD 1956, Hon LLD 1993, Hon DHumL 2001) is Chancellor Emeritus of the University, and a generous supporter of the Faculty of Arts & Science, the Faculty of Law and University of Toronto Schools. His elder brother, the psychologist and businessman Frederick L.R. "Eric" Jackman (BA 1957 TRIN, MA 1962, Hon DSc 2010), is a steadfast supporter of the Dr. Eric Jackman Institute of Child Study and Education, and many other projects at U of T.
Edward Jackman's philanthropy through the Jackman Foundation had a tremendous impact on history scholarship at U of T
The family's Jackman Foundation has been contributing to the University since the 1970s. Chaired by Eric Jackman, it has supported hundreds of research projects, scholarships, chairs and building campaigns. Rev. Jackman also gave through the foundation, principally to three programs at St. Michael's: Celtic Studies, Canadian Church History, and the Pontifical Institute of Medieval Studies. These dynamic research and teaching programs boast vibrant international collaborations, and study aspects of history that underlie so much of Western heritage, from the history, culture and language of Ireland, Scotland and Wales to the history of Canada and the cultures of the European Middle Ages.
For more than three decades, Jackman also funded the Records of Early English Drama project through the Jackman Foundation, enabling scholars from around the world to collaborate on 24 published volumes about the performing arts in England before the 17th century—from theatre to the minstrel tradition to public ceremonies.
"Rev. Jackman was a valued member of the University community," said David Palmer, U of T's Vice-President, Advancement. "Over the years, friends could often find him at St. Michael's, listening to speakers, sparking conversations, and browsing the Friends of the Kelly Library Book Sale. His lifetime interest and engagement with the academy inspired him to leave an outstanding legacy of historical works to the world."
"I will always remember Father Ed and his boundless passion for supporting others who write history," said Dr. David Sylvester, President and Vice-Chancellor of St. Michael's College. "The College is eternally grateful for his generosity. He offered the kind of support that builds enthusiasm as well as excellence, and made an important difference for so many faculty and students. All of us at St. Michael's miss him sincerely. May he rest in peace."