In Memoriam: Ignat Kaneff (1926-2020)
The University of Toronto, and especially the University of Toronto Mississauga community, are remembering Ignat Kaneff—a "builder of communities."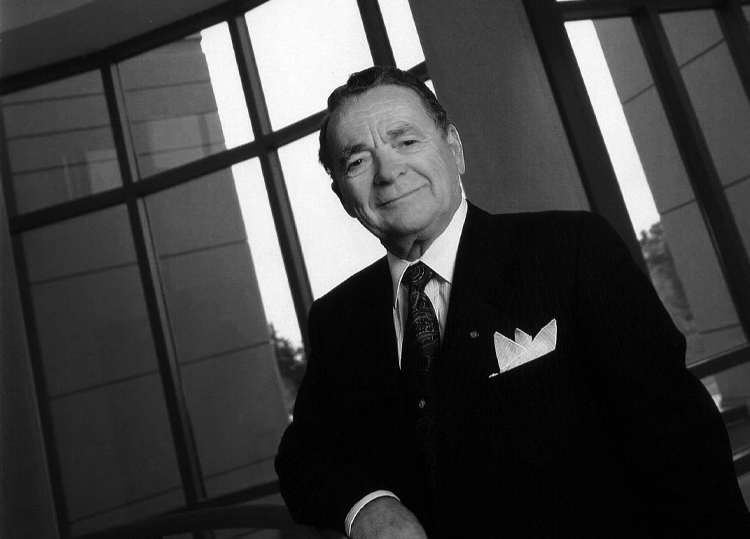 The University of Toronto community is mourning the loss of Ignat Kaneff, a long-time advocate for U of T Mississauga who leaves a legacy of community building and philanthropy.
Kaneff, founder and CEO of the Mississauga-based Kaneff Group of Companies, died on July 12 at the age of 93.
He is remembered as energetic, engaging and funny, with a passion for life and for philanthropy.
"His legacy is that of a builder," says Professor Ian Orchard, former UTM vice president and principal. "But he built more than houses and malls. He was a builder of communities."
Described as a self-made man, Kaneff's story is one of remarkable success and generosity.
Originally from Bulgaria, he arrived in Canada at the age of 25 with five dollars in his pocket. He began as a labourer in the home building industry. Using what he learned, he started his own construction company in 1956, building 27 homes in Mississauga's Erindale Woodlands.
He would go on to build thousands of homes and multiple golf courses, branching out into high-rise and commercial real estate to become one of the area's most successful developers.
A strong believer in giving back to the community that nurtured him, Kaneff used his prosperity to help others. He launched the Ignat Kaneff Charitable Foundation in 1986. For decades he sponsored an annual charity golf tournament in support of Community Living Mississauga to help individuals with developmental challenges, contributed to the Credit Valley Hospital and supported multiple other organizations and charities. He even contributed to his native Bulgaria, building many facilities, including a church.
A leader on the U of T Mississauga campus
"His philanthropy was far-reaching," Orchard says, recalling being with Kaneff in 2002 when he received Bulgaria's highest civilian honour, the Order of Stara Planina, First Degree.
He was also UTM's first million-dollar donor, setting an example for others. A frequent visitor to campus, he took on many leadership roles at the university.
Former Mississauga mayor Hazel McCallion, a long-time friend of Kaneff's, says he wanted to provide opportunities to youth because he never had the chance to go to college or university. He wanted to ensure young people could get an education.
"He was always interested in the success of students," she says. "He left a mark on many people. Mississauga has lost a great friend. I'm going to miss him."
In 1994, Kaneff received an honorary degree (LLD) from the University of Toronto for his service to the University.
"Dr. Kaneff was a trusted advisor, long-time friend and generous benefactor to our campus," says U of T Mississauga Vice President and Principal Alexandra Gillespie. "His passion for community building and education helped UTM prosper and grow into the global leader it is today.
"His impact at UTM will benefit generations to come."
A tireless fundraiser who put students first
His steadfast and generous support was instrumental to the success of many UTM projects.
He donated $1 million and chaired the capital campaign for the Kaneff Centre, which opened in 1992 and is home to social science faculty offices, the Blackwood Gallery, a large lecture theatre and classrooms.
After learning students needed a place to congregate, he took up the challenge of raising money for a student centre. He chaired the capital campaign for the Student Centre, donating $1 million toward the initiative. The building, which is now the hub of student life, opened in 2000.
He also served as honorary chair for the Hazel McCallion Academic Learning Centre fundraising cabinet, which raised $6 million.
Kaneff's generosity and commitment went well beyond his support of capital campaigns. He provided funding to support students in financial need through his contribution to an OSOTF scholarship and was one of the founding members of the Principal's Advisory Council, a group of external stakeholders who provide guidance to UTM's vice president and principal. He later served as honorary co-chair of UTM's Boundless fundraising campaign.
"Iggy Kaneff was a visionary who helped build up not just the University of Toronto Mississauga, but indeed the entire Peel Region," says U of T President Meric Gertler. "His philanthropy was driven by his desire to support bright students and scholars in his community. His support will ensure that generations of our graduates have the opportunity to become leaders and contribute to their communities.
"We are so proud to be part of Iggy's legacy. He will be truly missed."
His legacy touches every corner of Mississauga
Kaneff's dedication and leadership earned him numerous awards and accolades over the years. He was named Mississauga's Citizen of the Year in 1992. He was inducted into the Order of Ontario in 2010 and, in 2016, to the Order of Canada. That same year he was presented with Community Living Mississauga's Lifetime Achievement Award, recognizing more that 45 years of support for the organization.
Calling Kaneff an early pioneer, Mississauga Mayor Bonnie Crombie says there isn't a corner of Mississauga that hasn't been touched by his legacy.
"Iggy left an indelible mark on our city as a city builder and philanthropist, forever changing the face of Mississauga and shaping our urban landscape," Crombie says. "He was a very humble man who was dedicated to making our city a better place, raising millions of dollars for several causes across Mississauga that touched the lives of countless in our community."
During UTM's 50th anniversary celebrations in 2017, Kaneff reflected on his volunteerism.
"I was very proud to be able to help as much as I could," he said.