Excellence without Barriers: Alumni and friends' generosity will have a lasting impact on U of T Law students
Inspiring and committed donors helped the University of Toronto's Faculty of Law raise well above its $30-million goal, establish a nearly $53-million fund for student support.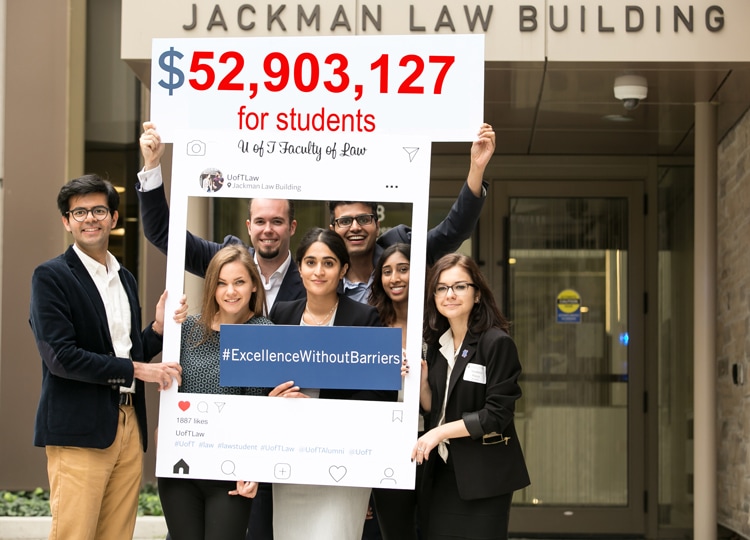 The University of Toronto's Faculty of Law is celebrating alongside donors and friends the success of its $30-million campaign for student financial aid and the co-curricular student experience.
The Campaign for Excellence without Barriers was the largest bursary-focused campaign at any Canadian law school, with a specific goal of raising $20 million for student financial aid and an additional $10 million for enhancing the student experience, including professional development and experiential learning with in-house legal clinics, as well as student mental health initiatives.
In total, the campaign raised a remarkable $22.3 million for student financial aid and $12.8 million for the student experience, including a $6-million landmark gift from the Honourable Henry N. R. "Hal" Jackman (BA 1953, JD 1956), former Lieutenant-Governor of Ontario, former U of T Chancellor and long-time benefactor to U of T. Jackman's previous gift to law's building campaign (2010-2014) resulted in the naming of the Jackman Law building.
The student financial aid pool will receive matching funds with an additional $17.6-million impact from U of T's Boundless Promise, a program that supports gifts designated for needs-based student financial support, resulting in a total campaign impact of nearly $40 million for student financial support, and nearly $53 million overall.
Accessibility makes us, and the legal profession, better and more diverse.
"We want the best and brightest students, no matter their financial circumstances, to attend U of T Law. Such accessibility makes us, and the legal profession, better and more diverse. The incredible generosity of our donors and friends will have a dramatic impact on our ability to attract and support students with financial needs," says Professor Edward Iacobucci, dean of the Faculty of Law.
In pursuit of an academically excellent and diverse class, U of T Law does not offer admission-based scholarships. Rather, the Faculty awards bursaries only the basis of financial need. In order to better ensure that career choices are based on interests and passions for justice, the Faculty's Post-Graduation Debt Repayment Assistance Program – the first law school program of its kind in Canada – offers financial assistance for graduates who have lower incomes following graduation.
Students express their heartfelt gratitude
"I'm grateful for the generous donors whose financial support has allowed me to navigate life's challenges," says third-year JD student Daiana Kostova. "I can focus on my legal education and get involved in the many opportunities at the law school, which would not have been possible for me without bursary support." Now I have opportunities I'd never thought possible, with abilities to serve in ways I never thought I could.
In his short time at U of T, Isaac Gazendam was given an opportunity in the summer of 2019 to work in New York City at Human Rights Watch. He also joined the Digital Verification Corp, a network of volunteers trained to authenticate footage in countries where citizens report human rights abuses.
"Supported by generous donors, the Faculty of Law's International Human Rights Program provides meaningful experiential learning opportunities for students like me. Taking part in real-world research projects and directly contributing to important organizations, exceptionally complements what I've been taught in the classroom," says the third-year JD student.
In a heartfelt thank you video to donors, recent graduate Wanekia (Kia) Dunn (JD 2019), remarked, "Now I have opportunities that I'd never thought would be possible for me with abilities to be of service in ways that I never thought I could have, and a with a debt that's manageable and that doesn't determine my career."
"If your support can help make even a fraction of the inspired and driven students that I've had the privilege of sharing the last three years with, more free to pursue careers of public benefit, then it will do more than change the lives of those students. It will affect the culture of the legal profession."