Honouring a humanitarian icon: the Archbishop Desmond Tutu Bursary
A new U of T bursary pays homage to Archbishop Desmond Tutu and celebrates his 90th birthday.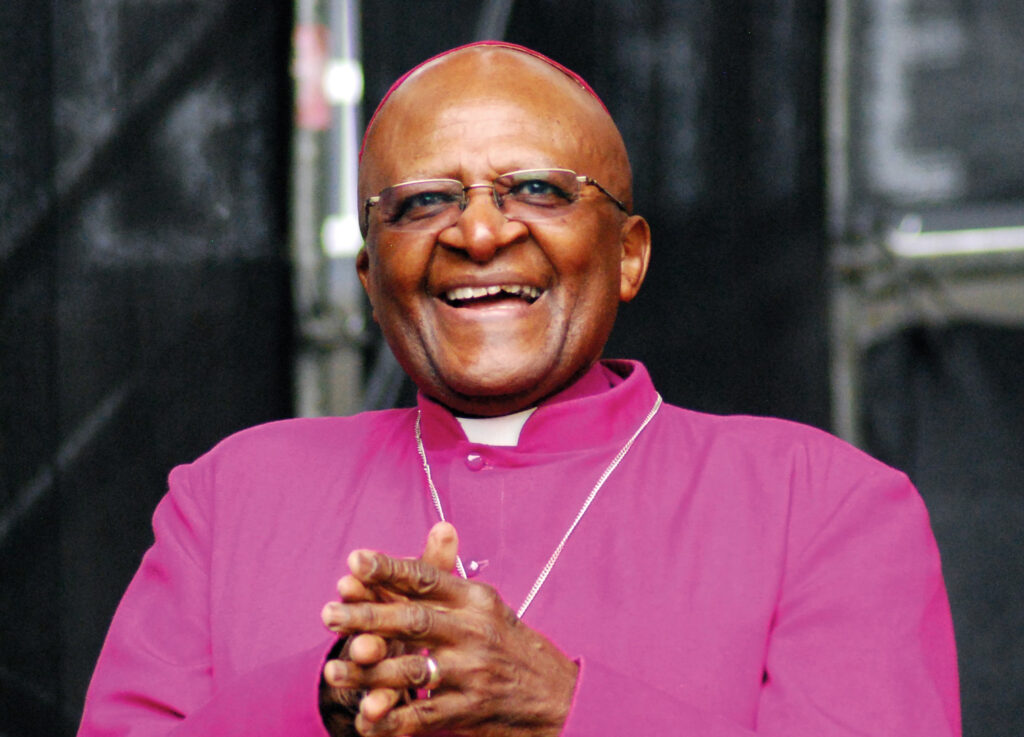 Thanks to the generosity of alumni and friends, a bursary in divinity studies has been established at the University of Toronto in honour of Archbishop Desmond Tutu (Hon LLD 2000), one of the world's leading clerics and social activists. The Archbishop Desmond Tutu Bursary in Divinity Studies will be awarded to a master's student in divinity studies at Trinity College who has a demonstrated interest in causes related to humanitarianism, truth and reconciliation, or climate change.
"It gives us great pride to honour Archbishop Tutu with this bursary in his name," says David Palmer, Vice-President, Advancement. "The award pays homage to a remarkable icon and one of the most important leaders in human rights. His work has given a voice to those facing systemic racism, to societies seeking reconciliation. The award is also a tribute to the Archbishop's unique bond with Canada."
The bursary recognizes the Archbishop's exceptional dedication and commemorates his 90th birthday on October 7, 2021. Carole Adriaans, founder of South African Women for Women and Zenzele Development Organization, spearheaded efforts to garner support for the bursary and was met with enthusiasm and generosity. "It brings me much joy to know that the Archbishop's legacy will continue in perpetuity," says Adriaans.
U of T is matching all donations to the bursary and the first recipient will be selected this year. Last month, a special birthday celebration for the Archbishop took place at Grace Church on-the-Hill in Toronto, announcing the Tutu bursary. In his message to the Archbishop for the celebration, President Meric Gertler noted that the University of Toronto is proud to count Archbishop Tutu among the University's most distinguished honorary graduates.
A lifetime of impact, including an important role in Truth and Reconciliation in Canada
The award will encourage young people to honour Archbishop Tutus' legacy and myriad achievements. These include being the first Black African to hold the positions of Bishop of Johannesburg and Archbishop of Cape Town; his leadership in allowing women priests to enter the clergy in South Africa; and his courageous work, alongside former South African President Nelson Mandela, in ending apartheid and introducing a multiracial democracy in South Africa. Archbishop Tutu has also been a tireless advocate in fighting HIV/AIDS, tuberculosis, poverty, racism, sexism, homophobia and transphobia.
Archbishop Tutu is a recipient of the Nobel Peace Prize, the Albert Schweitzer Prize for Humanitarianism, the Pacem in Terris Peace and Freedom Award, the Sydney Peace Prize, the International Gandhi Peace Prize, and the Presidential Medal of Freedom. In 2000, the University of Toronto was grateful to bestow an Honorary Doctor of Laws on Archbishop Tutu.
Although he retired in 2010, Archbishop Tutu remains an active advocate for many causes including climate change, girls' and women's rights, and matters relating to Canada's Indigenous communities and climate issues. He was a prominent voice during Canada's Truth and Reconciliation process, leading important conversations on treaty rights, and Canada's relationship with Indigenous people and with the earth.
"Archbishop Tutu is an exemplar for each of our scholars on our campuses," says Palmer. "We are delighted to partner with his friends and supporters to establish this important award that will honour his enduring legacy and dedication to human rights."