Delores Beck endows a chair in Law to honour the late Howard Beck, QC
The generous gift will support research in law at the University of Toronto, while honouring a distinguished legal and business career.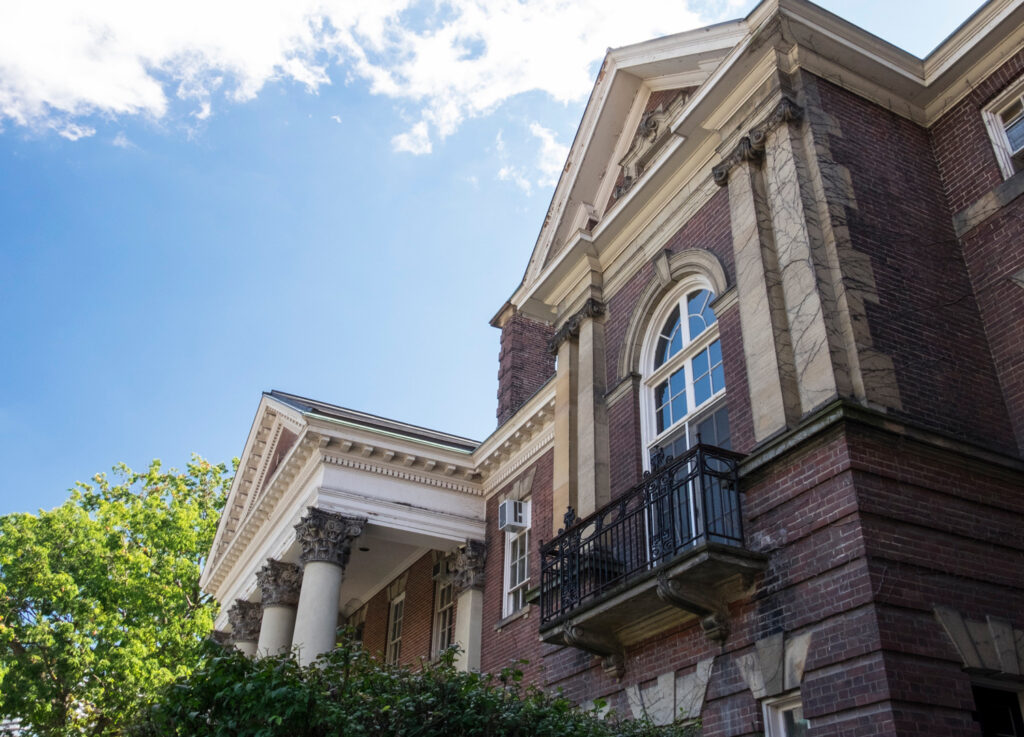 Endowed chairs at the University of Toronto, in any discipline, signify academic excellence and subject expertise. Thanks to the generosity of Delores Beck, the recently established Howard Beck, Q.C. Chair at the University's Faculty of Law will be held by a distinguished law professor designated by the Dean whose academic contributions are recognized among their peers.
"Mr. Howard Beck was a greatly esteemed member of Canada's legal and business communities. It is an honour for us that Mrs. Delores Beck decided to establish The Howard Beck, Q.C. Chair at the Faculty of Law, University of Toronto," said Edward Iacobucci, Dean Emeritus of the Faculty.
Howard Beck completed his legal education at the University of British Columbia and Columbia University in New York. In the 1960s, he became a founding partner of the firm known today as Davies Ward Phillip & Vineberg LLP, previously known for decades as Davies, Ward and Beck. The firm described Beck as "charismatic and sharp with a keen sense of humour," who "quickly attracted a large clientele who valued his strategic advice and business judgment in addition to his exceptional legal talents." Beck stepped down from the firm in 1989 to pursue a new career in business, serving on the boards of multiple Canadian corporations. Davies, and individual partners at the firm, have also supported the establishment of the new Chair.
"We are grateful to Mrs. Beck, and to Davies, for their generosity, and are proud to be associated with the legacy of Mr. Beck through this Chair. We are immensely pleased that The Howard Beck, Q.C. Chair will support eminent legal scholars, and their students, for generations to come," said Iacobucci.
"They broke the mold when they made Howard," said Gerry Gotfrit, Howard's business partner of over 35 years. "He loved life and never lost his child-like spirit. Even though he wasn't a tall man, whenever he walked into a room he was 6 foot 9."
The Faculty has named University Professor of Law and Philosophy Arthur Ripstein as the inaugural chairholder.
"I am honoured to be named to The Howard Beck, Q.C. Chair," said Ripstein. "The Chair will enable me to continue my research at the intersection of law and philosophy.
"One of the features of legal philosophy at U of T is that we engage with philosophical questions about the nature of law and with legal doctrine," says Ripstein. "We have the strongest group of law and philosophy professors anywhere in North America, and one of the largest in the world. This has made U of T the ideal place for me to have my career."
Arthur Ripstein will be able to accelerate his distinguished scholarship
Ripstein is a distinguished academic who completed his PhD in philosophy at the University of Pittsburgh in 1986 and his Master of Studies in Law from Yale Law School in 1994. He joined U of T's Department of Philosophy in 1987 and was promoted to Full Professor in 1996. He was appointed to the Faculty of Law in 1999. In 2016, he was designated as University Professor, a special rank held by no more than two per cent of tenured research faculty that recognizes scholarly achievement in a particular field.
His research and teaching interests include torts, legal theory and political philosophy. In addition to numerous articles on these topics, he is the author of Private Wrongs (Harvard 2016), Force and Freedom: Kant's Legal and Political Philosophy (Harvard 2009) and Equality, Responsibility and the Law (Cambridge 1999). Oxford University Press will publish his Tanner Lectures, Rules for Wrongdoers, in early 2021 and Kant and the Law of War later this year.
Ripstein is the recipient of multiple awards and distinctions, including the Killam Prize for the Humanities in 2021. He was awarded U of T's J.J. Berry Smith Doctoral Supervision Award, given to one professor in the humanities and social sciences annually; a Killam Research Fellowship from the Canada Council for the Arts; the U of T Alumni Association Faculty Award, bestowed upon one faculty member across the University each year for distinguished contributions to research, teaching and service; and twice, a Canadian Philosophical Association Book Prize. He was elected to the Royal Society of Canada in 2010.
A frequent contributor to CBC Radio's Ideas series, Ripstein has spoken on topics including freedom of expression, honesty, borders and boundaries, and democracy. His research has been supported continuously by the Social Sciences and Humanities Research Council (SSHRC) since 1995. In addition to his research and teaching, Ripstein served as a member of the University of Toronto's Governing Council and Business Board for eight years and is currently leading a University working group to examine and address anti-Semitism on campus.
Davies Ward Phillip & Vineberg LLP also contributed to a research fund
Complementing Mrs. Beck's generous benefaction, Davies, together with employees of the firm, established the Howard Beck, Q.C. Chair Fund to support the early activities of the chairholder. Ripstein will have the opportunity to accelerate his scholarship under Howard's name.
"Howard played an integral role in building our firm to what it is today and was a pillar of the Canadian legal community," said Sarbjit Basra, Davies' Managing Partner in Toronto.
"We are honoured to establish this fund to help continue Howard's legacy of entrepreneurship, thought leadership and innovation."