Chemistry alumnus Chevon Riley founded his own natural cosmetics company
Thanks to donor support for bursaries and for U of T's business accelerators, chemistry student Chevon Riley is building a healthier world with his natural, organic product line.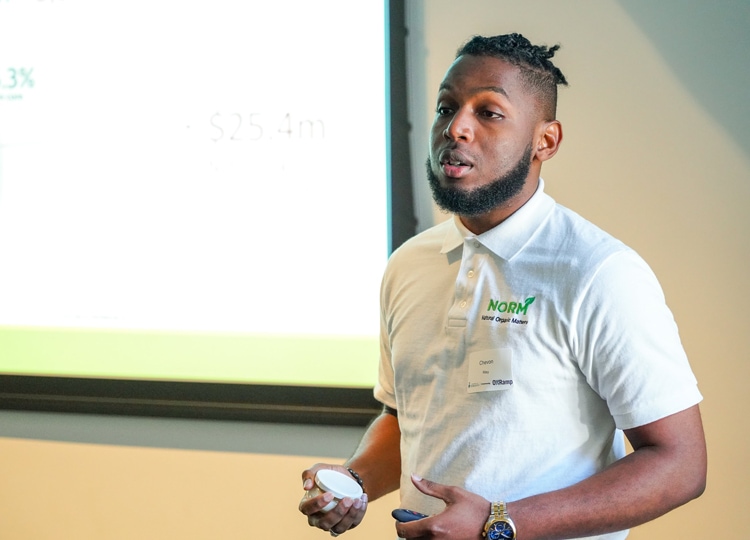 Chevon Riley is a trailblazer in his family. "I am one of 11 siblings and the first to finish university," he says."
Chevon worked full-time while studying chemistry at U of T Scarborough. As if that wasn't enough, he also started a business.
NORM—Natural Organic Matters—sprang from Chevon's love of chemistry. When he realized that most skin-care products are packed with additives, he started making his own balm. At the Hub, U of T Scarborough's accelerator, he benefited from mentorship, career direction and seed funding.
"The Hub took me from somebody with a product in a jar to a CEO of my own company," he says.
Natural Organic Matters sold 2,500 jars of natural almond and hazelnut balm in just its first year and Chevon is developing 13 more products.
Chevon pledged to plant a tree and donate to an animal shelter for every sale. "This is our way of trying to give back to the earth that we took from," he says, "and to help the cosmetics community correct itself, to stay away from testing on animals."
"My family is very proud," says Chevon. "I'm proud of myself!" And he is grateful for those who paved the way for him to contribute to a safer and healthier world—from the donors who contributed to the bursaries he won to those whose gifts support the Hub.
"If I didn't have those opportunities, I am not sure NORM would even exist," he says. "It's very hard to go to school and work at the same time. So I can only be grateful."
Please give to the University of Toronto today, and help hard-working students like Chevon Riley turn their inventiveness into solutions for a greener, kinder, healthier society.