Celebrating 10 years of Schulich Leader Scholarships at the University of Toronto
The Schulich Leader Scholarships, founded by philanthropist Seymour Schulich, are graduating Canada's next generation of science and tech leaders. Meet three success stories from U of T.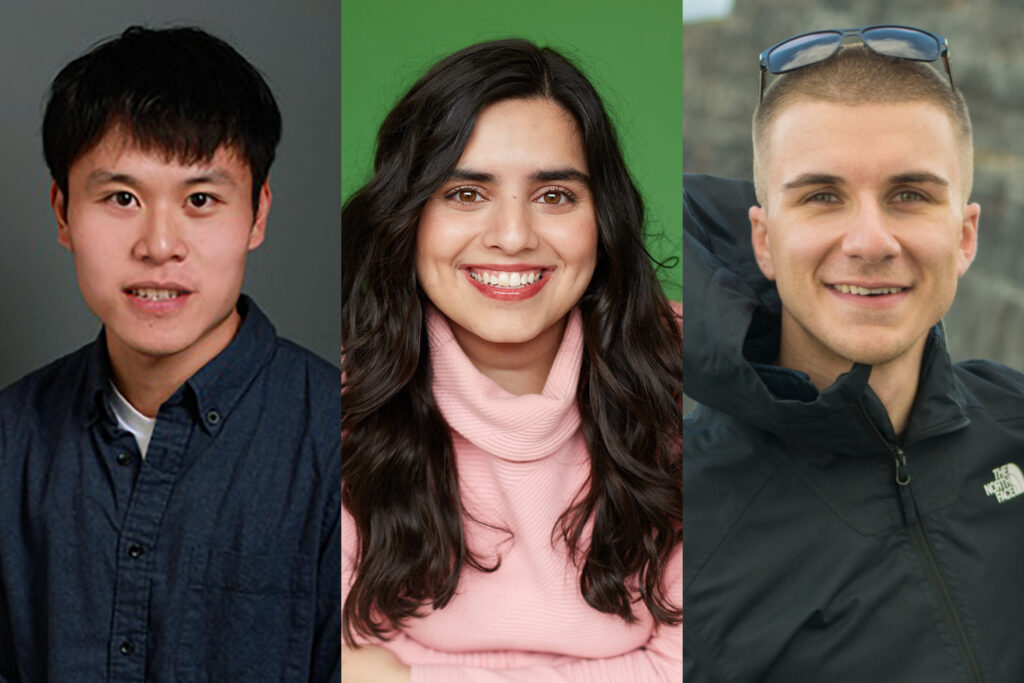 Will Kwan, an AI specialist and an entrepreneur, is spending his free time building open-source tools for genetics research. Haleema Khan, a graduate student in biomedical engineering, donates her digital artwork to raise funds for food banks. And Danny McInnis, a product design engineer, just filmed a documentary about resilience and small businesses surviving the pandemic.
Kwan, Khan and McInnis have a lot more in common than wonderful jobs and creative community projects. All three are Schulich Leaders, graduates of the University of Toronto and of the prestigious Schulich Leader Scholarship program for Canada's top students in science, technology, engineering and math. All three credit the scholarship with giving them the same key to success: opportunities to take risks and spread their wings.
"Because the award alleviated the financial burden of paying for school," explains McInnis, "it really let me try different things. That's been instrumental in my learning. If I had been worried about working a job to pay for school, I would have been less inclined to take all those cool risks, and being able to has had a lasting impact on me."
10 years of support for science, technology, engineering and math
Now celebrating their 10th anniversary, the Schulich Leader Scholarships have allowed hundreds of students to explore, thrive and make a difference. Founded by philanthropist Seymour Schulich through his Schulich Foundation, the four-year awards support Canadian university students with entrepreneurial aspirations rooted in the STEM disciplines: science, technology, engineering and mathematics.
After 10 years of growing the program, the Schulich Foundation now awards up to 100 scholarships per year. In 2021, 10 went to University of Toronto students. Valued at $80,000 for science, technology or mathematics students and $100,000 for engineering students, the awards also include membership in the growing Schulich Leaders Network of successful alumni—like Kwan, Khan and McInnis.
"Warmest congratulations to Seymour Schulich and the Schulich Foundation on the 10th anniversary of these very important scholarships," says Meric Gertler, President of U of T. "And thank you for the difference you've made, by supporting Canada's next generation of leading innovators and problem-solvers. The Schulich Leader Scholarships help ensure that our greatest young minds can take advantage of the opportunity of a stellar education, so they can realize their full potential."
The Schulich Leader Scholarships program is graduating talented future leaders every year. The stories of Kwan, McInnis, and Khan illustrate three inspiring paths to success, and the tremendous potential embodied the program.