Black and Hispanic legal associations create scholarships for U of T's Youth Summer Program
The scholarships will help high school students explore the idea of a legal career, and help reduce barriers to access to law school.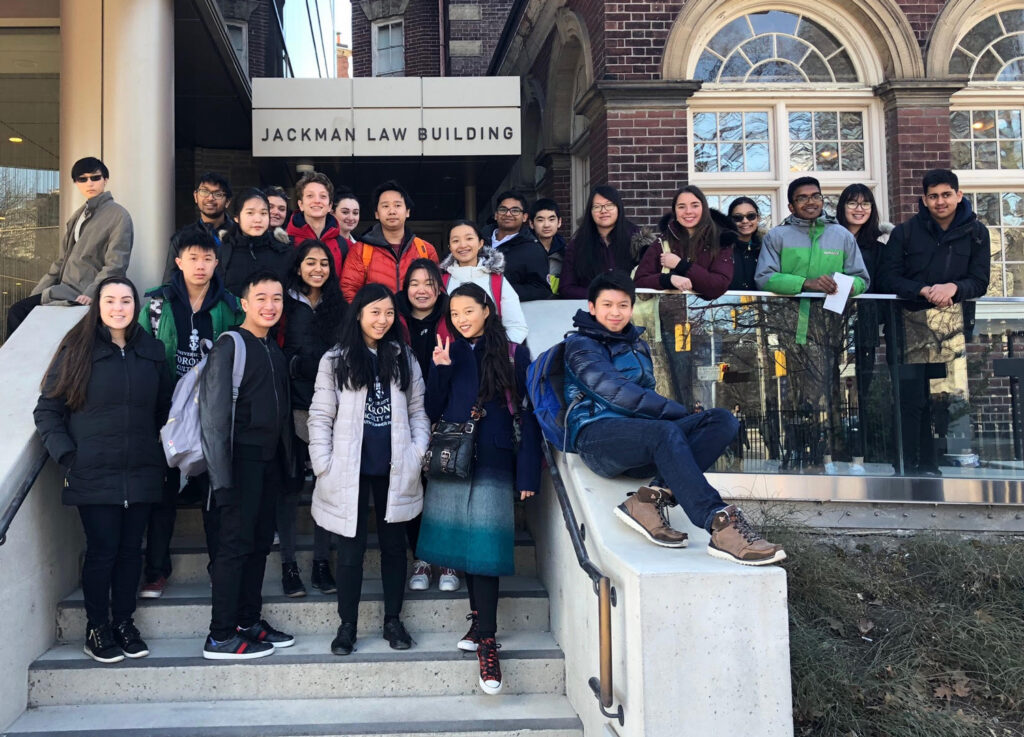 Two legal associations are funding youth opportunities to explore the law through the University of Toronto's Youth Summer Program (YSP).
The Canadian Association of Black Lawyers (CABL) and the Canadian Hispanic Bar Association (CHBA) have each established scholarships for Black and Hispanic students in Grades 10, 11 or 12, who are interested in participating in one of the Youth Summer Program's legal modules. Due to the ongoing COVID-19 pandemic, YSP will be held virtually in 2021.
Established in 2008, the Youth Summer Program offers students from across North America and around the world an exclusive glimpse into the practice of law. With the topics ranging from criminal law, trial advocacy to international law, students explore these fields and related career opportunities, while thinking about preparation in high school for post-secondary admission and education.
Income generated from the YSP supports another U of T outreach program, LAWS (Law in Action Within Schools), an award-winning access program established by Faculty of Law in 2005.
"It is important for us to operate the Youth Summer Program as a social enterprise. The scholarships generously funded by the CHBA and CABL not only encourage access to law school and legal education but ultimately support the work of LAWS," says Eleonora Dimitrova (JD/MA 2010), LAWS Executive Director.
Kyle Elliott's personal experience inspired the Canadian Association of Black Lawyers to fund two scholarships
As Manager of Diversity, Inclusion & Outreach Initiatives at Blakes, Kyle Elliott oversees the firm's mentorship of 30 LAWS students from November to June each year. Blakes also supports YSP activities, such as visits with the firm, annually.
"I've been involved with the LAWS program for a number of years. As an Osgoode student, I volunteered with LAWS, from first- to third-year law," says Elliott.
"LAWS was a program I wish I could have attended when I was in high school. I was the first in my family to attend university, first to attend law school. I see myself in many of those students."
Elliott bridged his personal and professional experience with LAWS and YSP, to onboard CABL. He volunteers as the Association's Director of Communications.
"CABL's overall mandate is to promote the advancement of Black lawyers in the profession. It's really hard to fulfill that mandate if you don't have Black students applying to law school and going down the path of becoming lawyers," he says.
"[CABL] recognizes that these decisions are made earlier and earlier. We know that most law students first consider pursuing law as a career in middle school or high school."
CABL has established two scholarships for Black students in Grades 10, 11 or 12 to attend one of the legal models that make up YSP's offerings this year.
"[YSP is] an opportunity to commit to the path and help Black students realize there is opportunity to have success in law," adds Elliott.
Alumna Rita Villanueva inspired the Canadian Hispanic Bar Association to fund five scholarships
Since graduating, Rita Villanueva (LLM 2004, JD 2011) has volunteered with LAWS by sharing her journey to the legal profession with program students.
"Working in the corporate world in Canada, you see a lot of company driven diversity and inclusion initiatives. That has also inspired me to look for ways to take action, myself, as a racialized, Hispanic lawyer," says Villanueva.
She says that studies have shown that high school students in the Hispanic community drop out from high school at alarming rates. In thinking about the ways in which she could encourage students in her own community, she reached out to fellow U of T Law graduate, Dimitrova, and learned more about YSP.
"[YSP is an] opportunity to give students from disadvantaged groups the experience of law school," she says.
Villanueva reached out to CHBA, and its board and members were very supportive of the initiative. They were undeterred by the ongoing COVID pandemic, given that the modules will be online, their reach could be broader, giving access to Hispanic youth across Canada. CHBA supported two YSP scholarships in 2020 and plans to fund three in 2021.
Villanueva believes engaging her community will help diversify the legal profession.
"I truly believe in education and scholarships and the impact that it has on people," says Villanueva, whose first law degree was completed in her homeland of Peru. A scholarship brought her to U of T Law for her master's before she pursued a JD to practice in Canada.
"I always feel very grateful for the opportunity given by U of T Law, because I could have not done it without their help," she says, adding she hopes the CHBA scholarships will open doors for future law students.
"The overarching goal is to level the playing field for youth," says Dimitrova. "Providing access is a key step to diversity."