Adam Lake wins Dr. Connie Carter's inaugural Global Affairs scholarship
Adam Lake, an award-winning advocate for inclusion, receives the first of the scholarships established by U of T friend and donor Connie Carter.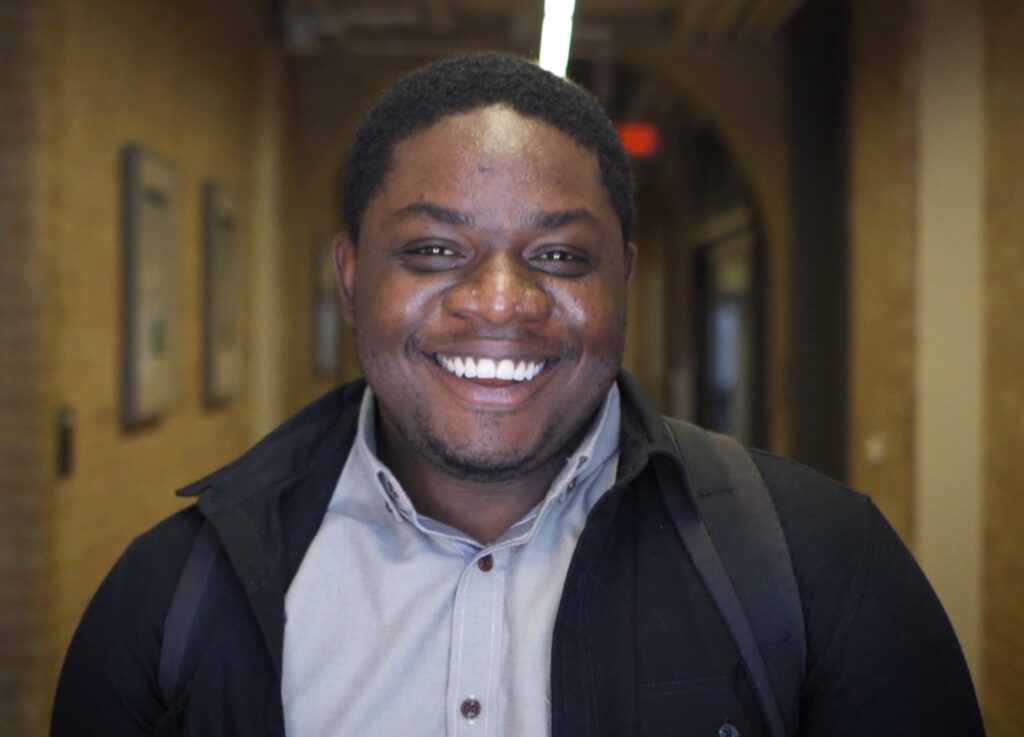 Adam Lake is an exemplar of the adage "lift as you climb". He draws his inspiration from his parents.
"In building a life here in Canada, they've always given back to their community back in Jamaica," he says. "Seeing them always send money back home, send barrels of clothes and food to loved ones and be involved in community organizations in Jamaica made me realize I wanted to give back to the Black community within Canada. I want to further my education in global affairs, using my own experiences as context. I want to ensure that everyone has access to different opportunities in life."
Lake is a master's student at the Munk School of Global Affairs & Public Policy, and one of two recipients of the inaugural Dr. Connie Carter Global Affairs Award. Carter, who also mentors students as a Munk School senior fellow, established the award earlier this year to support students from the Caribbean community in the master of global affairs (MGA) program.
Lake's personal experiences as a Black student power his strong voice for inclusion
A 2020 Harry Jerome award recipient, Lake has dedicated his studies and community activism to advancing the lives of marginalized groups — particularly Black people, the LGBTQ2+ community, and those who sit at the intersection of both, like Lake himself. He speaks candidly about difficulties he's faced, and how his parents were his champions early in his academic career.
"As a Black student, I've faced barriers in school, for example being arbitrarily placed in English as a Second Language courses. Or being told that post-secondary education wasn't meant for me when I was deciding which university to attend," says Lake. "Things like this used to affect me and bring me down, but my mother and father advocated for me. They would go down to the school and speak up on my behalf or remind me that I was worthy of attending any educational institution I wanted. My personal experiences drive me. I want to help eliminate the barriers that students, particularly Black students, face and ensure they can access the opportunities they deserve."
Lake backs up this desire with action. During his undergraduate studies at York University, he completed the Anti-Racism Research and Practice program and founded Books Breaking Barriers, a program that provides inmates with books and aims to reduce recidivism through education. The initiative has since expanded to include a pen pal service, where community members can connect with racialized and LGBTQ2+ inmates to network, provide encouragement and offer support through letter-writing.
From building a culture of inclusion at school to achieving a national impact
While he pursues his master's degree, Lake is also completing a certificate in Ethnic and Pluralism studies, and continuing his wide-ranging community service. He serves as social director for the MGA Student Association, where he co-ordinates networking and advancement opportunities for his fellow MGA students. And he is one of 21 fellows in the 1834 Fellowship, a program started by Operation Black Vote Canada, whose aim is to prepare young Black Canadians for working within the government.
"During my fellowship, I'm learning about how public policy is developed including practice and theory," he says. "I'm learning about key issues that affect policy analysts and policymakers when it comes to influencing and implementing policy. Eventually, I would like to do political work that focuses on the social issues I care about the most: education, reducing recidivism, health care, employment and affordable housing."
Lake also helped to create the Munk School Black Students Association (MSBSA), a joint, student-led initiative founded by the seven Black students from the Munk School's MGA and Master of Public Policy programs. Lake will serve as director of advocacy of the newly formed association.
"I aim to create a more inclusive educational environment and provide support, direction, and guidance, for Black students in their academic, social, and professional endeavors. As director of advocacy of the MSBSA, I will challenge Munk School faculty, fellows, and administration to create a culture and environment where Black students' voices are included — because they matter."
Lake aspires to attend law school after completing the MGA program, using his well-rounded education and his personal experiences as the foundation for his career as a criminal lawyer. But his ambitions don't stop there — he hasn't dismissed the idea of one day taking his talents straight to Parliament Hill.
"I want to bring my voice and experiences to decision-making tables. I hope I can make a difference in the political sphere in Canada. My mother and father always bring up the idea of me running for Prime Minister. And you know what? The sky is the limit."