U of T turned Dr. Gooden's dream of helping others into a reality
It takes a university to connect students with opportunities to learn and grow, to teach them to think critically and to empower them to reach their full potential.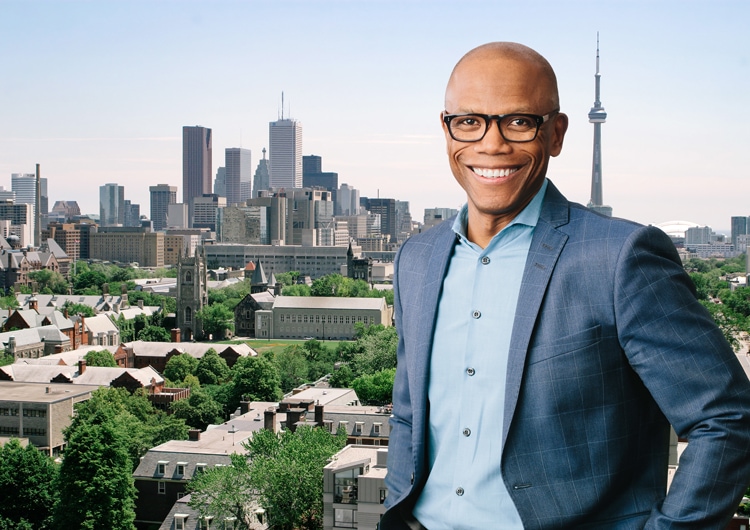 Everton Gooden (BSc 1991, MD 1996, PGMT 2001) is an award-winning otolaryngologist and surgeon at North York General Hospital in Toronto and an assistant professor at the University of Toronto.
Ever since he was young, Dr. Gooden dreamed of becoming a doctor and making a positive difference in people's lives. However, his parents were not able to afford the cost of post-secondary education.
Thanks to the generosity of alumni and friends, he received scholarship support—including the Dr. Anderson Abbott Award, named after the first black physician to graduate in Canada—that allowed him to attend the University of Toronto.
Dr. Gooden received his Doctor of Medicine and completed his surgical training in Otolaryngology/Head and Neck Surgery at U of T. In 2001, he received a Surgical Fellowship from the Royal College of Physicians and Surgeons of Canada. Beyond his life-changing work helping patients over the past two decades, Dr. Goodwin is also a volunteer and fundraiser with North York General, as well as a former member of the board of governors, and is a respected leader.
"The people I was surrounded by were driven, passionate, motivated and the culture encouraged you to dream the impossible," he says. "We were encouraged to think outside the box and to be optimistic in any situation."
Please give to the University of Toronto today, and enable others like Dr. Gooden to make a difference in the lives of so many.