U of T ranked 15th globally, first in Canada, for work-ready graduates
According to the latest employability rankings by Times Higher Education, the University of Toronto ranks number one in Canada for graduate employability, and first among North American public universities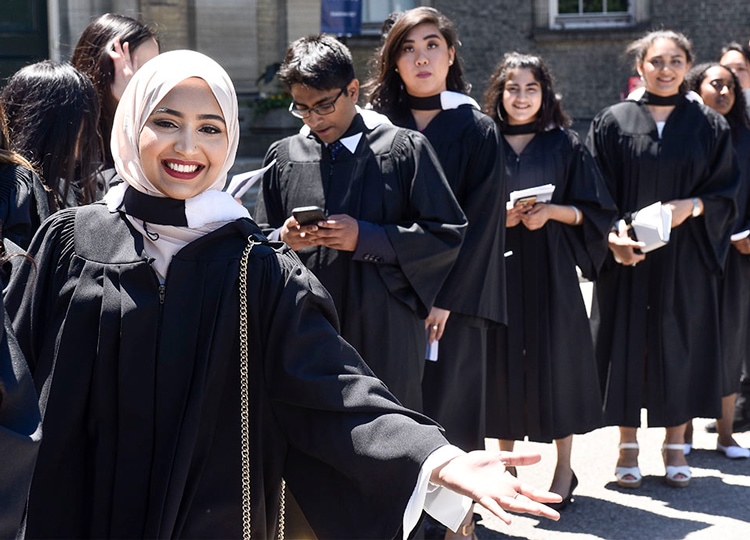 Recruiters at top companies surveyed by Times Higher Education say University of Toronto graduates are among the best equipped in the world to join the workforce.
U of T was ranked the number one university in Canada and the top public institution in North America for producing work-ready graduates, according to the Global University Employability Ranking 2019.
The same ranking placed U of T 15th overall among 250 universities in 41 countries, and eighth among the world's public universities.
"Employers in Canada and beyond recognize the value of a University of Toronto education," said U of T President Meric Gertler.
"The University's faculty and staff work tirelessly to equip students with the skills and experience they need to succeed in an ever-changing and competitive global job market."
The Times Higher Education Global University Employability Ranking 2019 was based on the combined results of two surveys of thousands of recruiters and managing directors at large international companies. In total, 91,000 votes were cast for more than 5,000 institutions.
The surveys, designed by Paris-based human resources consultancy Emerging, were conducted between May and September of this year.
The United States dominated the 2019 Times Higher Education employability rankings, with the top three spots going to Harvard University, the California Institute of Technology and the Massachusetts Institute of Technology, respectively.
Other well-represented countries included France, Germany and China.
Four other Canadian universities joined U of T in the top 100: McGill University (17th), the Université de Montréal (36th), the University of British Columbia (61st) and McMaster University (78th).
In its description of U of T, Times Higher Education wrote: "In disciplines from medicine to engineering, the university attracts world-leading scholars to undertake groundbreaking research and transfer that knowledge to students."
Overall, U of T continues to be the highest-ranked Canadian university and one of the top-ranked public universities in the five most closely watched international rankings: Times Higher Education World University Rankings, QS World University Rankings, Shanghai Ranking Consultancy's Academic Ranking of World Universities, U.S. News & World Report's Best Global Universities and National Taiwan University World University Rankings.