Transformational gift from Tony Comper advances exciting renewal at St. Michael's
Inspired by what he saw when he recently returned to take courses at St. Michael's College, U of T alumnus Tony Comper established a bequest to endow a professorship in Medieval Studies.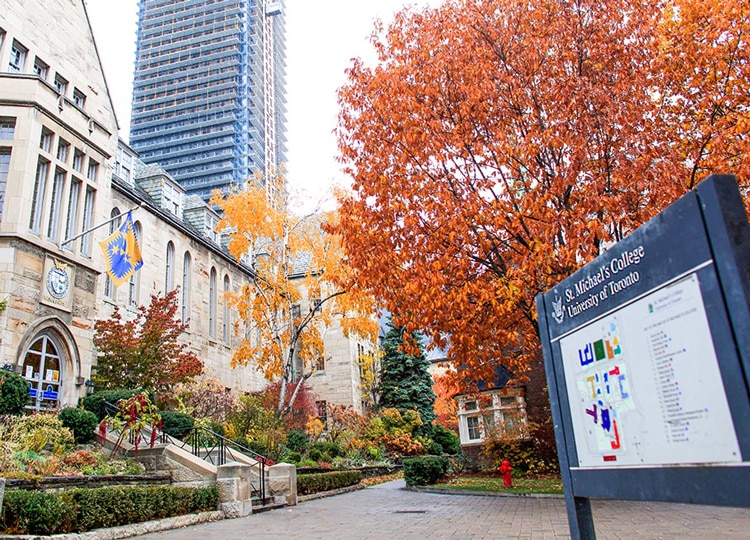 David Sylvester, the president and vice-chancellor of the University of St. Michael's College in the University of Toronto, has announced the establishment of the Comper Professorship in Medieval Studies. Insight into human nature is the most important skill for success in business and in life
This newly endowed position was made possible by an investment by Tony Comper (BA 1966 SMC, Hon LLD 1999), a St. Michael's alumnus. Sylvester also announced that Alison More has been appointed the inaugural holder of the Comper Professorship. More, an assistant professor, is a highly regarded scholar of Latin whose research investigates the intersections of social and religious culture in late-medieval Northern Europe.
The donation reflects Comper's firm belief that studying the humanities offers invaluable benefits both personally and professionally – and that St. Michael's is on the right path with its renewal as a vibrant centre of undergraduate education at U of T.
"Studying liberal arts, in particular literature, provides significant insight into human nature; (it offers) essential knowledge in interpersonal skills, the most important skill for success in business and indeed in life," says Comper, who is the retired president and CEO of BMO Financial Group.
When Comper returned to his alma mater to take courses in Medieval Studies, he was inspired by the renaissance underway