The Leong Centre for Healthy Children will help us improve child health through new precision prevention
By applying innovative tools and targeted strategies, researchers can better predict and enhance health outcomes for children around the world.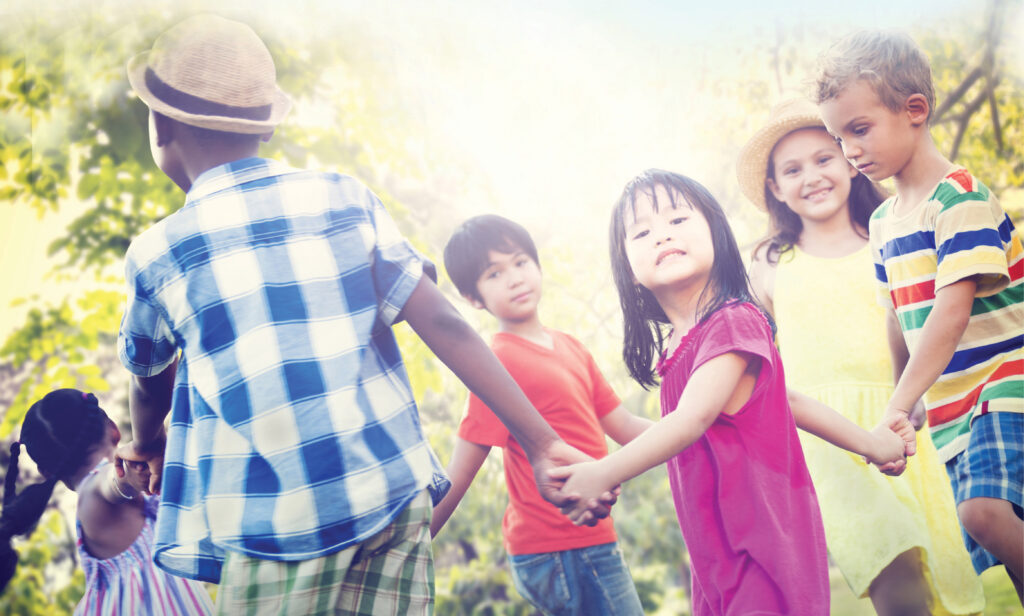 Thanks to a $25-million gift, the University of Toronto is creating the Edwin S.H. Leong Centre for Healthy Children, which will develop innovative approaches to improving child health. The gift from alumnus Edwin S. H. Leong (MSc Computer Science 1974) and the Tai Hung Fai Charitable Foundation will help researchers at U of T and The Hospital for Sick Children (SickKids) to harness the latest advances in the science of child health, and pair them with developments in artificial intelligence and machine learning technologies. Leong Centre experts in genomics, paediatrics and public health will use this approach to develop powerful predictive models based on U of T's distinctive access to child health and demographic data sets.
As the first project of its kind in the world, the Leong Centre will address a global rise in chronic disease among children—with a particular focus on those who are underprivileged and at-risk. It will do this by developing effective evidence-based practices, interventions and policies to prevent disease before it starts, while also improving outcomes for those with disabilities and chronic conditions. Ultimately, this will lead to solutions that help children to set a trajectory of health throughout their life.
"The Edwin S.H. Leong Centre for Healthy Children will enable both ground-breaking scientific discoveries and scalable policy solutions that have the potential to benefit all children," says U of T President Meric Gertler. "It will draw on the University of Toronto's expertise in childhood health and development, and its position at the centre of one of the world's strongest biomedical clusters. The Leong Centre is truly a game-changing initiative with potential to improve the lives of young people around the world."
Dr. Leong's benefaction, together with matching funds from the University of Toronto and SickKids Hospital, will support the Centre's work over an 11 year period.
A champion of the most vulnerable
This gift from Edwin Leong is the largest benefaction that U of T has ever received from outside of Canada; one that builds on the storied connection between Hong Kong and the University of Toronto.
"Raising children requires a holistic approach," says Dr. Leong. "We cannot even begin broad conversations about prosperity, education or innovation without building from a healthy populace—which begins in childhood. I am proud to be able to give back to the institution that helped enable my own success, and improve health outcomes among society's most vulnerable people. This centre is a chance to fulfill the promise of health for children everywhere."
Both Dr. Leong and the Tai Hung Fai Charitable Foundation that he chairs have an impressive record of international philanthropy. Among many different initiatives around the world, Dr. Leong funded the Henry G. Leong Program for Enhanced Training and Research on Holistic Care of the Elderly at Hong Kong University, as well as the Henry G. Leong Mobile Integrative Health Centre Program at Hong Kong Polytechnic University. Both of these programs were named for his father. In addition, Dr. Leong has endowed 5 professorships, each named in honour of his father. At Chinese University of Hong Kong, he endowed a professorship in gerontology and geriatrics; at Hong Kong University, he endowed two professorships, one in social work and administration and one in neurology. At Hong Kong Polytechnic University, he has endowed a professorship in elderly vision health, and a professorship in biomedical engineering. In 2018, Dr. Leong made a remarkable gift of $24 million to the University of British Columbia to establish the Leong Healthy Aging Program at the Faculty of Medicine—the largest individual gift in that faculty's history.
At the University of Toronto, in 2016 Dr. Leong created the Edwin S.H. Leong Scholarship, which recognizes academic excellence and leadership for international students in financial need, helping them to fulfill their goals in higher education.
Innovative solutions to child health outcomes
The Leong Centre will be centred at U of T, but its researchers will collaborate with peers at sister institutions in Canada and around the world, including in Hong Kong, British Columbia and the United Kingdom. Through these collaborations, the Leong Centre will draw on world-class resources to develop targeted, effective and affordable child health interventions, resulting in improved health outcomes for everyone, and especially those with few health care resources.
"We are profoundly grateful to Dr. Leong for this visionary support that will have a global impact in raising healthy, flourishing children in Canada and internationally," says Professor Trevor Young, Dean of the Faculty of Medicine. "The Leong Centre for Healthy Children will further develop our understanding of the social and environmental influences on child health. It will, ultimately, have a transformative impact across the lifespan since thriving children are more likely to become healthy, productive adults."
Important research partnerships
SickKids is a central partner with the Leong Centre. It is one of the world's foremost paediatric health-care institutions and a leader in advanced paediatric research that has generated innovative discoveries in children's health care with global impact. Paediatric research performed at SickKids spans the applied health science range from detection, to solution, to prevention. Its researchers and resources will be a key component of the Leong Centre's long-term success.
An international expert will lead the Leong Centre and report to the University of Toronto's Chair of the Department of Paediatrics, currently held by Dr. Ronald Cohn, who is the incoming President and CEO of SickKids.
"We are at an unprecedented time in scientific discovery and computational technology," says Cohn. "And we have a unique opportunity to improve human health by focusing on our most vulnerable time—childhood. The Leong Centre is taking a truly innovative approach to enhancing child health through precision prevention that will have local, national and global impact."
As well, through its partnership with the Institute for Clinical Evaluative Studies, the University of Toronto benefits from access to a robust dataset of health information across the lifespan, giving it a competitive global advantage in demographic health research. The Leong Centre's approach will build from this data, derived from the world's most multicultural urban region, allowing it to create scalable programs and policies with global application.
Researchers at the Leong Centre aim to work in both theory and practice to lead exciting breakthroughs: from finding new and better ways to help low-income families effectively support children with long-term disabilities, to preventing the onset of cardiovascular disease in at-risk children, to helping immigrant families avoid chronic illnesses through better integration.
"The Leong Centre represents a paradigm shift in how we approach child health," says David Palmer, Vice-President Advancement. "Dr. Leong has long been a champion of society's most vulnerable and this new centre will carry on his global legacy. We are honoured and grateful to have his support in this far-sighted undertaking that will have positive implications for children around the world."