The Dorrington Awards recognize grad student research in cancer, diagnostics, and drug delivery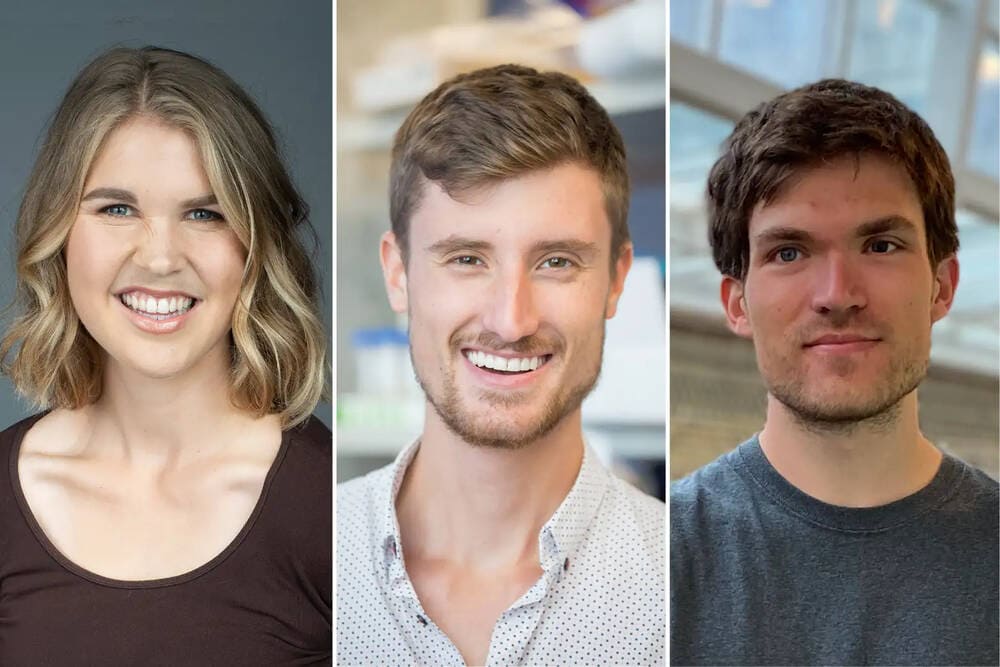 Spare a thought for the humble woodchuck and its plight with hepatitis. The stout-bodied rodent could hold the clues to solving liver cancer, and PhD student Zoe Clarke is on a quest to find them.
Like humans, woodchucks get infected with the hepatitis B virus, which attacks the liver, causing inflammation, or hepatitis, that can develop into cancer. This makes them a better suited animal model in which to study how liver cancer develops than more conventional laboratory workhorses such as mice, which do not naturally develop virus-induced tumours.
Working in the group of Gary Bader, a professor of molecular genetics and computer science in the University of Toronto's Donnelly Centre for Cellular and Biomolecular Research, Clarke is investigating how the infected woodchuck cells turn cancerous and how they interact with other healthy liver cells during disease progression. Her research will reveal mechanistic insights into the disease that remains one of the least survivable cancers, with the potential to inspire treatments.
For her efforts, Clarke has been recognized with the Jennifer Dorrington Graduate Research Award, awarded annually to three outstanding graduate students in the Temerty Faculty of Medicine who are pursing research in the Donnelly Centre. The graduate students Matthew Osbourne and Kai Slaughter have also been awarded.
I am so grateful to the Dorrington family for their support of science. This really inspires me to work to the best of my ability, and reminds me how much of an impact my research can have on the community.

Zoe Clarke,
2022 Dorrington Award recipient
Established in 2006 by the Dorrington family, the award celebrates the memory of the late U of T Professor Jennifer Dorrington, who conducted pioneering research on ovarian cancer at the Banting and Best Department for Medical Research, which paved the way for the Donnelly Centre.
"We had an exceptionally strong pool of candidates, and I am delighted that Zoe, Matthew and Kai came through as winners. The award committee was impressed with the scope of their projects and the progress they have made in making discoveries that hold real potential for improving medicine and health," said Bader, who chairs the award committee with the Centre's investigators Fritz Roth, Cindi Morshead and Henry Krause as members. As Clarke's supervisor, Bader did not review or vote for her application to avoid conflict of interest.
"I am so grateful to the Dorrington family for their support of science, and specifically my project," said Clarke. "Receiving this kind of support really inspires me to work to the best of my ability, and reminds me how much of an impact my research can have on the community."
Unique insights into how the immune system fights liver cancer
Liver cancer is on the rise globally, and especially in North America, with few treatment options available. The most effective treatment is liver transplant, but it is limited by a short supply of donor organs.
By comparing the molecular makeup of individual liver cells taken from healthy and diseased woodchuck livers, Clarke will gain unique insights into how cancerous cells form and how they interact with other cells around them. Of particular interest to her are immune macrophage cells, which could one day be enlisted to fight off tumours, including those not caused by viral infection. She is collaborating with the liver immunologist Sonya MacParland, a scientist at the Toronto General Hospital Research Institute, University Health Network.
"By understanding these individual cellular differences and what part of the immune system is failing to fight cancer, hopefully we can change the behaviour of some of the macrophages in the liver to better fight of the cancer cells," said Clarke who is in her third year of the computational biology/molecular genetics PhD program at U of T's department of molecular genetics, and who previously won the Yip Doctoral Research Award.
Clarke, who plans to pursue a career in academia, said she is grateful to her mentor for all the training, especially how to be an ethically good scientist.
"Those are things I value so strongly, and I feel like I am learning so much and about so many aspects of life from him," she said.