Ron Crawford is Varsity Blues' biggest fan. Now he's leaving them a legacy
From player and captain in the early 1960s to coach and now financial supporter, U of T alumnus Ronald Crawford has cheered on Varsity Blues football for six decades.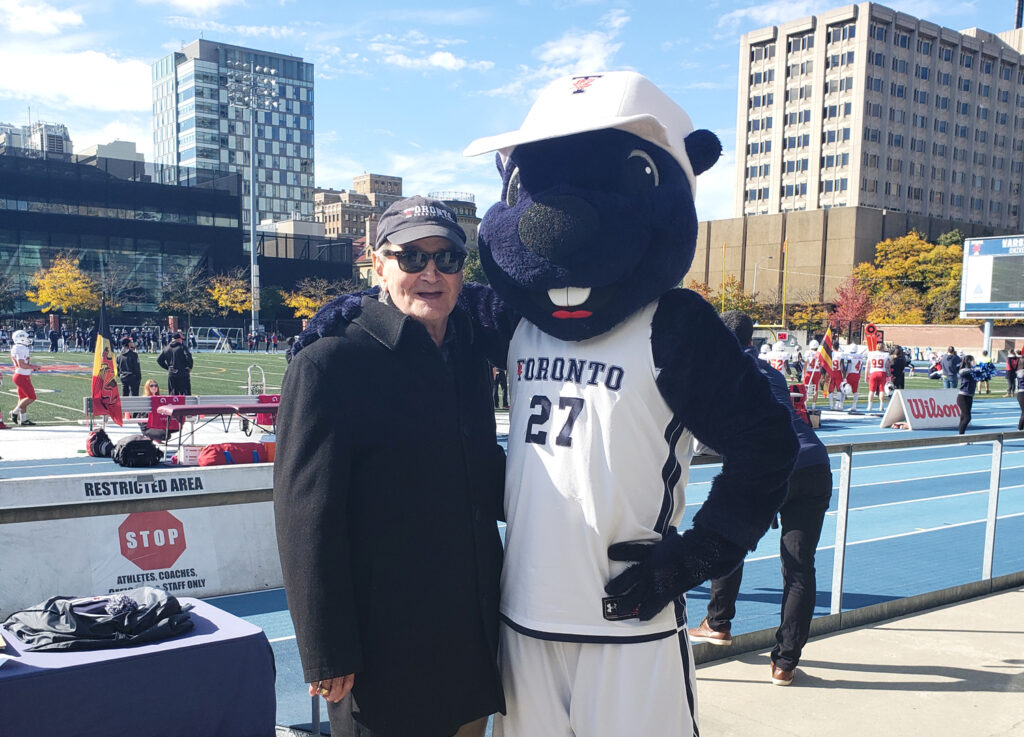 Ronald Crawford (BCom 1962 VIC) wears his Varsity Blues hat every single day. "My dad is super, SUPER proud of being a graduate of U of T and the Varsity Blues team!" says his daughter Alison Crawford.
And Ron "Rock" Crawford backed up his pride with years of support as a fan, coach, fundraiser, and founding member of the Friends of Football Committee. No wonder he has now decided to leave a bequest to the University of Toronto: a lump-sum gift to the Faculty of Kinesiology and Physical Education to support Blues football.
"I continue to highly respect and be very fond of the institution of the University of Toronto," says Crawford. "I love its work, its direction, and the future it is creating for young Canadians. I hope this gift will contribute to a growing, thriving Faculty of Kinesiology and Physical Education."
In this story, Alison Crawford tells of her father's incredible story—how sports stardom proved the perfect springboard for a stellar career, and proud status as the Blues' biggest fan!
---
My dad, Ronald Crawford, immigrated to Canada in April 1939, travelling on the SS Athenia steam turbine transatlantic passenger liner built in Glasgow, Scotland with his parents. He was two-and-a-half years old, and the family arrived in this great country of Canada with $50 in their pocket. The next voyage for the SS Athenia to Canada was torpedoed and sunk by Germany during the Second World War, a war crime that killed 117 civilian passengers and crew.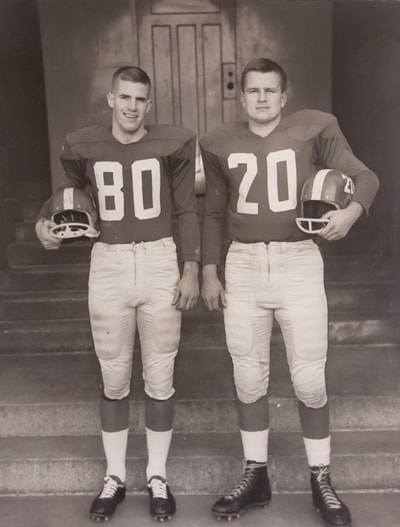 In 1958, my dad entered the University of Toronto's Victoria College in the bachelor of commerce program. He played two years of interfaculty college football on the Victoria College team and two years for the Varsity Blues team, playing against Queen's University, Western University and McGill University in the four-team league of the day. In 1961-1962 he was co-captain of the Varsity Blues team, and nicknamed "Rock" by his teammates.
In 1962 my dad was the number one professional football draft pick in Canada, chosen by the Montreal Alouettes. After one season with the Alouettes, he was persuaded by two of his commerce and finance U of T colleagues to leave professional football and become a chartered accountant in Toronto. With potential physical injuries looming in a professional football career, Ron decided to start a career with Touché Ross Baily & Smart (currently Deloitte).
My dad attained his Ontario Chartered Professional Accountant (CPA) certification in 1966 and became the national director of taxation services for Touché Ross after starting the division in Canada. He became a partner in 1973 and was elected to the Board of Directors six times between 1976 and 1991.
During his career he worked with some of Canada's largest public and privately run companies such as Irving Oil, Dominion Securities, Chrysler Canada and Fruehauf Trailers. He was honoured with a Chartered Account Association fellowship in 1994 and in 2007 was made a lifetime member. He taught taxation at the Institute of Chartered Accountants of Ontario and wrote a book on auditing public companies tax provisions which was published by the Institute. After retiring in 1999, my dad continued to consult and provide strategic planning to a variety of companies, as well as to the Canadian Public Accountability Board of Canada.

With the hope of making a difference for his city and country, my dad volunteered his time and was appointed Chairman of the Board of the Ontario Trillium Foundation in the 1980s. The goal was to build healthy and vibrant communities throughout Ontario with grants to public interest projects. The foundation's 30 years of achievement include everything from protecting the environment on the Bruce Peninsula to helping young entrepreneurs in Northern Ontario get started.
My dad has attributed his career success to his outstanding education with the University of Toronto and the competitive instincts he acquired through varsity sports. Both taught him the skills and abilities needed to lead great teams in business and to outperform all other chartered accountant firms in Canada in the specialty of taxation. He believes that his competitive intensity, sportsmanship, and teamwork he learnt during his time at the University of Toronto allowed him to achieve his career aspirations and more.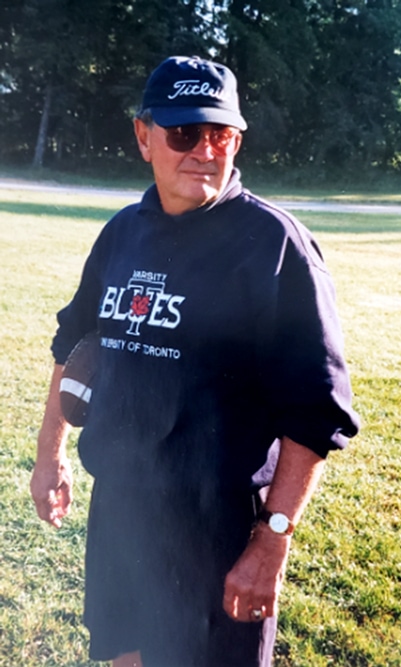 Over the years, my dad always wanted to give back and support the University. He scouted varsity football students and was an assistant football coach for a few years at U of T Orillia Football camp. He would videotape the team at practices and teach the students various plays. This was a highlight for my dad as he loved to see the younger generation succeed, and he encouraged the students to never stop learning.
My dad also provided advice and guidance on managing the athletics department's finances and enhancing programs and facilities. He assisted in many fundraising campaigns (including one for football equipment). U of T presented my father with an Arbor Award in 2008 for outstanding voluntary service to the University and he was recognized at many Presidents' Circle events.
My dad is immensely proud to be Canadian, and to be a University of Toronto graduate. At 83 years young, there is not a day that goes by when he doesn't wear his Varsity Blues hat, his U of T ring, his Canadian and Scottish flag pins and his Fellowship of Chartered Accountants lapel pin. In the fall, he and I can be found in the stands of Varsity Stadium cheering on today's players. Go Blues Go!