New gift to Dept. of Medicine marks 100 years of U of T's first endowed chair
In 1919, an unprecedented philanthropic gift by Sir John and Lady Eaton helped support the creation of U of T's Department of Medicine, ushering in a new era of medical education and discovery in Canada.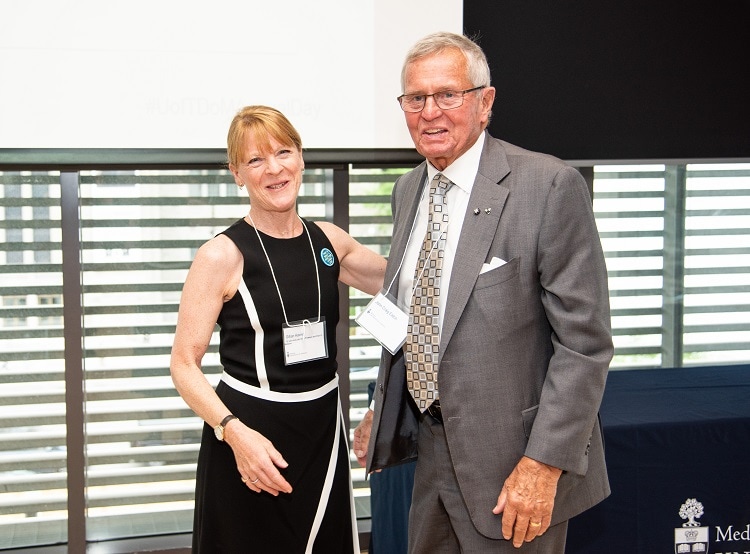 In 2019, the Faculty of Medicine is celebrating the 100th anniversary of the original gift supporting the Sir John and Lady Eaton Professor and Chair of Medicine—U of T's first endowed chair and the British Empire's first chair in medicine.
The unprecedented philanthropic gift helped support the creation of U of T's Department of Medicine, ushering in a new era of medical education and discovery in Canada.
"Over the past century, the Eaton Chair has played a significant role in placing the Faculty and Department at the forefront of life-changing health research and innovation," says Prof. Gillian Hawker, current Sir John and Lady Eaton Professor and Chair.
To mark the milestone, the Eatons' grandson John Craig Eaton has made a $1-million commitment to the Department of Medicine's Eliot Phillipson Clinician Scientist Training Program — equipping new generations of physicians to advance our understanding of disease through research.
The emergence of the academic physician
Prior to the creation of the Sir John and Lady Eaton Professor and Chair of Medicine, busy clinicians would carve out time from their paid clinical work to serve as educators or pursue research — areas that offered little or no compensation.
"There was no system or structure to support physicians who wanted to teach and do research," Hawker says. "Physicians wanting to play an extra role in teaching or research were doing it in their spare time, after hours. The concept of 'academic physician' did not exist."
Things began to change when the Carnegie Foundation commissioned a seminal study of the state of medical education in the United States and Canada in 1908. The resulting Flexner Report helped establish the biomedical model that we now recognize as the gold standard for medical training.
Dr. William Goldie, a member of the U of T's Department of Medicine and a highly respected clinician at Toronto General Hospital, was a big proponent of the report. He persuaded U of T and the hospital to hire a full-time professor of medicine—a physician who would see patients, conduct research and teach students. He also reached out to Sir John and Lady Eaton, who donated $500,000 to endow the professorship permanently—an amount that would be equivalent to $6.7 million today.
"The Eaton endowment was groundbreaking," says Hawker. "Not only did it give the chair-holder the freedom to teach and conduct research, it enabled major recruitment of leading academic physicians and expansion of laboratory research."
A profound influence on medical education and discovery
The Eaton investment helped transform the Department of Medicine into a training ground for clinician scientists—a shift that profoundly influenced medical education and discovery throughout Canada. It paved the way for academic physicians, post-graduate medical training, full-time clinician-scientists, affiliated teaching hospitals and clinical research units, including the clinical investigation unit where insulin was first injected into a patient.
"Dr. Goldie's vision for medical research and education and the creation of the Eaton Professor and Chair are a big part of our roots," says Hawker. "I think that's why internal medicine has been so successful from a research and teaching perspective."
A teaching and research powerhouse
Today, the Department of Medicine is one of the largest in North America, training one third of Canada's—and one half of Ontario's—internal medicine specialists. With 800 full-time faculty members, 1,000 postgraduate trainees, and 20 specialty and sub-specialty divisions, it is the research and educational hub connecting six fully affiliated hospitals, four community-affiliated hospitals and more than a dozen additional clinical practice sites. The department is also a research powerhouse, generating more than $160 million in research funding annually.
A century after Sir John and Lady Eaton's transformational gift, the Eaton Family remains deeply engaged in the department's activities. Multiple generations of the family continue to support the mission the family began, having a deep impact on internal medicine training and the care and health outcomes of patients and their families.