In Memoriam: J.W. Nevil Thomas (1938-2021)
A proud alumnus of Trinity College, Nevil Thomas gave back for four decades. His landmark gift to the new Lawson Centre for Sustainability will transform the college's historic campus.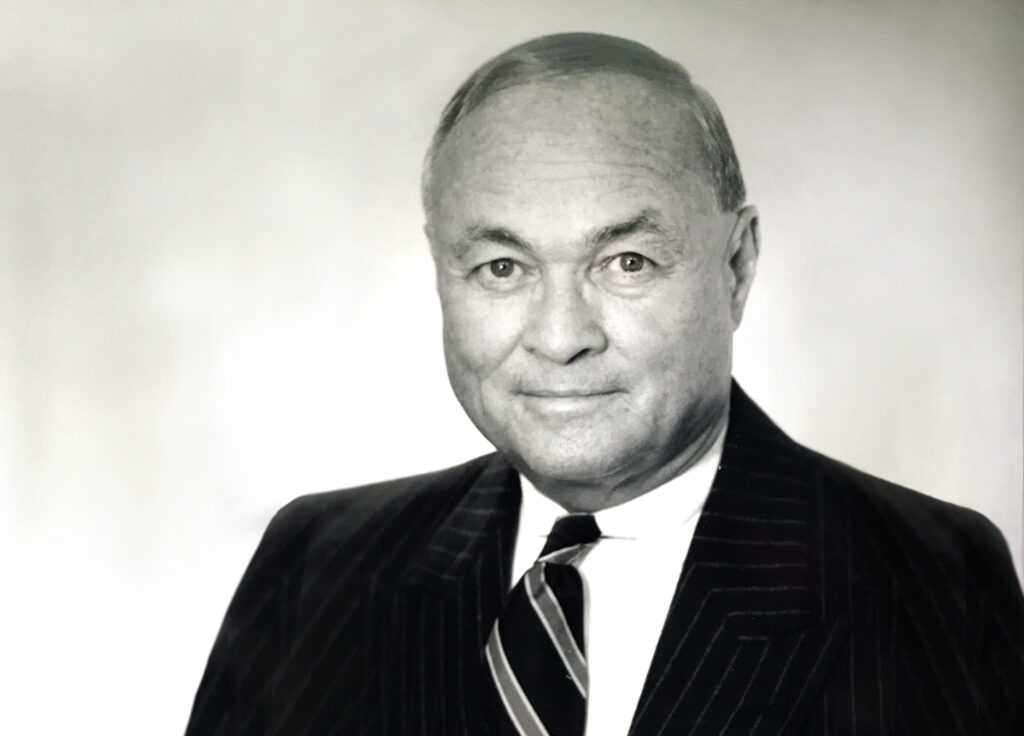 Nevil Thomas, a business leader, a philanthropist, and a generous friend to the University of Toronto, has passed away at the age of 83. A person who liked to give back by looking forward, Thomas (BCom 1961 TRIN) leaves a tremendous legacy of help for both business students launching their careers and for Trinity College's ambitious new academic building and student residence.
"Nevil Thomas was exceptionally generous in sharing his good fortune, and education was near and dear to his heart," says U of T President Meric Gertler. "His focus on supporting students culminated in his landmark gift to Trinity College, which will provide future generations with a profound sense of place and belonging. On behalf of the entire University of Toronto community, I would like to express my heartfelt condolences to Mr. Thomas's children, extended family, and friends."
Planning for prosperous futures and supportive communities
Thomas' generosity to the University of Toronto spanned nearly 40 years. In one prominent example, he established the Nevil Thomas Award to help students who were embarking on careers like his own. The long-running scholarship provides a helping hand to graduating U of T students or recent alumni who have enrolled in U of T's MBA program.
Thomas was one of the first alumni to champion the plans that led to Trinity College's once-in-a-generation building project, being especially interested in its emphasis on creating strong connections between students, faculty members and staff. Setting a leadership example, he gave $5 million to the Living Trinity Campaign, attracting further new supporters to the ambitious initiative. The southern portion of Trinity's new building will be named the Nevil Thomas Wing in his honour.
"Nevil Thomas often spoke of how touched he was to have enjoyed a close community experience as an undergraduate," says Mayo Moran, Provost and Vice-Chancellor of Trinity College. "He wanted future students to be able to meet and engage with a wide range of people—one of the key goals of the Living Trinity Campaign. Very recently, Nevil had the opportunity to see the architect's latest renderings of the new building, and he expressed his pleasure at how the project was moving forward. He was a driving force in the new building and we are so sorry he will not be able to be at the ground-blessing ceremony this fall. He will be greatly missed by all of us at Trinity."
Nevil Thomas was a successful investment banker, company director and philanthropist
A man with a strong work ethic, Nevil Thomas held jobs throughout his time at high school and university. In addition to completing his bachelor of commerce at U of T, where he volunteered in the Commerce Club for four straight years, he went on to earn both a master's degree in economics and an MBA.
He brought that energy into his business career. After early positions in corporate finance, he joined with two friends, Richard Mauran and the late J. Murray Armitage (BA 1962 VIC), to found a financial and management advisory firm, Bedford Capital Corporation (later BCC Advisors Inc.). He also launched financial and management consulting firm Nevcorp as president and CEO.
In parallel to his work as a private equity investor and consultant, he also served as director of several other companies, including Reliable Life Insurance Company, the mutual fund Templeton Growth Funds, Ltd., and the American cosmetics giant Elizabeth Arden Inc., where he chaired or was a member of the board for more than 20 years. He was known for his expertise in helping management teams grow. He was a member of the Institute of Chartered Financial Analysts. Away from the boardroom, he was a loving family man who enjoyed boating and gardening at his cottage on Georgian Bay.
Thomas supported many health-care causes, including two very personal gifts to Toronto hospitals. In gratitude for the care he received for a congenital heart condition, he founded a resource library and a fellowship for researchers in Adult Congenital Heart Disease at the Peter Munk Cardiac Centre. And in memory of his late wife Susanne, Thomas and his children also supported a leading-edge holistic care program in head and neck cancer at Princess Margaret Cancer Centre.
"Nevil Thomas was thoughtful in his philanthropy, and championed supporting the whole student," says David Palmer, U of T's Vice-President, Advancement. "His legacy will have profound impact on future Trinity students, who will carry the ideal and experience of a diverse and supportive community with them throughout their lives. Our world needs compassionate collaboration more than ever, and in that endeavour, Nevil Thomas is a deeply appreciated inspiration."