Articling law students at BLG raise bursary funds for U of T outreach program LAWS
LAWS mentors high school students interested in a legal career. Now two bursaries will help the program's graduates access post-secondary education.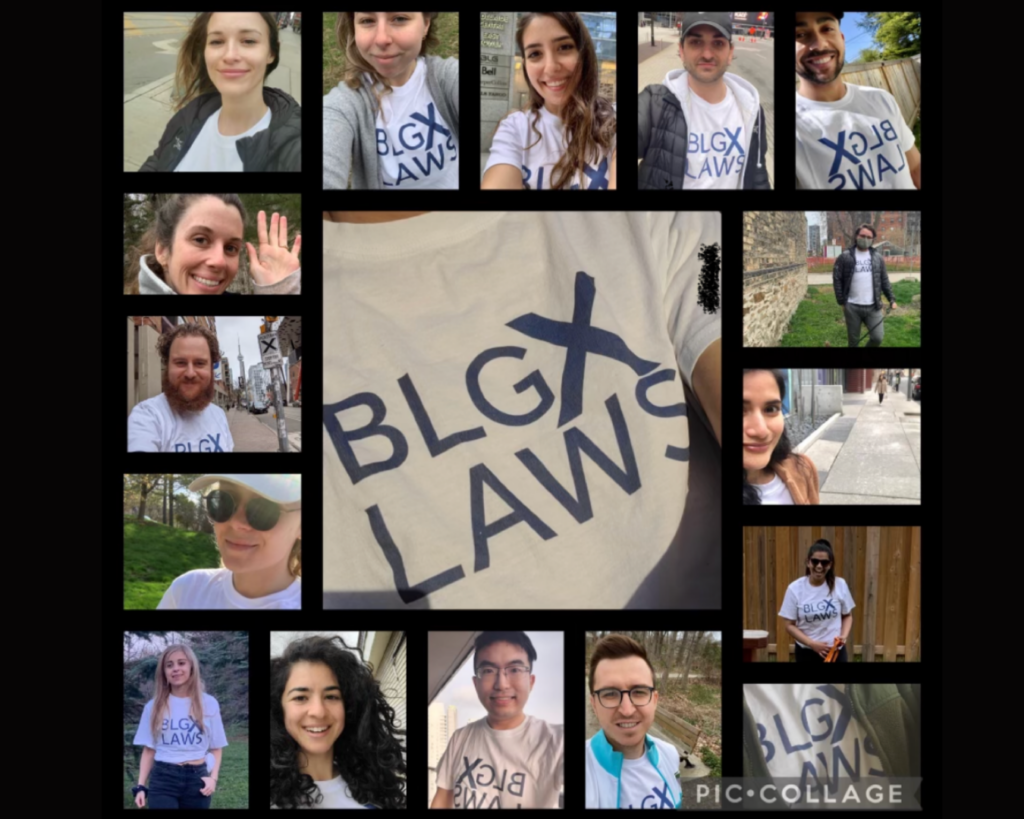 Christina Roussakis (JD 2020) was a prospective law student deciding between schools when she first stumbled upon LAWS – Law in Action Within Schools – at the University of Toronto Faculty of Law's orientation for newly admitted students.
In 2005, the Faculty created LAWS, one of the largest law-related youth outreach programs in North America. The award-winning access program is designed to support and motivate high school students by exposing them to law and justice through workshops, mentorship and employment programs. Many LAWS graduates continue to post-secondary education and second-entry programs, including law.
"I have worked with young people throughout my life. It's very important to me on a personal level," says Roussakis. "I knew as soon as I went to the LAWS booth, I would be part of it in law school. I think there are many barriers to law school, a lot of them as simple as not knowing any lawyers."
"[LAWS] was a way that I could pay forward the kindness that has been shown to me."
LAWS works hard to help students who face many barriers to post-secondary access
Roussakis became a dedicated LAWS volunteer working with high school students at Toronto's Central Technical School and Harbord Collegiate Institute during her three years at U of T Law.
While articling at the law firm BLG this past year, she reached out to LAWS Executive Director, Eleonora Dimitrova (JD/MA 2010), to find out how she could continue to support LAWS participants. Dimitrova explained the benefits of establishing a student bursary.
"The high school students enrolled in LAWS face many barriers to post-secondary access, including the ability to pay for school. A large number of them have been working as essential workers throughout the pandemic to save money for their further education," says Dimitrova. "The efforts of Christina and the entire BLG team will make a tremendous difference to the recipients."
The BLG walkathon for LAWS raised funds for two $1,500 bursaries
Roussakis says she and her team landed on the idea of fundraising walkathon due to the COVID-19 pandemic. But larger, in-person plans to mobilize more walkers from the firm and LAWS, were scaled back due to extended stay-at-home orders.
So the 23 participating BLG articling students raised funds by reaching out to members of the firm, the legal community and contacts and telling them about LAWS, how the program works and how hard-working high school students are.
The result? Two LAWS graduates will receive a bursary of $1,500 each towards their post-secondary studies.
Each participant completed their steps, a minimum of two hours, on April 23, sporting BLG x LAWS t-shirts during their stroll.
"I just had such an incredible experience doing workshops, after-school tutoring and the mock trial club. The [LAWS] students are incredible," says Roussakis.
"[LAWS] just added fuel to, 'How can I support law school being accessible to everyone?'
"I don't have accolades, money or anything like that, but I do have some experience. I can say to high school students, 'You have a place here [in law school]. If you want it, you belong here. I believe in you.'"