Alan Dean goes green with gift for symposia in environmental governance
Alumnus and long-time U of T supporter Alan Dean, with the Brookfield Partners Foundation, donate $150,000 to the Munk School of Global Affairs & Public Policy.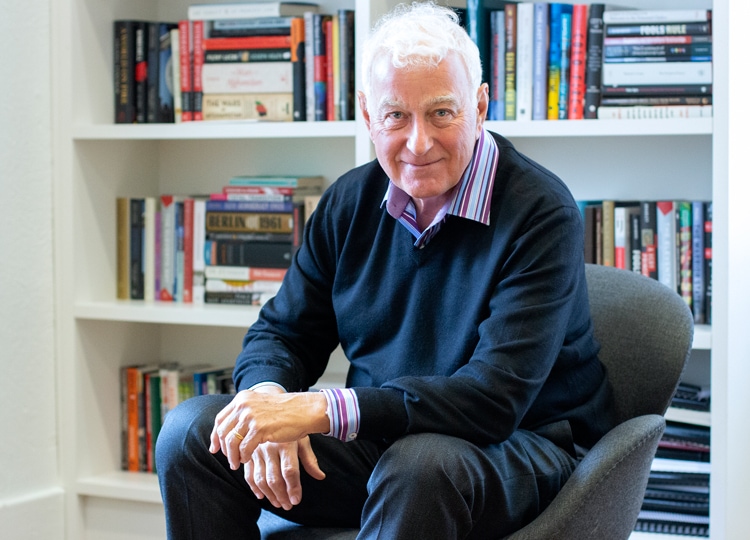 When Alan Dean (BArch 1967, MBA 1986, MA 2005) took his first class at the University of Toronto, John Diefenbaker was prime minister and a hockey legend named Wayne Gretzky was taking his first steps.
"I've been part of the University for much of my life. I live nearby and walk through the University with my dogs. It's one of the best places in the world," he says.
Moving from undergraduate student, to graduate student, to alumnus, to volunteer and finally to donor, U of T has always had a magnetic pull for Dean. And his most recent gift to the Munk School of Global Affairs & Public Policy reflects his belief that no matter your age, you can always learn something new.
A gift from his company to honour Dean's 30 years of service
Dean is the past president and executive director of Brookfield Partners Foundation, the charitable arm of a Toronto-based international asset management company. He recently retired from Brookfield after 30 years in communications, governance and shareholder relations.
In honour of Dean's service, the Brookfield Foundation made a $100,000 gift to establish the Dean Family Symposium in Environmental Governance. Dean was so impressed with this project, he personally contributed another $50,000.
"It's that notion of lifelong learning," says Dean. "But it's also a testament to the University and the wonderful people here."
Run by the Munk School's Environmental Governance Lab, the symposia will convene experts from academia, government and the private sector for three world-class conferences in 2020, 2022 and 2024 to address crucial environmental issues affecting Canada and the world.
"Our goal is to push the boundaries of academic work, but more importantly, to spark needed policy and public conversations and action around environmental governance," says Matthew Hoffmann, a professor of political science and co-director of the Environmental Governance Lab.
Potential topics include implementing effective climate change policy, achieving a low-carbon future, pursuing just urban transitions and catalyzing action on the UN Sustainable Development Goals.
A long and satisfying relationship with U of T – including earning three very different degrees
Dean's goal in the fall of 1961 was to get a degree. He was an ambitious 17-year-old student studying architecture. After graduating with a bachelor's degree in architecture, he worked as city planner for Toronto under Mayor David Crombie and then shifted in 1979 to the private sector.
"I realized I knew nothing about the language of business," says Dean. So, he returned to U of T to pursue a master of business administration part-time, graduating in 1986. "And that has helped me throughout my business career," he stresses.
While he was working with Brookfield in the 1990s, the company became involved with U of T, making a large gift to fund a scholarship program at Woodsworth College in honour of Peter Bronfman, a founding shareholder of Brookfield.
"We assembled a $2-million donation from Peter's colleagues at Brookfield, which was massive for us at the time," he says. "It was composed of gifts from people all the way down the ladder with links to the University of Toronto, including myself."
That gift sparked a keen interest in returning to U of T, serving on Woodsworth College's Brookfield Bronfman scholarship selection committee for 20 years. Many hours were also spent taking part in college events, sitting on other committees and supporting fundraising activities.
"It was all a very satisfying experience," says Dean.
"After reconnecting with U of T through Woodsworth, I started to develop interests that weren't career related," he says. So, he returned to U of T once again to complete a master's degree in geography in 2005.
Deciding to give to environmental governance
When he retired, Brookfield told him he could direct their gift to any program he wanted.
"I thought long and hard," says Dean. "I felt it was time for something different."
One of Dean's sons, Michael, also a multiple graduate of the University of Toronto who is involved with environmental issues, encouraged his father to consider something eco-friendly.
"Environmental governance is a hot topic," says Dean. "We've been talking about it for years, but now it's seeing a huge groundswell of activity. Every day there is a different angle, a different insight, a different set of recommendations. There's just so much happening."
When talking about the symposia, that same curiosity, enthusiasm and desire to learn he had as a 17-year-old student comes rushing back.
"How do you deal with this idea of governance in a field that's so fragmented?" he asks. "There are so many things happening at various levels with so many points of reference. How can governance occur?"
Noting that he plans on attending each symposium, he looks forward to finding out. Dean also has some thoughts on alumni giving.
"Alumni should not be too tied to where they graduated," he continues. "I know there's a notion of loyalty to your college and there's a place for that, but for most of us, our careers bob and weave, and we end up doing something quite different than what we were trained for."
"I think it's more important, as you get older, to give a gift to something that you're engaged with now, either because of the people, or the topic, or some combination of those in which you can contribute something new. It expands your own personal horizon."